future is now
Get flash to fully experience Pearltrees
Ingrid Vaca Diez is on a mission to build better homes for the poor. With few funds and little support, she uses the only resource she can find in abundance - empty plastic bottles. Her own life in Santa Cruz, Bolivia, is one of relative comfort but she is shocked by the rising level of poverty she sees around her.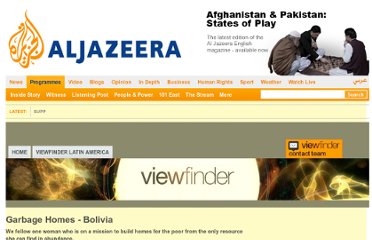 When teaching the scientific method to students I say that all good science starts with a good observation....which in turn often leads to a good testable question. The problem is coming up with easy, inexpensive, testable questions/experiments for the classroom to prove the point. I am always on the look out for things I can turn into science experiments which I can then have the students design and/or execute. I like to do at least three hands on experiments within the first couple weeks of school.
Science Nugget: Catching Solar Particles Infiltrating Earth's Atmosphere Science nuggets are a collection of early science results, new research techniques, and instrument updates that further our attempt to understand the sun and the dynamic space weather system that surrounds Earth. On May 17, 2012 an M-class flare exploded from the sun. The eruption also shot out a burst of solar particles traveling at nearly the speed of light that reached Earth about 20 minutes after the light from the flare. An M-class flare is considered a "moderate" flare, at least ten times less powerful than the largest X-class flares, but the particles sent out on May 17 were so fast and energetic that when they collided with atoms in Earth's atmosphere, they caused a shower of particles to cascade down toward Earth's surface.
As designers we give ideas a form and we transform them into things. We can't certainly solve the world's challenges, but what we can do is to create a concrete storytelling about them. A narrative. Malthus is one of these tales. It is an in-home aquaponics unit designed for the next generation kitchen or living room.
January 12, 2012 at 8:00am | by Hernando Russia-based architectural firm Remistudio proposes this arch-shaped floating hotel as a refuge from even extreme floods. Called (quite appropriately) the Ark, the futuristic structure has the ability to exist autonomously on the surface of the water. Designed to be a bioclimatic building, the Ark incorporates several innovative green strategies and elements to ensure that its residents can survive aboard for months at a time. [ via ]