Sewing
Thread Types. Boston Thread - buy thread, shop by Color! Content. ¾ Sleeve: A sleeve that comes to midway on the forearm.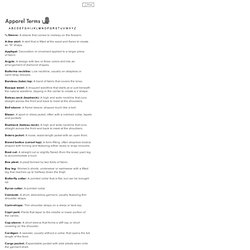 A-line skirt: A skirt that is fitted at the waist and flares to create an "A" shape. Appliquè: Decoration or ornament applied to a larger piece of fabric. Argyle: A design with two or three colors knit into an arrangement of diamond shapes. Light Weight Single Jersey Cotton 8140. Marl Grey 8140 - limited stocks. Fabric Guru.com: Fabric, Discount Fabric, Upholstery Fabric, Drapery Fabric, Fabric Remnants, wholesale fabric, fabrics, fabricguru, fabricguru.com, Waverly, P. Kaufmann, Schumacher, Robert Allen, Bloomcraft, Laura Ashley, Kravet, Greeff. - Solid Drapery. Choosing Fabrics. There is such a tremendous selection of fabrics available; the job of choosing fabric can be overwhelming.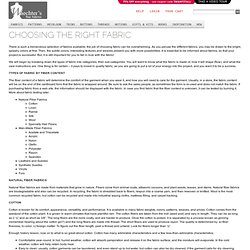 As you peruse the different fabrics, you may be drawn to the bright, splashy colors at first. Then, the subtle colors, interesting textures and weaves present you with more possibilities. It is essential to be informed about fabrics, so that your project is successful. But, it is still important for you to fall in love with the fabric! Designer Navy Lightweight Cotton Jersey Knit Fabric # NV-48. Cotton Fabric - eHow.com. Definitions and Descriptions of Fabric and Cloth.
Singer Sewing Machine Feet. Looking for the right Singer sewing machine foot to do the job?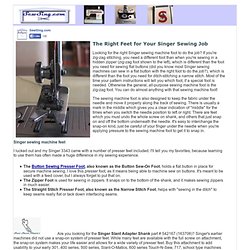 If you're zig-zag stitching, you need a different foot than when you're sewing in a hidden zipper (zig-zag foot shown to the left), which is different than the foot you need for sewing flat buttons (did you know most Singer sewing machines can sew in a flat button with the right foot to do the job?) , which is different than the foot you need for ditch-stitching a narrow stitch. Most of the time your pattern instructions will tell you which foot, if a special foot is needed.
Otherwise the general, all-purpose sewing machine foot is the zig-zag foot. You can do almost anything with that sewing machine foot! Corset making secrets. When binding your corset, take the time to do it well.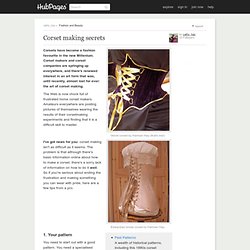 Measure and pin where the binding needs to be - it must be even on both sides - and baste a line around to show where the binding needs to go. Trim the edge evenly and sew the binding on. Singer Inspiration Line Comparison Video. Clone Yourself A Fitting Assistant. David Coffin Duct-tape dress form (above) uses ordinary duct-tape as both the body-casting material and the final form.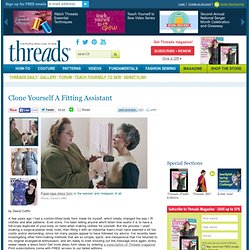 Another version of this Duct-tape dress form (not shown) is a bit more difficult but produces a closer fit. Check out this updated method for creating the ultimate fitting assistant. Sloan Howard by David Coffin. Distinctive Buttons from Sawyer Brook. How-to-make-a-simple-vest. WhatTheCraft.com – Your one-stop destination for D.I.Y. tutorials, tips, and supplies. How to use a Serger. Fabric Yardage Chart For Furniture Upholstery - a knol by K Butler. Part Three - Threading The Serger - Brother Serger 1034D. Part Six - Three Thread Overlock - Brother Serger 1034D.
---