Trends
Experts Give Their Thoughts on the Digital Trends of 2015. We haven't yet come to the end of 2014, but as everyone knows within the marketing industry, success comes from being ahead of the game.
So far this year we have seen some digital marketing techniques dominate the industry. Take the infamous "Content is King" for example. Content has really come into its own in the past year, increasingly being utilised by big brands to drive traffic to their sites, while simultaneously being used as link bait in an attempt to generate links for SEO purposes.
However – being good at the game may get you recognised, but planning for the season puts you on top. Www.socialmediaexaminer.com/SocialMediaMarketingIndustryReport2013.pdf. 10 Genius Ideas That Changed Marketing Forever. This is an excerpt from our new ebook, 100 Ideas That Changed Marketing.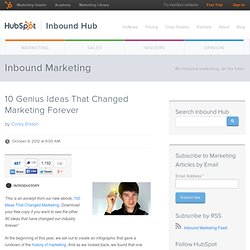 Download your free copy if you want to see the other 90 ideas that have changed our industry forever! At the beginning of this year, we set out to create an infographic that gave a rundown of the history of marketing. And as we looked back, we found that one idea from all the way back in the 1400s -- the invention of the printing press that made mass media possible -- totally and completely changed the entire trajectory of our industry.
Marissa mayer principi inovacija - great!
This Year's Ten Digital Strategies for the Next-Generation Enterprise. It's time for most organizations today to uplevel their technology stance: They must become profoundly proactive about external change and innovation.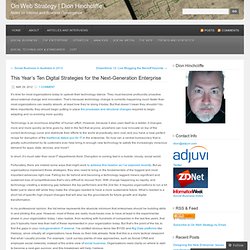 That's because technology change is currently happening much faster than most organizations can readily absorb, at least how they're doing it today. But that doesn't mean they shouldn't try. More importantly, they should begin putting in place the processes and structural changes required to begin adapting and co-evolving more quickly. Technology is an enormous amplifier of human effort. However, because it also uses itself as a ladder, it changes more and more quickly as time goes by.
Trends 2012
Future of webites. Uk najoblja v online prodaji. Razvoj e-poslovanja UK je najboljša. Html5 in novi trendi. 5 Social Media Marketing Trends: New Research. Are you being asked to prove the value of social media for your business?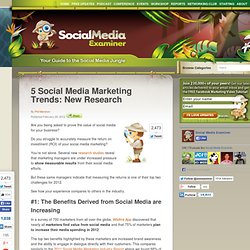 Do you struggle to accurately measure the return on investment (ROI) of your social media marketing? You're not alone. Several new research studies reveal that marketing managers are under increased pressure to show measurable results from their social media efforts. But these same managers indicate that measuring the returns is one of their top two challenges for 2012. 2012 Social Marketing & New Media Predictions. InShare233 Awareness Networks released insights and prognosis from 34 business and marketing leaders as part of its 2012 Social Marketing and New Media Predictions report.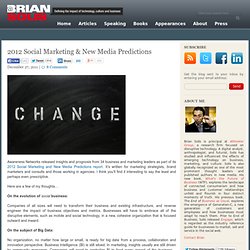 It's written for marketing strategists, brand marketers and consults and those working in agencies.
E-academy
Online payment. Povratak urednika: zašto je ljudski filter budućnost weba | MC_ONLINE. No content here.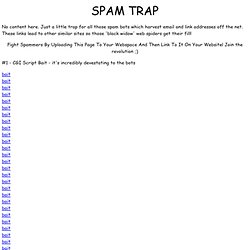 Just a little trap for all those spam bots which harvest email and link addresses off the net. These links lead to other similar sites so those 'black widow' web spiders get their fill! Digital marketing raziskava. The 7 Social Media Trends That Will Emerge In 2012. I'm on a plane and when I get up here at 30,000 feet with no internet connection, I tend to become reflective about the industry I work in and start to think about bigger trends out there and what is coming down the line.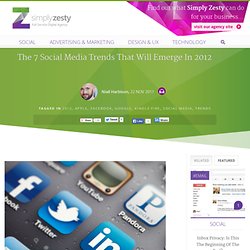 As we enter the holiday season, I wanted to cast an eye forward to 2012 and share some of my thoughts about what is coming down the line in terms of innovation and trends in social media. As Mark Zuckerberg says, the pipes have been laid over the last five years for social by connecting everyone, and the next couple of years will see everybody building amazing things on top of all those social layers. Social Media Report. Social media is coming of age.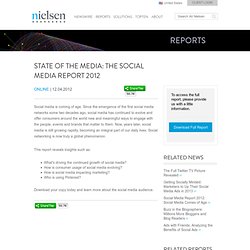 Since the emergence of the first social media networks some two decades ago, social media has continued to evolve and offer consumers around the world new and meaningful ways to engage with the people, events and brands that matter to them. Now, years later, social media is still growing rapidly, becoming an integral part of our daily lives. Social networking is now truly a global phenomenon. This report reveals insights such as: The evolution of the web.
Media overload a new trend to solve?
Google iskalnik hotelov. Social is over. 5 Enterprise Trends to Watch in 2010: Part 1 - ReadWriteEnterpri. Who does not love to make predictions?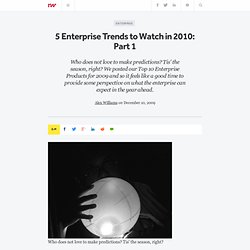 Tis' the season, right? We posted our Top 10 Enterprise Products for 2009 and so it feels like a good time to provide some perspective on what the enterprise can expect in the year ahead. Mashups Mashups are going through a renaissance thanks to the incredible power of cloud computing. These mashups are popping up in any number of ways, especially as business users look for more ways to get answers to problems that previously required technical help from the IT department. Social Media 2010: it's time to get boring: Church of the Custom. Top Web Design Bookmarks of 2009. I read a lot of design-related articles & blogs online – I mean, really, what else can you do when you live in Edmonton, which was the coldest place in North America on Dec 13 at -58C with windchill?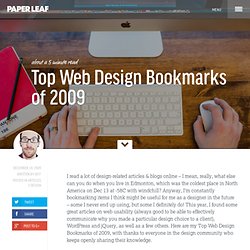 Anyway, I'm constantly bookmarking items I think might be useful for me as a designer in the future – some I never end up using, but some I definitely do! This year, I found some great articles on web usability (always good to be able to effectively communicate why you made a particular design choice to a client), WordPress and jQuery, as well as a few others. Here are my Top Web Design Bookmarks of 2009, with thanks to everyone in the design community who keeps openly sharing their knowledge. Perfect Full-Page Background Image. A Discussion on Hourly Rates in Web Design | Build Internet! "What should my hourly rate be?" One of the hardest parts of start out into full or part time web design is setting fair prices. It's a topic that we've tackled before in our week-long Pricing Bootcamp series. Since then, we've received a lot of email asking the same question.
How To Explain To Clients That They Are Wrong - Smashing Magazin. Advertisement GIFs of spinning @s on the "Contact us" page. Common usability mistakes for the sake of visual appeal.
Emailium, email search engine
10 Social Media Marketing Examples You Can Actually Use. Earlier this month, I had the honor of delivering the keynote address to the Outdoor Industry Association's annual leadership conference. It's where folks like Patagonia, North Face, Timberland and more gather to talk about the latest trends impacting their business. I had done a panel the year prior on the basics of social media marketing, and the feedback was positive so they asked to me to speak to the whole group this year. What I think is lacking in so many social media marketing presentations today are actual examples that get you thinking, so I shared 10 with the group. And since the meeting is not all big brands (like any industry they have suppliers, consultants and more), I tried to mix up the budget ranges, B2B and B2C and the range of tactics so that everyone had a better chance of hearing something that would get them thinking.
And the "gratuitous toolbox shot" is to remind you that this is not a formula that you rinse and repeat. How Social Media Actually Improves Your Productivity At Work. Tweet it. Update your status. Blog it. Add it to your LinkedIn status. Like it. Tag it. Social media trends to watch for 2011. Just like you, I get hordes of messaging on social media.
And this is in addition to all the other work you might be doing in the area -- conferences, summits, your own personal social media activities. The list goes on. When I was asked to write this article, the focus was on how to make these social activities digestible, actionable, and relevant to marketers, media, and those who work with them. And even while writing this piece, news of evolving trends was pouring out at a dizzying rate. 10 Ways Social Media Will Change In 2010. Netimperative | News | Today's top stories. My picks for the 99 most useful Social Media (and PR) Blog posts. 21 Enterprise 2.0 Success Stories - Your-On-The-Job Mentorship S. The FWA: Favourite Website Awards - Web awards at the cutting ed. 5 Design Trends That Small Businesses Can Use in 2011.
Internet 2009 in numbers. 10 Web trends to watch in 2010. How Online Reading Habits Have Changed Over 2010. 11 Predictions for B2B Social Media in 2011.
---