Trends
www.socialmediaexaminer.com/SocialMediaMarketingIndustryReport2013.pdf
10 Genius Ideas That Changed Marketing Forever
This is an excerpt from our new ebook, 100 Ideas That Changed Marketing . Download your free copy if you want to see the other 90 ideas that have changed our industry forever! At the beginning of this year, we set out to create an infographic that gave a rundown of the history of marketing . And as we looked back, we found that one idea from all the way back in the 1400s -- the invention of the printing press that made mass media possible -- totally and completely changed the entire trajectory of our industry.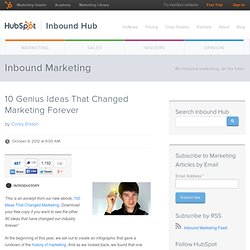 marissa mayer principi inovacija - great!
It's time for most organizations today to uplevel their technology stance: They must become profoundly proactive about external change and innovation. That's because technology change is currently happening much faster than most organizations can readily absorb, at least how they're doing it today. But that doesn't mean they shouldn't try. More importantly, they should begin putting in place the processes and structural changes required to begin adapting and co-evolving more quickly. Technology is an enormous amplifier of human effort. However, because it also uses itself as a ladder, it changes more and more quickly as time goes by.
This Year's Ten Digital Strategies for the Next-Generation Enterprise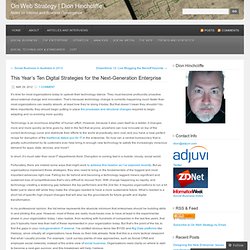 uk najoblja v online prodaji
razvoj e-poslovanja UK je najboljša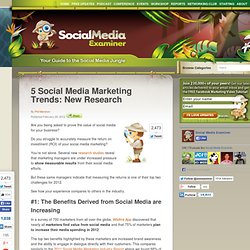 Are you being asked to prove the value of social media for your business?
5 Social Media Marketing Trends: New Research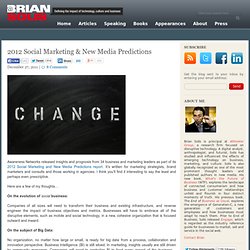 2012 Social Marketing & New Media Predictions
Awareness Networks released insights and prognosis from 34 business and marketing leaders as part of its 2012 Social Marketing and New Media Predictions report. It's written for marketing strategists, brand marketers and consults and those working in agencies. I think you'll find it interesting to say the least and perhaps even prescriptive.
Povratak urednika: zašto je ljudski filter budućnost weba | MC_ONLINE
digital marketing raziskava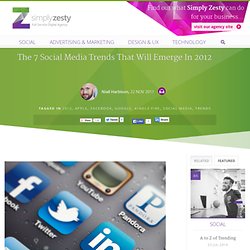 The 7 Social Media Trends That Will Emerge In 2012
I'm on a plane and when I get up here at 30,000 feet with no internet connection, I tend to become reflective about the industry I work in and start to think about bigger trends out there and what is coming down the line. As we enter the holiday season, I wanted to cast an eye forward to 2012 and share some of my thoughts about what is coming down the line in terms of innovation and trends in social media. As Mark Zuckerberg says, the pipes have been laid over the last five years for social by connecting everyone, and the next couple of years will see everybody building amazing things on top of all those social layers.
Social media is coming of age. Since the emergence of the first social media networks some two decades ago, social media has continued to evolve and offer consumers around the world new and meaningful ways to engage with the people, events and brands that matter to them. Now, years later, social media is still growing rapidly, becoming an integral part of our daily lives. Social networking is now truly a global phenomenon. This report reveals insights such as: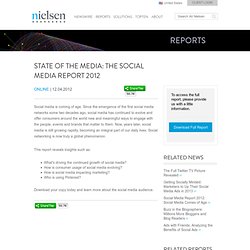 media overload a new trend to solve?
5 Enterprise Trends to Watch in 2010: Part 1 - ReadWriteEnterpri
Who does not love to make predictions? Tis' the season, right? We posted our Top 10 Enterprise Products for 2009 and so it feels like a good time to provide some perspective on what the enterprise can expect in the year ahead. Mashups
Social Media 2010: it's time to get boring: Church of the Custom
« Social Media 2010: it's time to get boring | Main | Objectives, goals, strategies and tactics »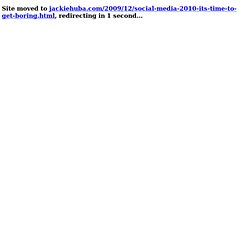 When it comes to driving customers to your website, there is an ongoing debate between how search engine marketing (SEM) budgets should be split between pay-per-click (PPC) advertising and search engine optimization (SEO).
Guest comment: Direct Navigation- A Secret Weapon for Search Eng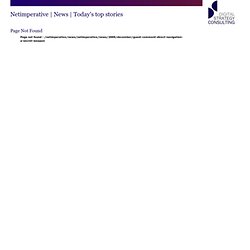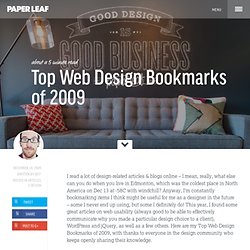 I read a lot of design-related articles & blogs online – I mean, really, what else can you do when you live in Edmonton, which was the coldest place in North America on Dec 13 at -58C with windchill?
Top Web Design Bookmarks of 2009
"What should my hourly rate be?"
A Discussion on Hourly Rates in Web Design | Build Internet!
Freelancing Tips: 15 Articles About Freelance Pricing
GIFs of spinning @s on the "Contact us" page. Common usability mistakes for the sake of visual appeal. Splash pages.
How To Explain To Clients That They Are Wrong - Smashing Magazin
emailium, email search engine
Earlier this month, I had the honor of delivering the keynote address to the Outdoor Industry Association's annual leadership conference . It's where folks like Patagonia, North Face, Timberland and more gather to talk about the latest trends impacting their business.
10 Social Media Marketing Examples You Can Actually Use
How Social Media Actually Improves Your Productivity At Work
Tweet it. Update your status.
Social media trends to watch for 2011
Just like you, I get hordes of messaging on social media.
Netimperative | News | Today's top stories
My picks for the 99 most useful Social Media (and PR) Blog posts
21 Enterprise 2.0 Success Stories - Your-On-The-Job Mentorship S
The FWA: Favourite Website Awards - Web awards at the cutting ed
5 Design Trends That Small Businesses Can Use in 2011
the-future-of-social-networks from dontmindrick.com - StumbleUpo
How Online Reading Habits Have Changed Over 2010
11 Predictions for B2B Social Media in 2011