PET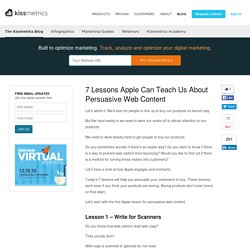 7 Lessons Apple Can Teach Us About Persuasive Web Content
Let's admit it. We'd love for people to line up to buy our products on launch day. But the hard reality is we need to work our socks off to attract attention to our products. We need to work bloody hard to get people to buy our products.
HFIvideo's Channel
Having trouble getting acceptance for the institutionalization of usability in your organization? In this conversation, Dr. Schaffer discusses some of the roadblocks organizations face when trying to build a mature user experience (UX) practice. In this white paper What is a mature UX practice? The benefits of a mature practice.
Impediments to Mature UX White Paper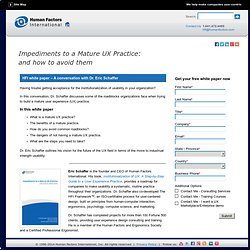 What Makes Them Click » Blog Archive » 100 Things You Should Know About People: #40 — "You're Easily Influenced, but I'm not" - Applying Psychology to Understand How People Think, Work, and Relate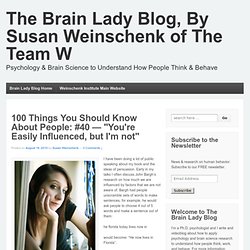 Photo by Katie Ricard
Despite the somewhat provocative title, you shouldn't really stop designing aesthetics. Gradients and colors and contrast are all good, but there's a more important side to web design that many people overlook most of the time: Designing emotions. Discussing emotion in design is a bit of a hot topic at the moment, it seems to be popping up in more and more blog posts and speaker sessions. In fact I saw at least three different web designers say that it was the subject of the talk which they had recently submitted for next year's SXSWi. So what's all the fuss about?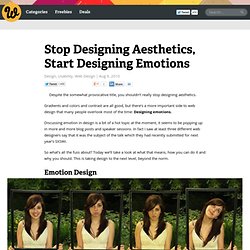 Stop Designing Aesthetics, Start Designing Emotions
Beyond Usability: Designing Web Sites for Persuasion, Emotion, a
The next wave of the information age is about designing for persuasion, emotion, and trust (PET Design™). You still need good usability – if people can't find something they can't be persuaded by it – but soon usability will no longer be the key differentiator it has been. It's often not enough to design a website that is easy to navigate, understand, and transact on. Just because people can do something doesn't ensure that they will. The future of design is about creating engagement and commitment to meet measurable business goals. Whether your site is e-commerce, informational, or transactional, you must motivate people to make decisions that lead to conversion.
HFI Webcast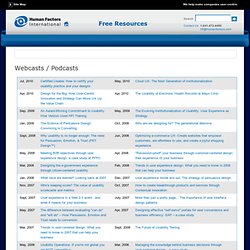 HFI Webcast
"Streams of Content, Limited Attention: The Flow of Information through Social Media" danah boyd Web2.0 Expo New York, NY 17 November 2009 [This is a rough unedited crib of the actual talk] Citation: boyd, danah. 2009. "Streams of Content, Limited Attention: The Flow of Information through Social Media."
"Streams of Content, Limited Attention: The Flow of Information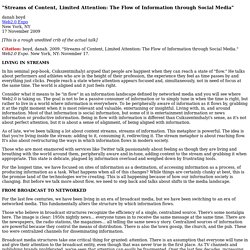 What makes online content go viral? Does an emotion (positive or negative) attached with specific content dictate whether it will be shared more or less online? Contrary to popular belief that negative content tends to be shared more, it was found in a recent study by Berger & Milkman (2012) that positive news is actually more viral. But while sad content is less viral, anger or anxiety inducing articles are both more likely to make the paper's most emailed list. It is important to realize that emotions associated with arousal such as awe, anxiety and anger are positively linked with virality.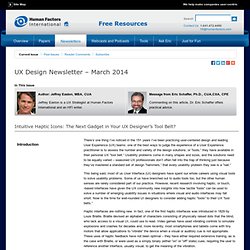 Current Issue - UI Design Newsletter
ConnectIT USA - Usability is no longer enough when it comes to c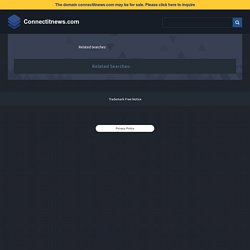 Usability is no longer enough when it comes to creating successful websites 28 September, 2008 By Vanessa Ho According to Dr. Eric Schaffer, founder and CEO of Human Factors International (HFI), usability will no longer be enough to create successful websites as web design needs to let companies influence and deepen their interactions with online customers through persuasion, emotion and trust (PET). "[Web] design was being done by technology folks who talked in computer jargon [and] didn't think about the user perspective and didn't understand what the user was doing and tortured people with technology.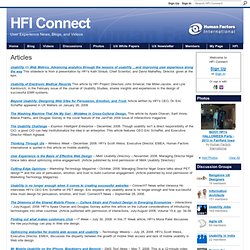 Usability <> Web Metrics: Advancing analytics through the lessons of usability ...and improving user experience along the way This slidedeck is from a presentation by HFI's Kath Straub, Chief Scientist, and David Mahaffey, Director, given at the NIH. Usability of Electronic Medical Records This article by HFI Project Directors John Smelcer, Hal Miller-Jacobs, and Lyle Kantrovich, in the February issue of the Journal of Usability Studies, shares insights and experiences in the design of successful EMR systems. Beyond Usability: Designing Web Sites for Persuasion, Emotion, and Trust.
Articles - HFI Connect
Usability <> Web Metrics ; Advancing analytics through the lesso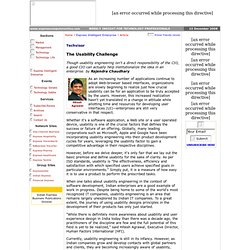 The Usability Challenge - Express Computer
Techvisor The Usability Challenge Though usability engineering isn't a direct responsibility of the CIO, a good CIO can actually help institutionalize the idea in an enterprise. by Rajendra Chaudhary As an increasing number of applications continue to adopt Web-browser based interfaces, organizations are slowly beginning to realize just how crucial usability can be for an application to be truly accepted by the users.
Infuse Emotion Into Experience Design « Customer Experience Matt
The Web is becoming an increasingly important channel for companies, yet online experiences leave a lot to be desired. Our research shows that most sites have poor usability and they don't reinforce key brand attributes. That's why I worked with Ron Rogowski (the primary author) on a research report that created a concept called Emotional Experience Design, which we define as: Creating interactions that engage users by catering to their emotional needs. Emotional Experience Design is quite different from today's functional design:
Marcos Nahr (marcosnahr) on Twitter
Former Apple fellow and design guru Don Norman has been influential on and offline.
Emotional about design | | guardian.co.uk Arts
Emotional about design | | guardian.co.uk Arts
Emotional Experience Design | Capping IT Off | Capgemini | Consu