E-mail marketing
5 Quick Things You Can Do This Week to Fix Your Marketing. 7 Overlooked but Critically Important Details of Profitable Email Marketing. Jay Harper of Red Apple Lipstick made $10,895.54 from a couple of emails he sent out to the people on his email list.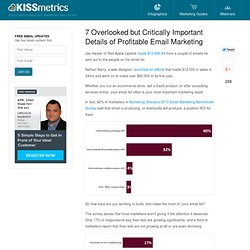 Nathan Barry, a web designer, launched an eBook that made $12,000 in sales in 24hrs and went on to make over $85,000 in its first year. Whether you run an ecommerce store, sell a SaaS product, or offer consulting services online, your email list often is your most important marketing asset. Mobile Email Newsletters. Email Testing and Email Preview - Email on Acid. Netimperative | News | Today's top stories. As part of the research, the firm produced the top 5 trends to watch in email marketing sector over the coming year.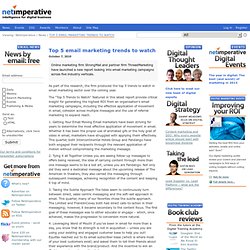 The "Top 5 Trends to Watch" featured in this latest report provide critical insight for generating the highest ROI from an organisation's email marketing campaigns, including the effective application of movement in email, cohesion across multiple messages and the use of referral marketing to expand reach. 1. Getting Your Email Moving Email marketers have been striving for years to determine the most effective application of movement in email. 5 Reasons Why No One Is Reading Your Email Newsletter. 10 Definitive Tips for Writing Captivating Emails. Emails are a great way to reach people, to keep reminding them that your site still exists and that they really should keep checking you out.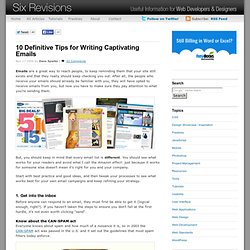 After all, the people who receive your emails should already be familiar with you, they will have opted to receive emails from you, but now you have to make sure they pay attention to what you're sending them. But, you should keep in mind that every email list is different. You should see what works for your readers and avoid what I call the Amazon effect: just because it works for someone else doesn't mean it's right for you and your company. Email Marketing Tips - Copywriting. The quality of email content is one of the core factors in determining whether an email marketing campaign succeeds or fails.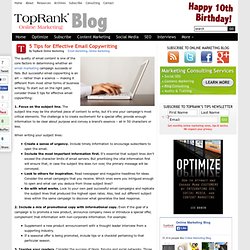 But successful email copywriting is an art — rather than a science — making it different from most other forms of business writing. To start out on the right path, consider these 5 tips for effective email copywriting: E-Commerce Design Resources: The Ultimate Round-Up | Graphics. E-commerce design requires much of the same design knowledge and skill as any other type of web design.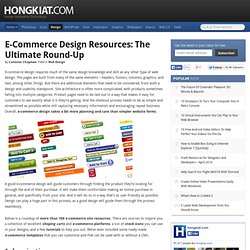 The pages are built from many of the same elements – headers, footers, columns, graphics, and text, among other things. But there are additional elements that need to be considered, from both a design and usability standpoint. Site architecture is often more complicated, with products sometimes falling into multiple categories.
---