Landing pages
How to Write Compelling Landing Page Copy that Converts. What is it that makes the visitors brain tick?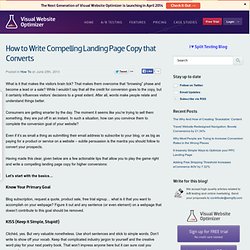 That makes them overcome that "browsing" phase and become a lead or a sale? While I wouldn't say that all the credit for conversion goes to the copy, but it certainly influences visitors' decisions to a great extent. 8 Website Design Tips for 2013. 60 seconds or less — the average time a user spends on a web page.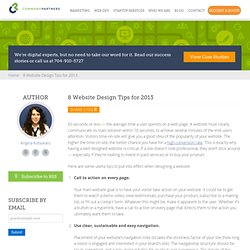 A website must clearly communicate its main solution within 10 seconds, to achieve several minutes of the end users attention. Visitors time-on-site will give you a good idea of the popularity of your website. The higher the time-on-site, the better chance you have for a high conversion rate. This is exactly why having a well designed website is critical. If a site doesn't look professional, they won't stick around — especially if they're looking to invest in paid services or to buy your product.
Click to action
26 Beautiful Landing Page Examples With A/B Testing Tips. It's landing page examples time again, and this time I'm going to focus on critiquing the pages from an A/B testing perspective.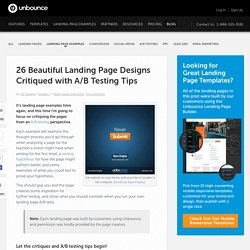 Each example will examine the thought process you'd go through when analyzing a page (or the reaction a visitor might have when arriving for the first time), a testing hypothesis for how the page might perform better, and some examples of what you could test to prove your hypothesis. This should give you and the page creators some inspiration for further testing, and show what you should consider when you run your own landing page A/B tests. Note: Each landing page was built by customers using Unbounce, and permission was kindly provided by the page creators. The 4 Most Costly Landing Page Mistakes: Talking to Visitors the Same. The 4 Most Costly Landing Page Mistakes: Talking to Visitors the Same Posted by Inbound Marketing Agents on Wed, Feb 13, 2013 @ 01:05 PM When you start creating your landing pages, it's only natural to make mistakes.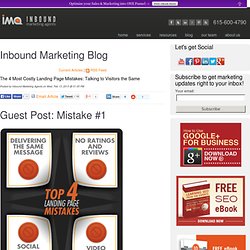 And yes, it is cliche to say - but you WILL learn from them. However with this post I want to save you from making 4 of the most costly mistakes we see landing pages make. What You Can (and Should) Ask for on Your Landing Page Forms. Your lead generation forms can make or break your online conversion goals.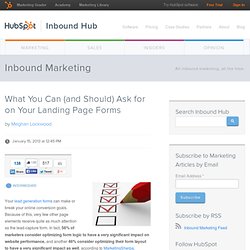 Because of this, very few other page elements receive quite as much attention as the lead-capture form. In fact, 56% of marketers consider optimizing form logic to have a very significant impact on website performance, and another 46% consider optimizing their form layout to have a very significant impact as well, according to MarketingSherpa. 3 Parts of a Complete B2B Search Landing Page. The ellipsis, or "…" is a written construct that means "you fill in the missing part."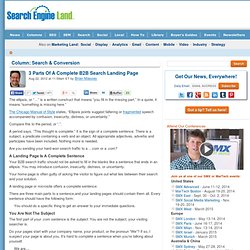 In a quote, it means "something is missing here." The Chicago Manual of Style states, "Ellipsis points suggest faltering or fragmented speech accompanied by confusion, insecurity, distress, or uncertainty." Compare this to the period, or ".". 50 Ways To Seduce Your Web Visitors With Persuasive Landing Pages. You've worked so hard… You see your traffic go up, and up, and up.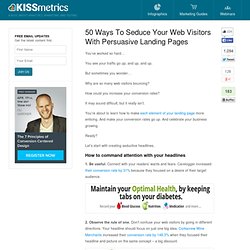 But sometimes you wonder… Why are so many web visitors bouncing? How could you increase your conversion rates? The Blueprint for a Perfectly Testable Landing Page - The Infographic. Searcher Personas: Advanced Landing Page Techniques. There are a million rules for search landing page design.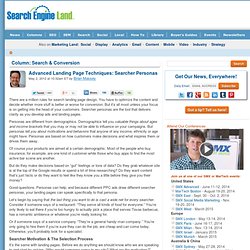 You have to optimize the content and decide whether more stuff is better or worse for conversion. But it's all moot unless your focus is on getting into the head of your customers. Searcher personas are the tool that delivers clarity as you develop ads and landing pages. Personas are different from demographics. [HOW TO] 5 Ways To Create Social Landing Pages That Convert. Social landing pages are not the same as regular old landing pages.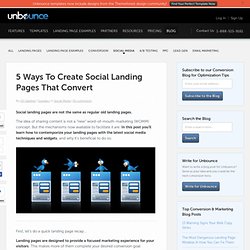 The idea of sharing content is not a "new" word-of-mouth-marketing (WOMM) concept. But the mechanisms now available to facilitate it are. In this post you'll learn how to contemporize your landing pages with the latest social media techniques and widgets, and why it's beneficial to do so.
Rules of social landing pages
Tips in Achieving a Better Landing Page Design. Landing page is the lead capture page which is the first thing a user will see upon clicking on an ad or on a link.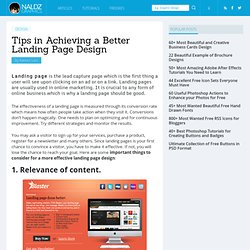 Landing pages are usually used in online marketing. It is crucial to any form of online business which is why a landing page should be good. The effectiveness of a landing page is measured through its conversion rate which means how often people take action when they visit it. Your Landing Page Sucks! Here are 10 Examples That Don't…
Don't take that too personally, I've not actually seen your landing page yet. Rather, I'm going to cling to the assumption that it sucks simply because most of them do. Sad, but horribly true. Note: I'm bringing this post back from the archives. 8 Ways your Landing Page Design is Sabotaging your Click-Thru Rate. Testing and optimizing landing pages can be a fun and frustrating game of cat and mouse. Every time the mouse gets away, it feels like self-inflicted sabotage. After all, as marketers we really don't want to eat the mouse, we're just inviting them to play! In this post I'm going to show you how to design landing pages that create a cat and mouse snuggle-fest. Let's start by looking at the facts. The Anatomy of a Perfect Landing Page. 30 Key Terms in Landing Page Creation & Optimization [Glossary] Landing pages play a critical role in lead generation. After all, they allow your website visitors to convert into leads and express interest in your company's content.
So what makes a landing page successful? "The number one rule," said Dr. What Can Social Media Teach Us About Conversion Optimization? I've written before that conversion optimization can learn a lot from content marketing (such as this example). But can conversion optimization also learn something from social media marketing? The answer is yes. In particular, one key lesson: people prefer dealing with other real people. The Social Media Antidote Marketing has gotten a bad rap — to a certain degree, deservedly so — for being artificial at times. Landing Page Optimization tips: analysis of 50+ sites to find out what increases sales and conversions.
Last week I offered free conversion rate optimization advice on a popular forum (known as Hacker News). Within a single day I got 50+ requests for help. It was definitely an enriching experience analyzing and dissecting all those websites and landing pages. How To Test Landing Pages | Marketing ROI or DIE! How to Design a Landing Page to be Conversion Focused. Six Risk Reversal Tactics For B2B Lead Generation. The LIFT Model: The Six Landing Page Conversion Rate Factors. Create Landing Pages That Convert - ClickZ.
---