Forsquare
In January, FourSquare opened up the ability for business owners to create official brand pages to help them attract customers to deals, offers and available promotions.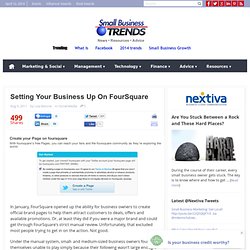 Setting Your Business Up On FourSquare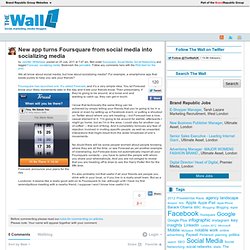 Forecast: announce your plans for the day We all know about social media, but how about socializing media?
New app turns Foursquare from social media into socializing media
img.constantcontact.com/docs/pdf/get-started-building-your-social-media-presence.pdf
Foursquare Marketing for the Enterprise Presentation from Awareness, Inc. and Jason Keath of Social Fresh from recent foursquare marketing webinar on 8/11/2010 "Foursquare for the enterprise, a brave new world" . Some key takeaways which Jason discussed during this webinar included: •Asking the right questions before using foursquare for business •Experimenting with foursquare as a user first •Listening to customers through foursquare •The basic marketing pieces of foursquare (tips, specials, badges) •Extending offline community through foursquare •Integrating foursquare marketing •How to train for foursquare •Promotion of foursquare marketing
http://blip.tv/awarenesslive/foursquare-marketing-for-the-enterprise-4020702 is not available
www.tq.com.au/fms/tq_corporate/CLUECARD - foursquare for tourism.pdf
www.affectstrategies.com/files/AFT_SocialMediaSuccess_Foursquare.pdf
www.the555deal.com/wp-content/uploads/2011/03/location-based-marketing.pdf
www.mojaveinteractive.com/wp-content/uploads/2010/03/Foursquare-for-marketers-Mojave-2010.pdf
A Foursquare Strategy | 24 Usable Hours
Foursquare is taking off like gangbusters, and it's got me excited about combining social media with actual social interactions.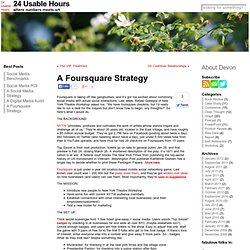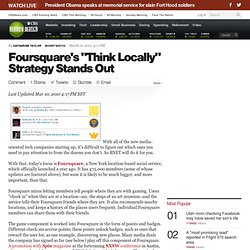 With all of the new media-oriented tech companies starting up, it's difficult to figure out which ones you need to pay attention to from the dozens you don't. So BNET will do it for you.
Foursquare's "Think Locally" Strategy Stands Out | BNET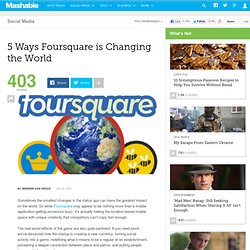 Sometimes the smallest changes in the status quo can have the greatest impact on the world. So while Foursquare may appear to be nothing more than a mobile application getting excessive buzz, it's actually fueling the location-based mobile space with unique creativity that competitors can't copy fast enough. The real-world effects of the game are also quite pertinent. If you need proof, we've dissected how the startup is creating a new currency, turning social activity into a game, redefining what it means to be a regular at an establishment, pioneering a deeper connection between place and patron, and putting people focus on higher education. 1. Creating a New Currency
5 Ways Foursquare is Changing the World
Foursquare Business Strategies You Don't Want to Miss
Foursquare Tourism
4 Ways Foursquare Is Better for Business Than Facebook | BNET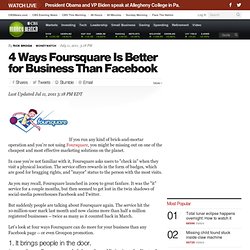 If you run any kind of brick-and-mortar operation and you're not using Foursquare , you might be missing out on one of the cheapest and most effective marketing solutions on the planet.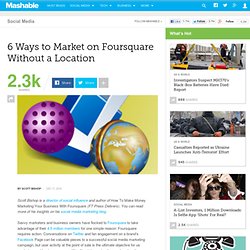 Scott Bishop is a director of social influence and author of How To Make Money Marketing Your Business With Foursquare (FT Press Delivers).
6 Ways to Market on Foursquare Without a Location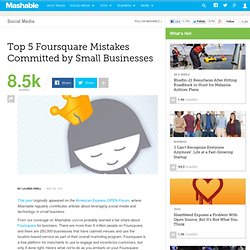 This post originally appeared on the American Express OPEN Forum , where Mashable regularly contributes articles about leveraging social media and technology in small business. From our coverage on Mashable , you've probably learned a fair share about Foursquare for business. There are more than 9 million people on Foursquare, and there are 250,000 businesses that have claimed venues and use the location-based service as part of their overall marketing program.
Top 5 Foursquare Mistakes Committed by Small Businesses
I've spent the last 10 days in the USA where the use of foursquare is far more advanced than it is in London (where I am based). Interestingly, it is not just 'users' that are making it more useful, but businesses are doing their bit, creating reasons to check-in and be loyal. Apart from using 'tips' more regularly (which I can't recommend enough), I've had a little dig and collated a list of 10 things worth looking at to enhance your foursquare experience.
10 foursquare secrets worth making 'public'