Forsquare
Setting Your Business Up On FourSquare. In January, FourSquare opened up the ability for business owners to create official brand pages to help them attract customers to deals, offers and available promotions.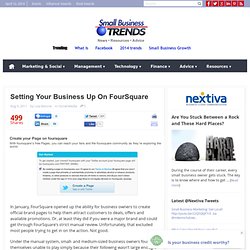 Or, at least they did if you were a major brand and could get through FourSquare's strict manual review. Unfortunately, that excluded most people trying to get in on the action. Not good. New app turns Foursquare from social media into socializing media. Forecast: announce your plans for the day We all know about social media, but how about socializing media?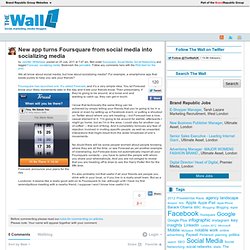 For example, a smartphone app that exists purely to help you see your friends? Foursquare has launched one. It's called Forecast, and it's a very simple idea. You let Forecast know your likely movements later in the day and it lets your friends know. Img.constantcontact.com/docs/pdf/get-started-building-your-social-media-presence.pdf. Is not available. Www.tq.com.au/fms/tq_corporate/CLUECARD - foursquare for tourism.pdf. Www.affectstrategies.com/files/AFT_SocialMediaSuccess_Foursquare.pdf. Www.the555deal.com/wp-content/uploads/2011/03/location-based-marketing.pdf. Www.mojaveinteractive.com/wp-content/uploads/2010/03/Foursquare-for-marketers-Mojave-2010.pdf. A Foursquare Strategy | 24 Usable Hours. Foursquare is taking off like gangbusters, and it's got me excited about combining social media with actual social interactions.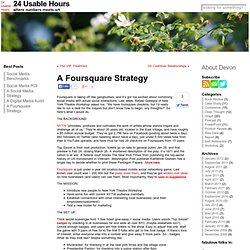 Last week, Rafael Gallegos of New York Theatre Workshop asked me, "We have foursquare checkins, but I'd really like to run a deal for the mayors but don't know how to begin. any thoughts?" So here's what I would do. The BACKGROUND: NYTW "provokes, produces and cultivates the work of artists whose visions inspire and challenge all of us." Foursquare's "Think Locally" Strategy Stands Out | BNET.
Last Updated Mar 10, 2010 4:17 PM EST With all of the new media-oriented tech companies starting up, it's difficult to figure out which ones you need to pay attention to from the dozens you don't.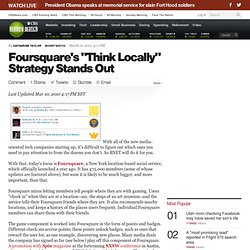 So BNET will do it for you. With that, today's focus is Foursquare, a New York location-based social service, which officially launched a year ago. It has 475,000 members (some of whose updates are featured above), but soon it is likely to be much bigger, and more important, than that. Foursquare mixes letting members tell people where they are with gaming. 5 Ways Foursquare is Changing the World. Sometimes the smallest changes in the status quo can have the greatest impact on the world.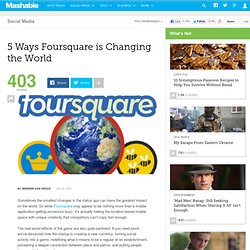 So while Foursquare may appear to be nothing more than a mobile application getting excessive buzz, it's actually fueling the location-based mobile space with unique creativity that competitors can't copy fast enough. The real-world effects of the game are also quite pertinent. If you need proof, we've dissected how the startup is creating a new currency, turning social activity into a game, redefining what it means to be a regular at an establishment, pioneering a deeper connection between place and patron, and putting people focus on higher education. 1. Creating a New Currency. Foursquare Business Strategies You Don't Want to Miss. August 22nd, 2011 by Samir Balwani Mobile marketing has become more and more important as consumers migrate to the new platform.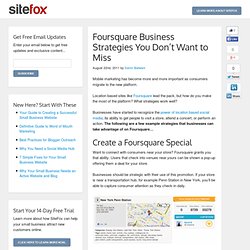 Location based sites like Foursquare lead the pack, but how do you make the most of the platform? 4 Ways Foursquare Is Better for Business Than Facebook | BNET. Last Updated Jul 11, 2011 3:18 PM EDT If you run any kind of brick-and-mortar operation and you're not using Foursquare, you might be missing out on one of the cheapest and most effective marketing solutions on the planet.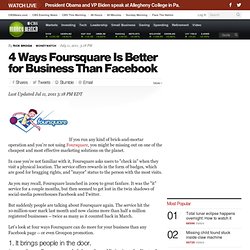 In case you're not familiar with it, Foursquare asks users to "check in" when they visit a physical location. The service offers rewards in the form of badges, which are good for bragging rights, and "mayor" status to the person with the most visits. 6 Ways to Market on Foursquare Without a Location. Scott Bishop is a director of social influence and author of How To Make Money Marketing Your Business With Foursquare (FT Press Delivers).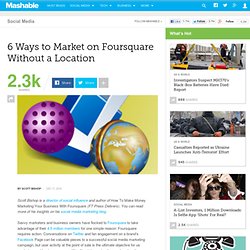 You can read more of his insights on his social media marketing blog. Savvy marketers and business owners have flocked to Foursquare to take advantage of their 4.5 million members for one simple reason: Foursquare requires action. Conversations on Twitter and fan engagement on a brand's Facebook Page can be valuable pieces to a successful social media marketing campaign, but user activity at the point of sale is the ultimate objective for us marketers and business owners. Top 5 Foursquare Mistakes Committed by Small Businesses. This post originally appeared on the American Express OPEN Forum, where Mashable regularly contributes articles about leveraging social media and technology in small business.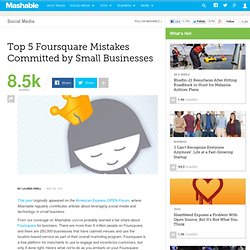 From our coverage on Mashable, you've probably learned a fair share about Foursquare for business. There are more than 9 million people on Foursquare, and there are 250,000 businesses that have claimed venues and use the location-based service as part of their overall marketing program. 10 foursquare secrets worth making 'public'
---