Facebook
25 pieces of advice you need to build an awesome Facebook Page. During the last couple of months we've all read a steady stream of complaints about Facebook's most recent changes and how they affect business Pages.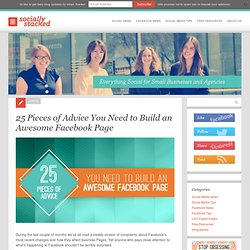 Yet anyone who pays close attention to what's happening at Facebook shouldn't be terribly surprised. After all, as Scott Ayres over at Post Planner noted in a recent post, How to Customize the Apps Images on Your Facebook Fan Page. How to Customize the Apps Images on Your Facebook Fan Page.
Facebook ettiquette
Search graph facebbok. Facebook expert tips. Case studies facebook campainges. Timeline for busienss. New facebook marketing. Timeline and marketing. Facebook Strategy. Who's sitting on something that could be valuable but is not using it?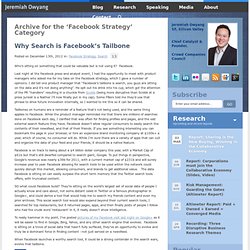 Facebook. Last night at the Facebook press and analyst event, I had the opportunity to meet with product managers who asked me for my take on the Facebook strategy, which I gave a number of opinions. I did tell one product manager that "Facebook's tailbone is search, you guys are sitting on the data and it's not doing anything". He spit out his drink into his cup, which got the attention of the PR "handlers" resulting in a chuckle from Scoble (being more disruptive than Scoble at a press junket is a feather I'll now finally put in my cap).
Some FBers told me they'd use that phrase to drive future innovation internally, so I wanted to ink this so it can be shared. Tips for Designing a Successful Facebook Content Strategy. A funny thing happened on the way to this blog post.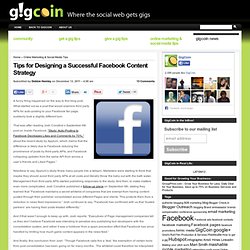 What started out as a post that would examine third party APIs for auto-posting to your Facebook fan page, suddenly took a slightly different turn. That was after reading Josh Constine's September 6th post on Inside Facebook, "Study: Auto-Posting to Facebook Decreases Likes and Comments by 70%," about the recent study by Applum, which claims that the difference is likely due to Facebook reducing the prominence of posts by third-party APIs, and Facebook collapsing updates from the same API from across a user's friends and Liked Pages." Needless to say, Applum's study threw many people into a tailspin. Marketers were starting to think that maybe they should avoid third party APIs at all costs and literally throw the baby out with the bath water. Social Media Consultant.
6186 Words On Becoming A Facebook Machine (It's a mega post!) Warning: [If you're a social media tool chaser (not to be confused with tail chaser), this post is NOT for you.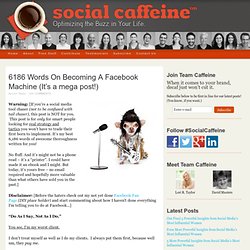 This post is for only for smart people looking for real strategy and tactics you won't have to trade their first born to implement. It's my best 6,186 words of awesome thoroughness written for you! No fluff. And it's might not be a phone read – it's a "printer". Is not available. Oops! Google Chrome could not find www.bydatabedriven.com.
Facebook iconographic
Untitled. In a recent Harvard Business Review study it was revealed that only 12 percent of companies surveyed indicated that they were effective users of social media, and just 7 percent said they were able to integrate social media into their marketing activities.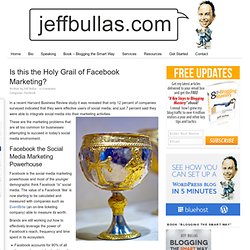 These are the marketing problems that are all too common for businesses attempting to succeed in today's social media environment. Facebook the Social Media Marketing Powerhouse Facebook is the social media marketing powerhouse and most of the younger demographic think Facebook "is" social media. The value of a Facebook 'like' is now starting to be calculated and measured with companies such as EventBrite (an on-line ticketing company) able to measure its worth. Brands are still working out how to effectively leverage the power of Facebook's reach, frequency and time spent in its ecosystem.
Ecommerce and social networks
Facebook store. Webcomm.tufts.edu/downloads/SocialMediaStrategyTemplateFINAL.pdf. Facebook in hoteli. Www.ourthankyou.com/uploads/Creating_a_Winning_Facebook_Fan_Page.pdf. Facebook aplikacije. _files/presentations/FacebookMarketing.pdf. Kako povečati povezanost s fani. 7 Steps to Increase Facebook Fans. This is a guest blog post by landing page optimization consultant, best selling author, and speaker Bryan Eisenberg.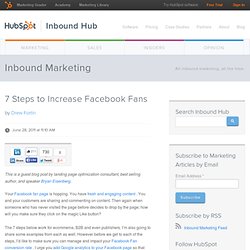 Your Facebook fan page is hopping. You have fresh and engaging content . You and your customers are sharing and commenting on content. Www.facebook-studio.com/fbassets/media/856/FacebookBestPracticeGuide.pdf. MariSmith1.pdf (application/pdf Object) How to Better Engage Facebook Fan Page 'Fans' A compelling, active Facebook fan page should be an integral part of your marketing plans.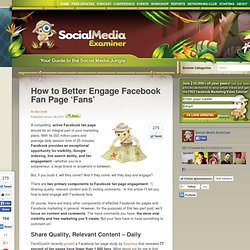 With its 350 million users and average daily session time of 25 minutes, Facebook provides an exceptional opportunity for visibility, Google indexing, live search ability, and fan engagement—whether you're a solopreneur, a large brand or anywhere in between. But, if you build it, will they come? And if they come, will they stay and engage? 7 Scientific Ways to Promote Sharing on Facebook « Brian Solis Brian Solis. InShare9 Leonardo Da Vinci once wrote, "simplicity is the ultimate sophistication."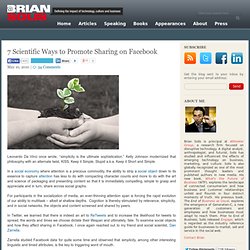 Kelly Johnson modernized that philosophy with an alternate twist, KISS, Keep it Simple, Stupid a.k.a. Keep it Short and Simple. In a social economy where attention is a precious commodity, the ability to strip a social object down to its essence to capture attention has less to do with compacting character counts and more to do with the art and science of packaging and presenting content so that it is immediately compelling, simple to grasp and appreciate and in turn, share across social graphs. 4 Proven Steps to Facebook Page Success. Are you looking to take your Facebook page to the next level, but aren't sure how to go about it?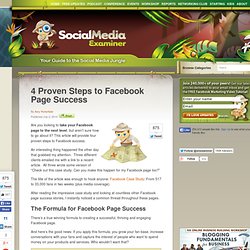 This article will provide four proven steps to Facebook success. An interesting thing happened the other day that grabbed my attention. Three different clients emailed me with a link to a recent article. All three wrote some version of "Check out this case study. Can you make this happen for my Facebook page too?" What Happens After the Facebook Like? 20 Tips To Engage Your Audience After the Like | Tampa Social Media Consultant Speaker & Trainer. So, you click the "like" button.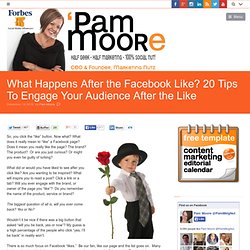 Now what? What does it really mean to "like" a Facebook page? Does it mean you really like the page? The brand? The product? 7Eye Sunglasses | Custom Facebook Page Gallery. 5 New Studies Show Facebook a Marketing Powerhouse. Customize Your Facebook Fan Page: Tips, Tricks, Applications. Customization will always make you stand out from the rest of the world, the same rule applies on Facebook as there are more than 400 million active users.By now you may be well aware of Facebook fan page which is used for promoting business online on Facebook. But just creating a simple fan page won't help you get the fan following you want. With this article I will be sharing with you some of the most basic tips that you can implement right away & customize your fan page within few minutes, using some applications and codes.
Static FBML An application which should be implemented by most of the fan-page owners. Static FBML is really simple to implement and can be used to do various modifications on Facebook Fan Page. Great Apps to Customize Your Facebook Fan Page. With 500 million registered users, there's never been an online platform with as much marketing potential as Facebook. Nowadays all the buzz around promoting your business or brand is focused towards Twitter, but Twitter is relatively small when it comes to audience size and isn't a platform that offers much leeway to promote your brand. Facebook on the other hand is in its prime and is ready to be taken advantage of. With the ability to get vanity usernames & URLs, flexible profile pictures, extremely customizable welcome pages, ability to have a conversation that is not limited by character size and a bunch of apps and an option to add custom coded apps, it is now possible to promote your brand left, right and center via Facebook fan pages.
After the jump we will touch down the tip of the Facebook fan page customization iceberg. 5 Creative Facebook Places Marketing Campaigns. Facebook Places, Facebook's location-based feature that launched in August, allows Facebook users to see where their friends are and to share their locations in the real world. It has also become another powerful Facebook marketing tool for businesses, who can design campaigns around the checkin service to build awareness, grow their fan base and engage and reward customers. Each time a Facebook user checks in to a particular location on Facebook Places, Facebook broadcasts the checkin to that user's friends' news feeds. Resources. Browse through this directory of my recommended Facebook blog posts and tutorials to help you improve your Facebook marketing! Articles – Helpful Articles and Tutorials on Facebook MarketingiFrames Apps – The Motherlode List of Custom Apps To Add To Your PageTools – The Best Tools To Simplify Your Social MediaBlogs – Recommended Social Media and Technology BlogsBooks – Mari's Top Picks for Excellent Reads iFrames Apps – The Motherlode List of Custom Apps To Add To Your Page Facebook stopped allow the creation of FBML pages/apps/tabs after March 11, 2011.
Page Admins need to use iFrames to add any custom content and that does require a bit of coding/programming and design knowledge. But, then, so did FBML! How To Build Your Facebook Landing Page (If You're Not A Programmer) | SocialMouths. Ask the Wise Guy: Facebook Fan Page or Website? : The World. Facebook News Feed Settings: Random or Not, Biggest Secrets Revealed. 10 Do's and Don'ts for Facebook Pages. How to Add Google Analytics to Your Facebook Fan Page. Why you need a social media strategy, not a Facebook strategy. Your Free Gift - Success Summit. 3 Studies Show Facebook Marketing Potential.
---