Facebook analytics
What Facebook analytics tools are there
Facebook's popularity covers our planet like a tsunami and each day more and more people are impacted by this monstrous social network. In most of cases Facebook's influence is very positive because it erases all possible borders on our planet creating unique online world, socializing different types of people, helping in networking and so on. Of course marketing gurus are not standing aside from this tasty morsel and run various campaigns on Facebook. If you are going to create your own brand page on Facebook (possibly based on one of the premium-design Facebook templates available on TemplateMonster) than you will definitely need some effective analytics tools that would help you to trace down the results of your marketing efforts and other important indexes. Fresh and valid information is crucial for any marketer, and even Facebook itself won't let you stay in the informational vacuum – you can use their default analytics tool called Facebook Insights, which is also quite good.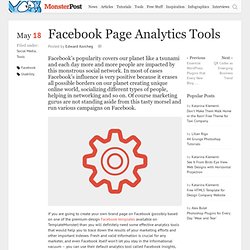 Facebook Page Analytics Tools
i 1 Votes NOTE : I had recently scribbled my thoughts on Facebook Insights for India's growing B2B marketing community http://www.paulwriter.com . Here is the version that is live on the website . If your brand has a website, you would definitely want to analyze its performance in terms of visitor traffic, its navigation patterns, where the visitors are coming from etc.
3 Ways to Analyze Facebook Fan Page Traffic |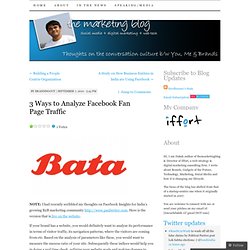 Facebook: How to Conduct Market Analysis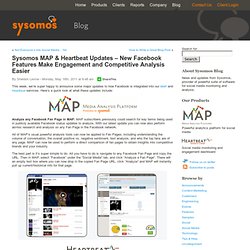 By Sheldon Levine - Monday, May 16th, 2011 at 9:48 am ShareThis This week, we're super happy to announce some major updates to how Facebook is integrated into our MAP and Heartbeat services. Here's a quick look at what these updates include: Analyze any Facebook Fan Page in MAP: MAP subscribers previously could search for key terms being used in publicly available Facebook status updates to analyze. With our latest update you can now also perform ad-hoc research and analysis on any Fan Page in the Facebook network. All of MAP's usual powerful analysis tools can now be applied to Fan Pages; including understanding the volume of conversation, the overall positive vs. negative sentiment, text analysis, and who the top fans are of any page.
MAP & Heartbeat Updates – New Facebook Features Make Engagement and Competitive Analysis Easier
Facebook plug-in for Excel
The first professional tool to manage Facebook Fan Pages. Facebook Page Central´s features include: Auto-moderation and email notifications for new posts and comments Dashboard with sentiment analysis and visual reports Workflow management for collaboration with team members Identify top fans, level of engagement and key discussion themes With growing popularity of Facebook Pages, one of the biggest challenges facing many companies is effectively and efficiently managing them. Whether you have single or multiple Facebook Pages, this remarkable tool makes it easier to moderate comments, automate tasks and run reports. The launch of Facebook Page Central reflects Sysomos´ innovative and forward-thinking approach as the social media landscape continues to grow and becomes complex to manage. Auto-moderation No need to constantly check your wall comments.
Facebook Page Management Software for Businesses. Reports, Auto spam control, Workflow.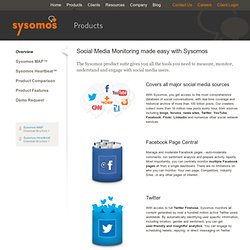 AllFacebook Stats - Features
Spy on Your Facebook Competitors with HyperAlerts | social media tools
Cybertegic - Internet Marketing Services Company, Expert in SEO,PPC,Social Media Marketing and More
Research Your Competitors on Facebook - Cybertegic, Inc. Blog