Image
MagicLantern.fm - Home. Lytro. Festivals Directory. RGBDToolkit.
Inspiration
Need to Learn a Camera's Interface Before You Use It? These Free Camera Simulators Can Help. So you just got hired onto a production as an AC or a Camera Operator, and you know that you have the knowledge, talent, and skill to produce some beautiful images.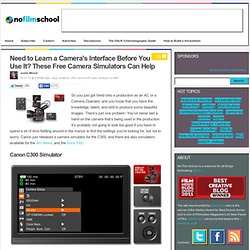 There's just one problem: You've never laid a hand on the camera that's being used in the production. It's probably not going to look too good if you have to spend a lot of time fiddling around in the menus to find the settings you're looking for, but not to worry.
---