Programming for Kids
Michael Rosen (b. 1946) says he became a children's poet by accident - "I thought I was being an ironic adult poet but children's literature 'claimed' me". He has since become a very well-known poet, for adults as well as children, and also writes plays; he has worked in television and radio too, in programmes from Home Truths to Playschool. He is a winner of the Eleanor Farjeon Award for Children's Literature and the National Literacy WOW Award, has received an honorary doctorate from the Open University, and has been involved in one way or another with more than a hundred books. This recording, though, is taken from just three of those books: his Book of Nonsense, Even More Nonsense, and In the Colonie. The first two are, indeed, full of Nonsense, as titles like 'Bips', 'The Smeenge' and 'Plonky Wonky Doodah' suggest. Rosen says that his Nonsense is in conversation with Edward Lear, who wrote dozens of limericks too, so it's not surprising to find '3 Limericks' in this section.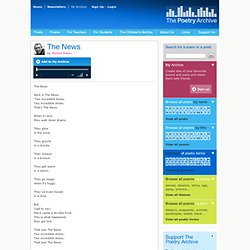 The News by Michael Rosen
This is OpenCourseWare. Computer Science E-75 is a course at Harvard Extension School. Even if you are not a student at Harvard, you are welcome to "take" this course via cs75.tv by following along via the Internet. (The course's own website is at www.cs75.net.)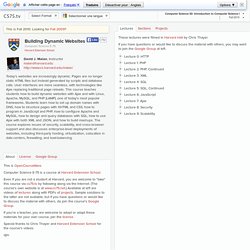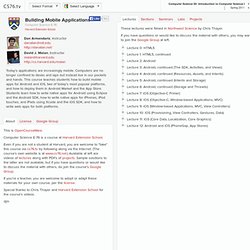 This is OpenCourseWare. Computer Science E-76 is a course at Harvard Extension School. Even if you are not a student at Harvard, you are welcome to "take" this course via cs76.tv by following along via the Internet.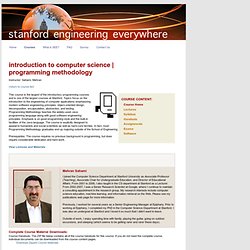 This course is the largest of the introductory programming courses and is one of the largest courses at Stanford. Topics focus on the introduction to the engineering of computer applications emphasizing modern software engineering principles: object-oriented design, decomposition, encapsulation, abstraction, and testing. Programming Methodology teaches the widely-used Java programming language along with good software engineering principles. Emphasis is on good programming style and the built-in facilities of the Java language. The course is explicitly designed to appeal to humanists and social scientists as well as hard-core techies.
Author: Maggie On Valentine's day, some people will give Valentine gifts to lover or favorite people, such as chocolates, cards and flowers. But in recent years, Valentine???s Day alleged too "commercial." Do you have other better gift ideas in addition to chocolates, cards and flowers?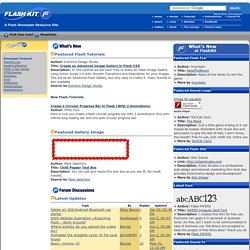 Make Anything on your iPad. Codea for iPad lets you create games and simulations — or just about any visual idea you have. Turn your thoughts into interactive creations that make use of iPad features like Multi-Touch and the accelerometer.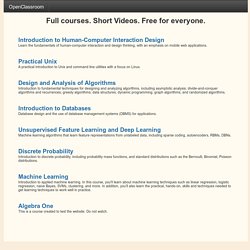 Full courses. Short Videos. Free for everyone. Learn the fundamentals of human-computer interaction and design thinking, with an emphasis on mobile web applications. A practical introduction to Unix and command line utilities with a focus on Linux.
Hackety Hack uses the Shoes toolkit to make it really easy and fun to build graphical interfaces. Several lessons and example programs are provided, showing you how to make all kinds of fun things! Check out what other people are doing with Hackety Hack! The Programs section is chock full of fun projects from other Hackety users.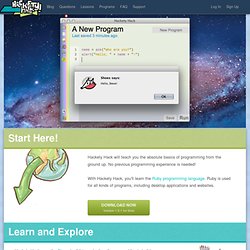 Using an innovative 3D programming environment that makes it easy to create animations or games, the Alice Project seeks to provide tools and materials for a conceptual core of computational thinking, problem solving, and computer programming. The Alice Suite of educational tools is designed to support teaching and learning across a spectrum of ages, grade levels, and classes in K-12 and in college or university courses. Read more... The Alice team has developed instructional materials to support students and teachers in using this new approach. Other authors have generously joined our efforts, creating additional textbooks. The Alice Educator Mailing list provides a quick and easy way to ask questions, post ideas and nifty assignments, and generally support all members of the Alice teaching community.