Programming for Kids
Michael Rosen (b. 1946) says he became a children's poet by accident - "I thought I was being an ironic adult poet but children's literature 'claimed' me". He has since become a very well-known poet, for adults as well as children, and also writes plays; he has worked in television and radio too, in programmes from Home Truths to Playschool. He is a winner of the Eleanor Farjeon Award for Children's Literature and the National Literacy WOW Award, has received an honorary doctorate from the Open University, and has been involved in one way or another with more than a hundred books. This recording, though, is taken from just three of those books: his Book of Nonsense, Even More Nonsense, and In the Colonie. The first two are, indeed, full of Nonsense, as titles like 'Bips', 'The Smeenge' and 'Plonky Wonky Doodah' suggest. Rosen says that his Nonsense is in conversation with Edward Lear, who wrote dozens of limericks too, so it's not surprising to find '3 Limericks' in this section.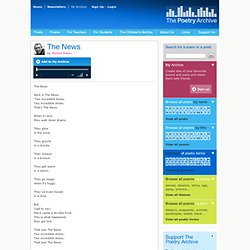 The News by Michael Rosen
This is OpenCourseWare. Computer Science E-75 is a course at Harvard Extension School. Even if you are not a student at Harvard, you are welcome to "take" this course via cs75.tv by following along via the Internet. (The course's own website is at www.cs75.net.)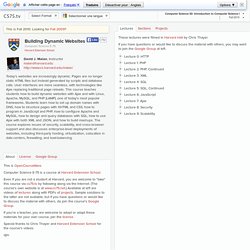 Building Mobile Applications / OpenCourseWare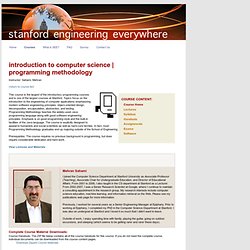 This course is the largest of the introductory programming courses and is one of the largest courses at Stanford.
Make Anything on your iPad. Codea for iPad lets you create games and simulations — or just about any visual idea you have. Turn your thoughts into interactive creations that make use of iPad features like Multi-Touch and the accelerometer.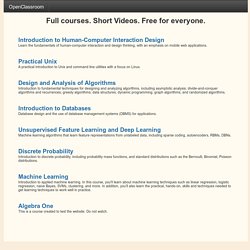 Full courses. Short Videos. Free for everyone. Learn the fundamentals of human-computer interaction and design thinking, with an emphasis on mobile web applications. A practical introduction to Unix and command line utilities with a focus on Linux.