Crowdfunding
Is there an open source crowdfunding platform. Quirky | social product development. Cofundos.org - community innovation and funding. Invested.in | Raise Money, Reach Goals, Build Community! Kapipal - Raise Money for Your Dreams! Helping to raise business investment for UK entrepreneurs.
About Us. OpenIDEO is a place where people design better, together for social good.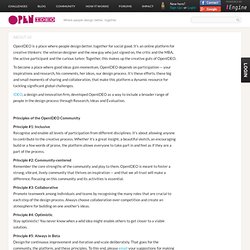 It's an online platform for creative thinkers: the veteran designer and the new guy who just signed on, the critic and the MBA, the active participant and the curious lurker. Together, this makes up the creative guts of OpenIDEO. To become a place where good ideas gain momentum, OpenIDEO depends on participation — your inspirations and research, his comments, her ideas, our design process.
---