Your own del.icio.us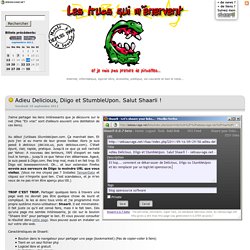 J'aime partager les liens intéressants que je découvre sur le net (Mes "En vrac" sont d'ailleurs souvent une distillation de ces liens). Au début j'utilisais StumbleUpon.com. Ça marchait bien. Et puis j'en ai eu marre de leur grosse toolbar. Alors je suis passé à delicious (del.icio.us, puis delicious.com).
Adieu Delicious, Diigo et StumbleUpon. Salut Shaarli ! - sebsauvage.net - Les trucs qui m'énervent -
You want to share the links you discover ? Shaarli is a minimalist delicious clone you can install on your own website. It is designed to be personal (single-user), fast and handy. Minimalist design (simple is beautiful) Dead-simple installation: Drop the files, open the page.
php:shaarli [sebsauvage]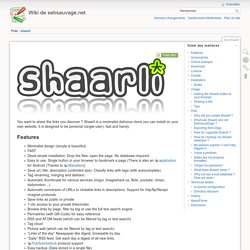 Liens en vrac de sebsauvage
Shaare your links... 18038 links Liens en vrac de sebsauvage Home Login RSS Feed ATOM Feed Tag cloud Picture wall Daily Links per page: 20 50 100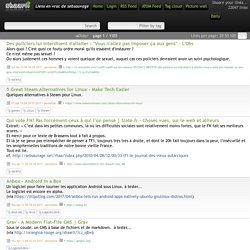 Romain's bookmarks
Shaare your links... 4076 links Romain's bookmarks Home Login RSS Feed ATOM Feed Tag cloud Picture wall Daily Links per page: 20 50 100 ◄Older page 1 / 204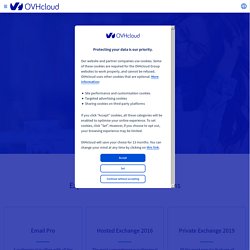 After having quickly written DeliciousBackup I couldn't resist myself into adding a wee bit more functionality to it. The result is a project called Yummy!. It's goal: to become a self hosted Delicious. New and improved One of the new features in Yummy! which immediately stands out is that it's been styled in a true Delicious-style, making it more attractive.
Introducing Yummy! — A self hosted Delicious | Bram.us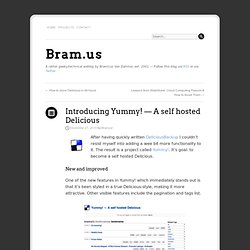 README.md Yummy — Version 2.2 A self hosted Delicious (with del.icio.us import).
bramus/yummy - GitHub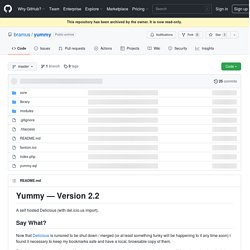 SemanticScuttle
★ 5.0 Stars (44) 42 Downloads (This Week) Last Update: Download sc-0.98.5.zip Browse All Files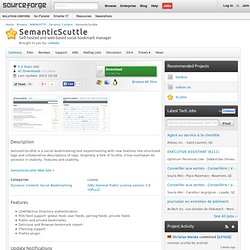 SemanticScuttle | Download SemanticScuttle software for free at SourceForge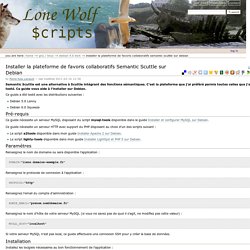 Installer la plateforme de favoris collaboratifs Semantic Scuttle sur Debian
Semantic Scuttle est une alternative à Scuttle intégrant des fonctions sémantiques. C'est la plateforme que j'ai préféré parmis toutes celles que j'ai testé. Ce guide vous aide à l'installer sur Debian. Ce guide a été testé avec les distributions suivantes :
I have updated the Scuttle Firefox Extension to work with FF 3.0.1. I also changed the version of the extension to 0.4.1 to differentiate this update. scuttle-0.4.1-firefox+fl.xpi Original Post: I have a personal copy of Scuttle on my web server and use the Scuttle Firefox add-on.
Scuttle Firefox 3 Extension | MoneyBaron Blog
Revue : 6 outils de bookmarking opensource (del.icio.us like) « Opensource et médias sociaux
Motivée à créer un Univers Netvibes pour mon entreprise, je teste les outils qui nous permettent de publier du contenu de manière collaborative, de manière à ce que chacun puisse intervenir dans son domaine de compétences. Aujourd'hui, j'ai testé ceux que j'ai trouvés et téléchargés hier, parmi les Aggrégateurs de favoris (del.icio.us-like) ou gestionnaires de liens. J'ai donc été chercher sur le web, qui m'a donné GetBoo, et puis j'ai pensé à chercher directement sur SourceForge, dans la bonne catégorie. Mes critères quand au choix de l'outil étant : open-source, en PHP et pas trop ancien (avec de l'Ajax si possible, et en tout cas, une bonne ergonomie). J'en ai testé 6.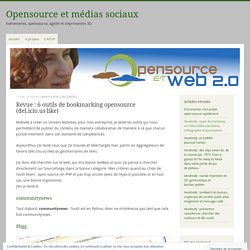 Del.icio.us, le social bookmarking, vous connaissez ? C'est pourtant très tendance en ce moment chez les accros du Net (et bigrement utile qui plus est). « del.icio.us est un gestionnaire de marque-pages en ligne. Il vous permet d'ajouter facilement vos liens préférés à votre collection, de les organiser avec vos mots-clés et de les partager non seulement entre vos machines, mais aussi avec d'autres personnes. Une fois inscrit au service, ajoutez un lien à votre navigateur. Quand vous trouvez une page intéressante, vous cliquez sur ce lien et vous accèdez à un formulaire pour cataloguer la page avec des mots-clés que vous choisissez, vous pouvez y joindre quelques commentaires.
Scuttle - Gestion de Liens