WishTree
EOS 5D Mark II Réflex EOS numériques
EOS 7D Réflex EOS numériques
EF 35mm f/1.4L USM Objectifs à focale fixe
EF 50mm f 1.2L USM Objectifs à focale fixe
EF 85mm f1.2L II USM Objectifs à focale fixe
EF 100mm f/2.8L Macro IS USM Objectifs macro
EF 16-35mm f2.8L II USM Zooms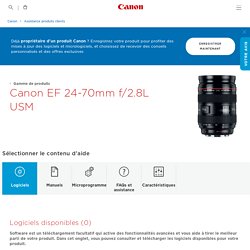 Depuis son lancement en 1995, le zoom EF 28-70 mm f/2,8L USM a connu un grand succès auprès des photographes professionnels et amateurs experts. Cependant, le développement des réflex numériques dont la plupart disposent de capteurs de format image inférieur à 24x36 mm s'est traduit par une demande croissante pour un zoom de même qualité mais offrant une extension vers les focales grand-angle. Le nouvel EF 24-70 mm f/2,8L USM répond à cette attente. Sa formule optique est basée sur celle de son prédécesseur mais a été recalculée afin d'augmenter la plage de focales grand-angle tout en préservant l'excellente qualité optique originelle. D'autre part, la distance de mise au point minimale est passée de 0,50 à 0,38 m.
EF 24-70mm f/2.8L USM Zooms
EF 24-105mm f4L IS USM Objectifs stabilisés
Les pouvoirs publics au plus haut niveau de l'Etat se sont assignés l'objectif ambitieux de doter le pays d'infrastructures de communication efficaces pour accompagner la révolution numérique en cours. Ce passage de la France à l'ère numérique est l'un de nos plus grands défis, aux enjeux multiples: croissance, emploi, liberté, connaissance, diversité culturelle, qualité de vie, pouvoir d'achat... Parallèlement à cette volonté politique, Free, opérateur majeur du Haut Débit en France, s'est engagé dans un déploiement de grande ampleur visant à la construction d'un réseau Très Haut Débit en fibre optique jusqu'au domicile (Fiber To The Home ou FTTH) dans de nombreuses villes françaises pour répondre aux besoins numériques des foyers pour les prochaines décennies. Ce réseau sera ouvert à tout opérateur selon des modalités qui ont fait leurs preuves dans le cadre de l'ADSL, pour que la concurrence puisse continuer de profiter au plus grand nombre.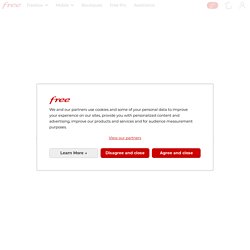 FTTH Free
FERRARI Rossa - Motorlegend
Bugatti EB110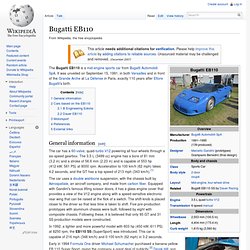 Bugatti EB110 interior The Bugatti EB110 is a mid-engine sports car from Bugatti Automobili SpA. It was unveiled on September 15, 1991, in both Versailles and in front of the Grande Arche at La Défense in Paris, exactly 110 years after Ettore Bugatti's birth. General information[edit] The car has a 60-valve, quad-turbo V12 powering all four wheels through a six-speed gearbox.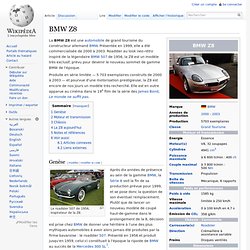 Un article de Wikipédia, l'encyclopédie libre. La BMW Z8 est une automobile de grand tourisme du constructeur allemand BMW. Présentée en 1999, elle a été commercialisée de 2000 à 2003. Roadster au look neo-rétro inspiré de la légendaire BMW 507 de 1956, la Z8 est un modèle très exclusif, prévu pour devenir le nouveau sommet de gamme BMW de l'époque. Produite en série limitée — 5 703 exemplaires construits de 2000 à 2003 — et pourvue d'une motorisation prestigieuse, la Z8 est encore de nos jours un modèle très recherché. Elle est en outre apparue au cinéma dans le 19e film de la série des James Bond, Le monde ne suffit pas.
BMW Z8
Built by Daimler-Benz AG, the fuel-injected production model was based on the company's highly successful yet somewhat less powerful carbureted 1952 race car, the Mercedes-Benz 300SL (W194). The idea of a toned-down W194 tailored to affluent performance enthusiasts in the booming post-war American market was suggested by Max Hoffman. As such, it was introduced at the 1954 New York Auto Show rather than the Frankfurt or Geneva shows at which other Mercedes models made their debuts. The "300" in its name referred to its three litre engine displacement, and "SL" stood for "Sport Leicht" (Sport Light).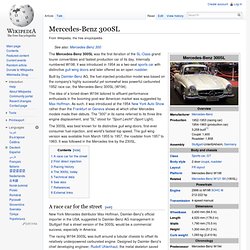 Mercedes-Benz 300SL
OEUVRE D'ART S'il est bien une version de la Porsche 911 unanimement reconnue pour ses qualités, c'est la Carrera RS 2,7 L. Cette petite bête bicolore avec sa fameuse "queue de canard" représente LA sportive par excellence, capable de procurer un plaisir de pilotage rare. La 911 Carrera RS 2,7L est une légende roulante que quelques furieux sont prêts à s'arracher à prix d'or tant elle semble incarner la recette du bonheur éternel... Texte: Sébastien DUPUIS - Photos: D.R. Dix ans après sa première apparition, le célèbre nom "Carrera" constitue à nouveau un élément du programme Porsche et fait son entrée dans la nomenclature 911. Ce nom vient de l'une des plus célèbres courses au monde qui se déroulait au Mexique dans les années cinquante et dans laquelle Porsche remporta plusieurs victoires avec la 356 et la 550 Spyder : la Carrera Panamericana.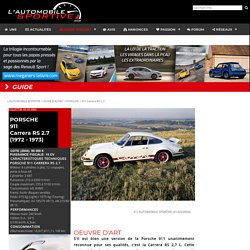 PORSCHE 911 Carrera RS 2.7 (1972-1973)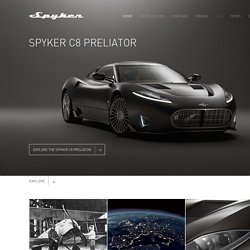 License Agreement. Please read the following important information before continuing. Spyker Cars images from this Web site are protected by copyright but provided for use under a Creative Commons 3.0 License for the purpose of editorial comment only. The use of these images for advertising, marketing, or any other commercial purposes is prohibited.
Spyker C8 Laviolette SWB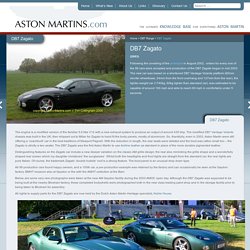 DB7 Zagato
The engine is a modified version of the familiar 6.0 litre V12 with a new exhaust system to produce an output of around 435 bhp. The modified DB7 Vantage Volante chassis was built in the UK, then shipped out to Milan for Zagato to hand fit the body panels, mostly of aluminium. So, thankfully, even in 2003, Aston Martin were still offering a 'coachbuilt' car in the best traditions of Newport Pagnell.
RENAULT CLIO II RS phase 3 (2004-2006)
Bousculée par la récente Peugeot 206 RC, la Clio 2.0 16v adopte la nouvelle griffe Renault Sport à l'occasion du restylage de la gamme. C'est donc la bonne nouvelle de ce début d'année 2004 chez les constructeurs français ! Avec un moteur boosté, la Clio Renault Sport améliore ses performances et pour les amateurs les plus exigeants, une option châssis sport fait son apparition, pour privilégier l'efficacité et les sensations... Texte: Sébastien DUPUIS - Photos: D.R. Contre vents et marées, nos deux grands constructeurs nationaux que sont Peugeot et Renault continuent à se livrer à une bataille qui fait bien plaisir à voir.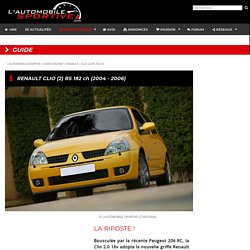 ALLER PLUS HAUT ! Avec le retour des beaux jours, les cabriolets et roadsters repointent le bout de leur capot, même de l'autre côté de la Manche. Il n'en fallait pas plus pour que nous soyons séduits par l'idée de prendre contact avec la dernière née des usines Lotus, l'Elise 111R. Alors que les puristes pourront se révolter des modifications apportées à cette sportive "So British", c'est avec un grand bonheur que nous avons retrouvé la belle Elise... Texte: Sébastien DUPUIS - Photos: D.R.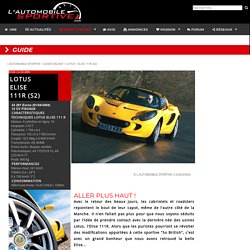 LOTUS ELISE 111R (2004
Bentley Brooklands
1965 AC Shelby Cobra 427 Competition - Images, Specifications an
Page 1 of 2 Next >> Along with works driver and development engineer Ken Miles, Carroll Shelby looked at ways to further improve the performance of the Cobra racing car ahead of the 1965 season. In good American tradition, although Miles was actually British, the two found that shoe-horning an even bigger engine into the AC-supplied chassis to be best solution. This was, however, such a substantial change that for homologation purposes 100 examples had to be produced.
Arnage T
The V12 was tweaked to deliver 435bhp (an increase from 420bhp of the DB7 Vantage) and also additional torque – up from 400 lb/ft to 410 lb/ft. The suspension was substantially modified and had thus stiffened the chassis by 20%. Special attention was paid to the aerodynamic balance for high speed stability with the adoption of additional sweeps for the undertray, wheel arch liner extensions and a revised boot lid spoiler which emphasises the new look.
DB7 GT
V8 Vantage
The Porsche 959 is a sports car manufactured by Porsche from 1986 to 1989, first as a Group B rally car and later as a legal production car designed to satisfy FIA homologation regulations requiring at least 200 street legal units be built.[2] When it was introduced the twin-turbocharged 959 was the world's fastest street-legal production car, boasting a top speed of 195 miles per hour (314 km/h), with the sport model capable of reaching 197 miles per hour (317 km/h). During its production run it was hailed as the most technologically advanced road-going sports car ever built, and forerunner of all future super cars. It was one of the first high-performance vehicles with all-wheel drive, providing the basis for Porsche's first all-wheel drive Carrera 4 model. Its performance convinced Porsche executives to make all-wheel drive standard on all 911 Turbos starting with the 993.
Porsche 959
The Porsche 356 is a luxury sports car which was produced by German company Porsche from 1948 to 1965. It was the company's first production automobile. Earlier cars designed by the company included the Volkswagen Beetle as well as Auto-Union and Cisitalia Grand Prix race cars. The 356 was a lightweight and nimble-handling rear-engine rear-wheel-drive 2-door sports car available in hardtop coupe and open configurations. Engineering innovations continued during the years of manufacture, contributing to its motorsports success and popularity.
Porsche 356
Porsche 550
Porsche Carrera GT
PORSCHE 911 (993) Carrera 4 / 4S (1994-1997)
2008 Ruf CTR-3 Images, Pricing and News
PORSCHE CARRERA-GT (2002-2007)
PORSCHE 959 (1987-1988)
BMW Z3 M Coupé (1998-2001)
2006 BMW Z4 M Coupe Images, Information and History | Conceptcar
2006 BMW 130i Images, Information and History
1973 BMW 3.0 CS Images, Information and History | Conceptcarz.co
Essai BMW 130i
BMW 130i - Présentation Motorlegend
BUGATTI EB110 (1992-1997)
1959 Ferrari 250 GT TdF Images, Information and History (Tour De
1963 Ferrari 250 GTO Images, Information and History (Grand Tour
1967 Ferrari 275 GTB/4 Images, Information and History (GTB4) |
FERRARI 550 Barchetta Pininfarina (2000-2001)
FERRARI 575 SUPERAMERICA (2005)
1959 Ferrari 250 GT California Images, Information and History |
CO.UK – STABILO BOSS ORIGINAL
Pownce
Let me google that for you
Let me google that for you