W3 Total Cache
Le blog d'entreprise est en vogue, à tel point qu'il est redevenu l'objet de toutes les attentions. Centre névralgique de la communication d'entreprise, le blog s'est imposé comme un média incontournable de la stratégie de votre entreprise, c'est aussi le lieu de rencontre entre votre marque et votre public. Avoir un blog ne suffit plus ! Votre blog d'entreprise se doit d'être vivant, captif, attractif, il se doit de refléter votre dynamisme, votre inventivité, votre talent.
Quel plugin de cache pour WordPress ? Le temps de chargement a un impact lourd sur votre site. Pour accélérer votre blog, rien de tel que de mettre en cache vos pages : vous soulagerez votre serveur, tout en fournissant plus vite du contenu à vos visiteurs. Sur WordPress, il existe de nombreux plugins pour cela. Mais oubliez Hyper Cache, DB Cache ou W3 Total Cache : c'est Super Cache et DB Cache reloaded qu'il vous faut, preuve à l'appui avec ce benchmark de SeoMix !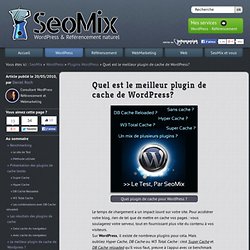 W3 Total Cache Setup with CloudFlare and CDN : Complete Tutorial Guide | Windows 7,Cloud Computing,Virtualization,Wordpress,SEO,Google,Themes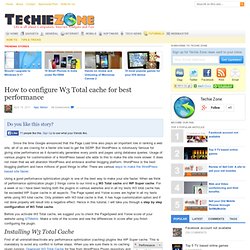 How to set up W3 Total cache for best performance
Do you like this story? Since the time Google announced that the Page Load time also plays an important role in ranking a web site, all of us are craving for a faster site load to get the SERP. But WordPress is notoriously famous for giving slow performance as it dynamically generates every posts and pages using database queries. Usage of various plugins for customization of a WordPress based site adds to this to make the site more slower.
We often get compliments from users on how fast our site loads. Everyone wants to know the secret behind a fast loading WordPress site. Aside from good web hosting and well-coded plugins, you have to make sure that you're using proper caching and have a CDN (content delivery network). For our setup, we use a plugin called W3 Total Cache.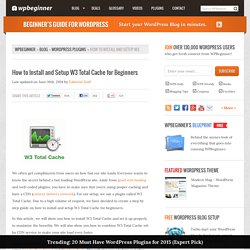 How to Install and Setup W3 Total Cache and MaxCDN for Beginners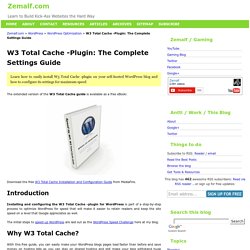 Learn how to easily install W3 Total Cache -plugin on your self-hosted WordPress blog and how to configure its settings for maximum speed The extended version of the W3 Total Cache guide is available as a free eBook: Download the free W3 Total Cache Installation and Configuration Guide from MediaFire. Introduction Installing and configuring the W3 Total Cache -plugin for WordPress is part of a step-by-step process to optimize WordPress for speed that will make it easier to retain readers and keep the site speed on a level that Google appreciates as well. The initial steps to speed up WordPress are laid out as the WordPress Speed Challenge here at my blog.
W3 Total Cache -Plugin: The Complete Settings Guide | Zemalf.com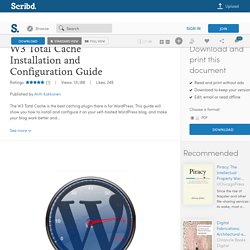 Preface | zemalf.com This guide focuses on the most important optimization tweak one can do to aWordPress blog - installing and configuring the W3 Total Cache plugin.There are other optimization steps and ways to increase the site speed, but if you could only do one thing, this would be it.The W3 Total Cache is the best caching plugin there is for WordPress Best,because it gets the best results and has all the needed options included, like
W3 Total Cache Installation and Configuration Guide