Ubuntu on Mac
Get flash to fully experience Pearltrees
About Us The mactel-support team is dedicated to providing the best support possible for running Ubuntu on Intel-based Macintosh Hardware. See MactelSupportTeam/AboutUs . How to find documentation for your Mac The entry point for running Ubuntu on Intel CPU-based Macintosh Computers is the Mactel Support Team Community Help Page .
Introduction Welcome! This is the home for Mactel (Intel CPU-based Macintosh Computers) running Ubuntu.
Sur les ordinateurs de la marque Apple (appelés aussi "Mac" depuis la série des Macintosh), Ubuntu est généralement utilisable en faisant un simple redémarrage avec le CD d'ubuntu approprié (i386 ou PPC). Nous verrons ci-dessous comment résoudre les difficultés d'installation liées à des incompatibilités, à la configuration de la cohabitation avec MacOS. Une partie sera consacrée aux solutions pour les ordinateurs avec architecture hpPC dont les distributions qui ne sont plus officiellement soutenues (c'est maintenant la communauté qui a la charge de poursuivre leur développement comme c'est le cas pour de grandes distributions telles que Debian). La page débutant aborde les bases concernant GNU /Linux en général et Ubuntu en particulier. Tester Ubuntu
L'Europe est passée à l'heure d'été ! Si vous êtes concerné, n'oubliez pas de cocher "ajustement pour l'heure d'été" dans votre profil ! Le forum rencontre en ce moment quelques soucis de charge, il est possible qu'une erreur soit affichée quand vous postez un message, ne rechargez pas la page au risque de poster une seconde fois votre message Si vous rencontrez des soucis à rester connecté sur le forum (ou si vous avez perdu votre mot de passe) déconnectez-vous et reconnectez-vous depuis cette page , en cochant la case "Me connecter automatiquement lors de mes prochaines visites".
This provides information, resources and terminology to help you switch from OS X to Ubuntu. See also the all-systems switching guide . OS X is an Apple interface wrapped around a Unix core, whereas Ubuntu is a Unix interface wrapped around a Unix core. This makes switching from OS X much easier than switching from Windows, but still quite challenging.
Introduction This page is about how to enable the MactelSupport repository in the package manager. Installation Several Apple-specific packages are available in the Mactel Support Repository (the mactel ppa).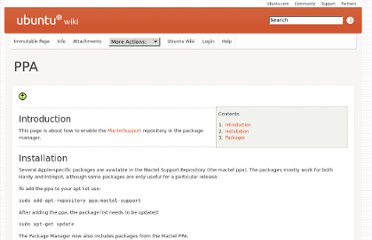 As with all wiki documentation, this page continues to be updated. The partitioning options require additional testing. This information will not work for iMac (11,1 or newer) users installing recent versions of Ubuntu (e.g., Maverick, Precise, Quantal...), for this you may try this guide Ubuntu 12.10 on 2011 imac . The presence of the bios-grub partition that the Ubuntu installer creates by default (e.g., sda3) causes a conflict that prevents syncing the GPT and MBR partition tables.
UNetbootin for Mac OS X can be used to automate the process of extracting the Ubuntu ISO file to USB, and making the USB drive bootable. The resulting USB drive, however, can be booted on PCs only. If attempting to make a USB drive that can be booted from a Mac, follow the instructions below. We would encourage Mac users to download Ubuntu Desktop Edition by burning a CD for the time being.
MacBookPro3,1 - Santa Rosa