Themes
Current Version is 1.7.1 Testimonials from other Themeforest Customers I purchased this theme the first day I it was on themeforest and I love it.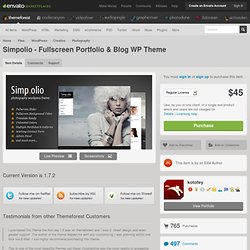 Simpolio - Fullscreen Portfolio & Blog WP Theme
DigiFoto - Minimalist Photography Theme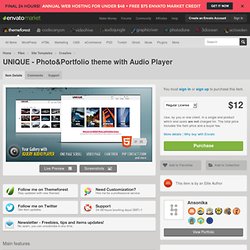 Main features
Site Templates - UNIQUE - Photo&Portfolio theme with Audio Player
Chocolate WP
Chocolate WP – Responsive Photography WordPress Theme If you need clean, light and minimalist theme, Chocolate WP is definitely… not your choice! It is refined and elegant template with complex and precise combination of light gradients, shadows and rich functionality.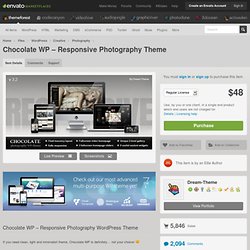 Viewfinder: Photography WordPress Theme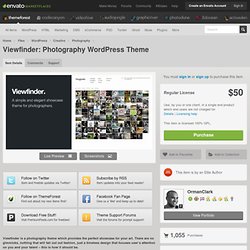 Viewfinder is a photography theme which provides the perfect showcase for your art. There are no gimmicks, nothing that will fall out out fashion, just a timeless design that focuses user's attention on you and your talent – this is how it should be. Viewfinder is perfect for photographers which need a simple yet elegant showcase for their artwork.
viewfinder.zip
unique.rar
Site Templates - PHOTON- The Ultimate Photography Showcase Template
Expose is a CSS and Showcase Gallery Wordpress Template best suited for Gallery Sites and personal Portfolios.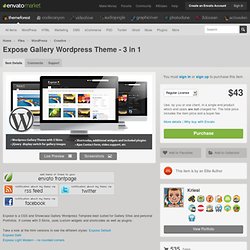 Expose Gallery Wordpress Theme - 3 in 1
Exhibit - Simple Gallery/Portfolio WordPress Theme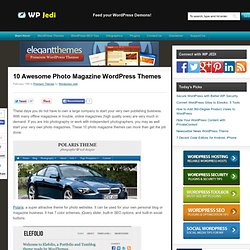 10 Awesome Photo Magazine WordPress Themes
8inShare inShare8
WordPress Photography Theme — The Theme Foundry
"I've gotten great feedback and feel the theme sets me apart from others. On top of all these attributes is the attentiveness that the staff at The Theme Foundry has given to any questions I've had concerning the theme. Simple to set up, great people to deal with, I'm pleased with the whole package." "Awesome. The purchasing process was great, the documentation of how to use the themes is excellent.
Browse Grain Theme for WordPress Files on SourceForge
Viewport Free Wordpress Theme | NewWPThemes.net
Not everyone who owns a website is someone who is comfortable with coding, designing and altering a site to meet responsive design capabilities. Responsive design has become one of the hottest topics in the web designing communities to adapt to the ever increasing population of smartphone and tablet users accessing the internet via a mobile device. It's more important now than ever to introduce these flexible design to help customers and readers n navigate your site with little interruption in viewing to retain their presence.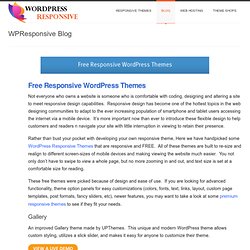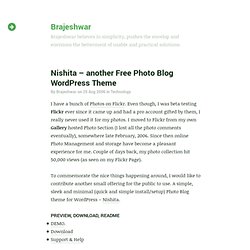 Nishita – another Free Photo Blog Wordpress Theme - Brajeshwar
— By Brajeshwar I have a bunch of Photos on Flickr. Even though, I was beta testing Flickr ever since it came up and had a pro account gifted by them, I really never used it for my photos.
wp-grain