The new Twitter
Get flash to fully experience Pearltrees
"Twitter.com has always been the most popular Twitter client. 78% of active users have used it in the last 30 days," said Twitter CEO Evan Williams in a tweet earlier today .
So, the new version of Twitter.com is upon us — well, some of us anyway (it's in the process of a gradual roll-out right now that will likely last over the next couple of weeks). Everyone at Twitter I spoke with today agreed that this is the single biggest change they've ever made to the site since its initial launch. That's going to rub some people the wrong way, but overall, my initial impression is that this is definitely an upgrade in pretty much every way.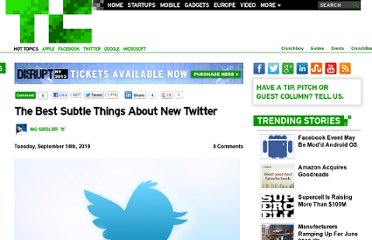 On Tuesday, Twitter unveiled a new and improved user interface for its Web site. Twitter's new Web functionality is a significant evolution that promises to attract more visits to Twitter.com, improve Twitterers' interactions with content and each other, and ease adoption for Twitter newbies.
Here it is, the new Twitter.com experience .
Twitter has announced that it's rolling out a new version of its web interface.
Twitter is about to become a major multimedia destination, thanks to some new partners and features. Earlier today, we reported that Twitter is bringing multimedia to the stream . If you tweet a link to a video, for example, it will be embedded and play right in the Twitter stream.
Ainsi donc, Twitter, à l'heure où vous lirez ces lignes, aura annoncé l'apparition de nouvelles fonctionnalités multimédia.
Cowritten by Chris Saad ( @chrissaad ), and Jeremiah Owyang ( @jowyang ).
Avec sa nouvelle version, le site de micro-blogging opère un virage aussi stratégique qu'il est structurel. La valorisation et la monétisation des contenus sont le cœur de cette mini-révolution.