Social media
› • ∆ • ‹ Social Media 2011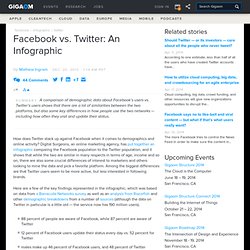 How does Twitter stack up against Facebook when it comes to demographics and online activity? Digital Surgeons, an online marketing agency, has put together an infographic comparing the Facebook population to the Twitter population, and it shows that while the two are similar in many respects in terms of age, income and so on, there are also some crucial differences of interest to marketers and others looking to mine the data and pick a favorite platform. Among the biggest differences are that Twitter users seem to be more active, but less interested in following brands. Here are a few of the key findings represented in the infographic, which was based on data from a Barracuda Networks survey as well as an analysis from Razorfish and other demographic breakdowns from a number of sources (although the data on Twitter in particular is a little old — the service now has 190 million users).
Facebook vs. Twitter: An Infographic: Tech News «
inShare237 If a conversation takes place online and you're not there to hear it, did it really happen? On August 5, 2008 JESS3 and I introduced version 1.0 of The Conversation Prism. Today, I'm proud to announce The Conversation Prism Version 3.0. With the introduction of 3.0, our view of the social media panorama is updated and also reflective of the real world that is embracing and organizing the social Web. One of the aspects that make social media so fascinating is the conversations that define the culture and value of each community.
Introducing The Conversation Prism Version 3.0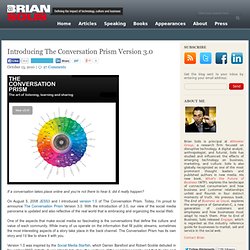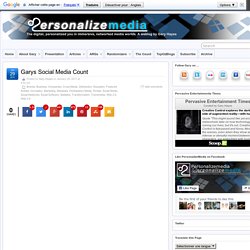 Click for App Store Page Original Counter and Post from 24 Sep 2009! June 2013 'Social' Update (mobile, games & heritage to come)
Facebook is hot. There's no question that Facbeook has a large audience. But what does this mean for marketers and business owners? Here are three recent Facebook-related studies that answer these very questions by examining how much time Facebook users invest in the platform, if Facebook ads are effective and other Facebook trends among online merchants. #1: One-Third of Online Time Spent on Facebook Among U.S. Users
3 Studies Show Facebook Marketing Potential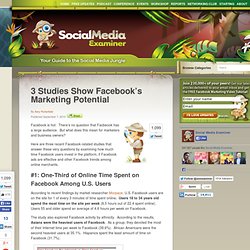 L'histoire de Facebook et ses chiffres en image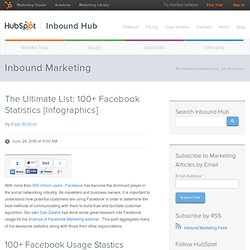 The Ultimate List: 100+ Facebook Statistics [Infographics]
With more than 500 million users , Facebook has become the dominant player in the social networking industry. As marekters and business owners, it is important to understand how potential customers are using Facebook in order to determine the best methods of communicating with them to build trust and facilitate customer aquisition. Our own Dan Zarella has done some great research into Facebook usage for his Science of Facebook Marketing webinar . This post aggregates many of his awesome statistics along with those from other organizations.
Facebook en quelques chiffres
médias sociaux : usages & chiffres clés
Welcome to YouTube! The location filter shows you popular videos from the selected country or region on lists like Most Viewed and in search results.To change your location filter, please use the links in the footer at the bottom of the page. Click "OK" to accept this setting, or click "Cancel" to set your location filter to "Worldwide". The location filter shows you popular videos from the selected country or region on lists like Most Viewed and in search results. To change your country filter, please use the links in the footer at the bottom of the page. Loading...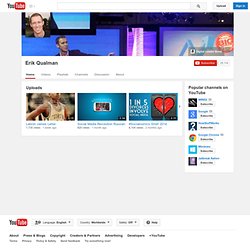 Chaîne de Socialnomics09
Social Media Revolution 2010
Social Media Statistics & Facts 2010
Social Media Marketing in 3 minutes
Samedi 31 juillet 2010 6 31 /07 /Juil /2010 17:50 Un condensé de 52 chiffres sur les médias sociaux dans une infographie réalisée par Blogoergosum et Ilonet. Voici une sélection de chiffres et faits intéressants que je retiens : Facebook (chiffres qui complètent le billet Qui sont les 500 millions d'utilisateurs de Facebook ?)
Un condensé de chiffres sur les médias sociaux
Réseaux Sociaux : les chiffres à connaître absolument ! Reviewed by Merlin on Sep 4 Rating: Social Média. Facebook, Twitter, Youtube, Linkedin ou Viadéo : les réseaux sociaux sont plébiscités ! Twitter revendique 145 millions d'abonnés !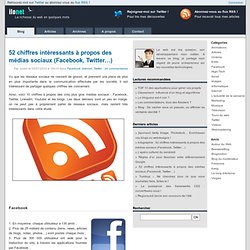 Par Julien le 05/07/2010 à 15h10 dans Facebook, Internet, Twitter - 24 commentaires Vu que les réseaux sociaux ne cessent de grossir, et prennent une place de plus en plus importante dans la communication effectuée par les société, il est intéressant de partager quelques chiffres les concernant. Ainsi, voici 10 chiffres à propos des cinq plus gros médias sociaux ; Facebook, Twitter, LinkedIn, Youtube et les blogs. Les deux derniers sont un peu en marge, on ne peut pas à proprement parler de réseaux sociaux, mais restent très intéressants dans cette étude. Facebook
Il existe pléthore d'études sur les usages de Twitter. J'en ai retenu une poignée qui, par la taille de leur corpus et leur méthode d'analyse, apparaissent les plus sérieuses. Au premier rang de celles-ci, les études Sysomos de 2009 qui ont passé au crible 11,5 et 13 millions de comptes sur trois mois. 1- CHIFFRES GENERAUX Nombre d'usagers français - Les usagers Twitter français représentaient 0,9% des 13 millions de comptes étudiés sur une période de trois mois (entre le 16 octobre et le 16 décembre 2009) par la société d'études Sysomos, soit environ 125 000 utilisateurs.
img62.imageshack.us/img62/3865/ftmobilephonesr328frenc.jpg