Pixelpost
The best photoblog app just got better. New Features Smooth Install Assistant Installing & Upgrading Pixelpost has never been easier. Fancy Admin Stuff More refined and easier to use. New Template Tags These new tags will make the template system still easier to use. Cool Feed Options Take full control of your rss/atom feeds.
Extend » Addons » Tag Cloud Generator
Extend » Modifications » Media RSS for PicLens with all blogged photos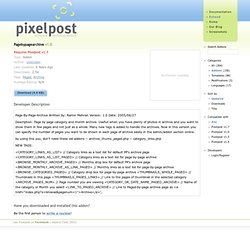 Extend » Addons » Page-by-page-archive
Page-By-Page-Archive Written by: Ramin Mehran Version: 1.0 Date: 2005/06/27 Description: Page by page category and month archive. Usefull when you have plenty of photos in archive and you want to show them in few pages and not just as a whole.
Photo Mosaic
Extend » Addons » Iptc Data (similar To Exif)
Light and Dark Photoblog | Kevin Crafts Photography | blog.kevincrafts.com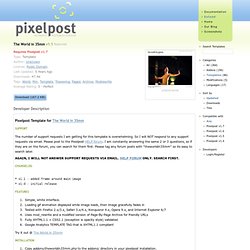 The number of support requests I am getting for this template is overwhelming. So I will NOT respond to any support requests via email. Please post to the Pixelpost HELP forum. I am constantly answering the same 2 or 3 questions, so if they are on the forum, you can search for them first. Please tag any forum posts with "theworldin35mm" so its easy to search later.
Extend » Templates » The World in 35mm
Extend » Templates » Hoo! (Pixelpost template for iPhone)
Make Pixelpost iPhone friendly | The Darkroom
UPDATE: I added the lines to recognize Android, iPod Touch and Palm WebOS! Chris, a reader of this website (and a cool photographer, check his website Intelligent Cloud), asked me how I did to setup an iPhone friendly version of ReallyJapan Photoblog and automatically redirect the users with an iPhone to this website. As you know, ReallyJapan is using Pixelpost, a free photo blog application. Pixelpost has many great templates, and one of them, Hoo is an iPhone optimized template. The problem is that in Pixelpost control panel you can select only one template, and there's no option to specify one template for certain users and a different one for the others.