Outils
Des données et des liens : le début de quelque chose de grand |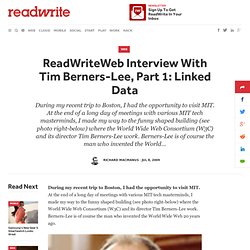 During my recent trip to Boston, I had the opportunity to visit MIT.
ReadWriteWeb Interview With Tim Berners-Lee, Part 2: Search Engi
In part 2 of my one-on-one interview with Tim Berners-Lee, we explore a variety of topics relating to Linked Data and the Semantic Web. If you missed it, in Part 1 of the interview we covered the emergence of Linked Data and how it is being used now even by governments.
Tim Berners-Lee with an update on open data | FlowingData
Tim Berners-Lee on the next Web
Tim Berners-Lee: The year open data went worldwide | Video on TE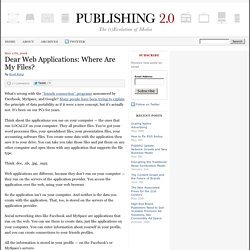 Dear Web Applications: Where Are My Files?
What's wrong with the "friends connection" programs announced by Facebook, MySpace, and Google? Many people have been trying to explain the principle of data portability as if it were a new concept, but it's actually not.