OS X
Cheats: Game Cheats & Codes
Mac Cheats, Mac cheats, walkthroughs and codes
Mac Game Cheat Codes & Hints (A; sorted by name ascending)
About Cookies on This Site:Our site uses cookies and other technologies so that we, and our partners, can remember you and understand how you and other visitors use our site. By continuing to browse the site, you are agreeing to our use of cookies. To see a complete list of the companies that use these cookies and technologies and to tell us whether or not they can be used on your device, click on the Ad Choices button available at the bottom of every page.
Mac Game Cheats – Cheat Codes For Macintosh Games We're restructuring the site. Please return at a later stage. Thank you. All the cheat codes that we have are now up on the site.
Mac Game Cheats
MAC game cheat Cheat codes, hints, tips, FAQs, strategy guides, walkthroughs and more
Cube 2: Sauerbraten is a free multiplayer & singleplayer first person shooter, the successor of the Cube FPS. Much like the original Cube, the aim of this game is fun, old school deathmatch gameplay and also to allow map/geometry editing to be done cooperatively in-game. The engine supporting the game is entirely original in code & design, and its code is Open Source (ZLIB license, read the docs for more on how you can use the engine).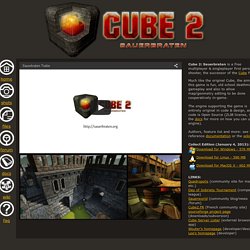 Nexuiz
NationsCup 2014 Captain Application in Leagues - posted 10 days ago by FrozenSand The NationsCup has always been the high point of competitive Urban Terror but it was uncertain whether or not it would be held this year due to the problems at ClanBase.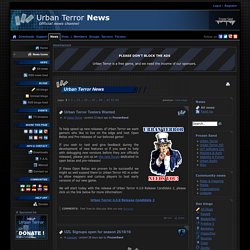 Urban Terror
AssaultCube
What is AssaultCube? AssaultCube is a FREE, multiplayer, first-person shooter game, based on the CUBE engine. Taking place in realistic environments, with fast, arcade gameplay, it's addictive and fun! With efficient bandwidth usage, it's low-latency and can even run over a 56Kbps connection.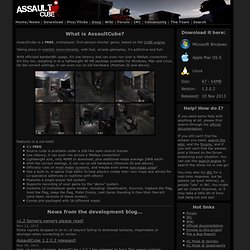 Le principe de ce jeu est de revenir aux bases des jeux du genre "quake-like", avec des armes parfaitement équilibrées et des actions rapides, et qui ne ressemble pas aux jeux actuels trop réalistes. Le logo du jeu est basé sur le caractère chinois "力" (Li), qui signifie « force ». Les nostalgiques de Quake trouveront en Nexuiz le un vrai bonheur. Le moteur du jeu, une version améliorée du moteur de Quake, est suffisamment paramétrable pour convenir à la fois à des machines récentes et plus modestes. Pour ces dernières, le jeu reste tout à fait agréable même en mettant les effets au minimum. Le look de Nexuiz s'inspire ouvertement de son modèle avec son mélange de constructions médiévales et futuristes. 21 cartes sont actuellement disponibles, de la plus simple à la plus tortueuse (au même format que celles de Quake III Arena.
Nexuiz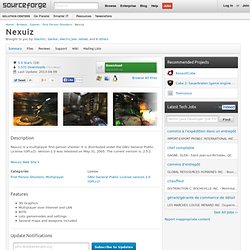 Nexuiz | Download Nexuiz software for free at SourceForge
★ 4.2 Stars (633) 1,443 Downloads (This Week) Last Update:
The last remaining memories fade away into darkness. Your mind is a mess and only a feeling of being hunted remains. You must escape. Awake... Amnesia: The Dark Descent, a first person survival horror.