New Google's privacy policy - 01/03/2012
Google Is Facebook Is AOL: What Happens When a Good Google Goes Bad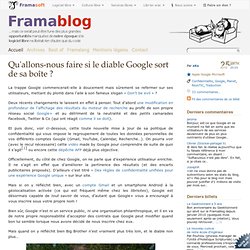 La trappe Google commencerait-elle à doucement mais sûrement se refermer sur ses utilisateurs, mettant du plomb dans l'aile à son fameux slogan « Don't be evil » ? Deux récents changements le laissent en effet à penser. Tout d'abord une modification en profondeur de l'affichage des résultats du moteur de recherche au profit de son propre réseau social Google+ et au détriment de la neutralité et des petits camarades Facebook, Twitter & Co (qui ont réagit comme il se doit). Et puis donc, voir ci-dessous, cette toute nouvelle mise à jour de sa politique de confidentialité qui vous impose le regroupement de toutes les données personnelles de vos différents comptes Google (Gmail, YouTube, Calendar, Recherche…).
Qu'allons-nous faire si le diable Google sort de sa boîte ?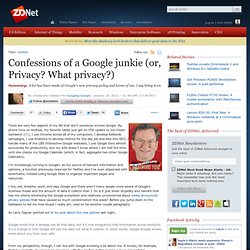 Confessions of a Google junkie (or, Privacy? What privacy?)
There are very few aspects of my life that don't somehow involve Google. My phone runs on Android, my favorite tablet just got an OTA update to Ice Cream Sandwich (!!!), I use Chrome across all of my computers, I develop AdWords campaigns, I use Analytics to develop metrics for the day job and dive into SEO, I handle many of the CBS Interactive Google webcasts, I use Google Docs almost exclusively for productivity, and my wife doesn't know where I am half the time until she checks my Google Calendar (which, in fact, aggregate two other Google Calendars). I'm increasingly turning to Google+ as my source of relevant information and opinions, a function previously reserved for Twitter, and I've even dispensed with bookmarks, instead using Google Sites to organize important pages and resources. I live, eat, breathe, work, and play Google and there aren't many people more aware of Google's business model and the amount of data it collects than I.
Google has updated its privacy policy in a way that breaks down product silos, but allows the search giant to mine data across all of its services. In a blog post, Google outlined the changes. These changes are the enterprise Holy Grail in many respects. Companies everywhere want to break down product walls to get a 360 degree view of customers.
Google's new privacy policy: The good, bad, scary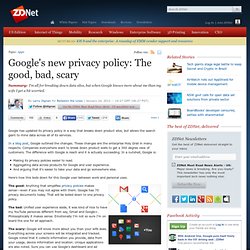 Good to Know – Google
Google Streamlines Privacy Policy To Integrate Its Products | Epicenter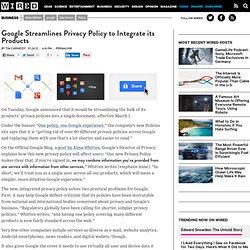 On Tuesday, Google announced that it would be streamlining the bulk of its products' privacy policies into a single document, effective March 1. Under the banner "One policy, one Google experience," the company's new Policies site says that it is "getting rid of over 60 different privacy policies across Google and replacing them with one that's a lot shorter and easier to read." On the Official Google Blog, a post by Alma Whitten, Google's Director of Privacy, explains how this new privacy policy will affect users: "Our new Privacy Policy makes clear that, if you're signed in, we may combine information you've provided from one service with information from other services," Whitten writes [emphasis mine].
Masquer les exemples Afficher des exemples Date de la dernière modification : 31 mars 2014 (voir les versions archivées) Vous pouvez avoir recours à nos services pour toutes sortes de raisons : pour rechercher et partager des informations, pour communiquer avec d'autres personnes ou pour créer des contenus.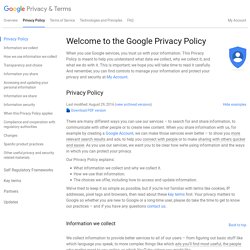 Aperçu : Règles de confidentialité – Règles et principes
Google Privacy Policy Update
Google tracks consumers across products, users can't opt out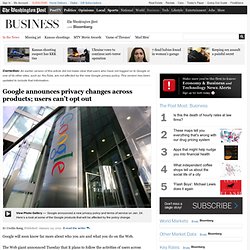 Google has already been collecting some of this information. But for the first time, it is combining data across its Web sites to stitch together a fuller portrait of users. Consumers won't be able to opt out of the changes, which take effect March 1. And experts say the policy shift will invite greater scrutiny from federal regulators of the company's privacy and competitive practices. The move will help Google better tailor its ads to people's tastes.
Google_announces_privacy_changes_across_products-users_can_not_opt_out