Open Social Network (Facebook alternative)
About (Peerscape)
About Peerscape is an experimental peer-to-peer social network implemented as an extension to the Firefox web browser. It implements a kind of serverless read-write web supporting third-party AJAX application development. Under the hood, your computer stores copies of your data, the data of your friends and the groups you have joined, and some data about, e.g., friends of friends.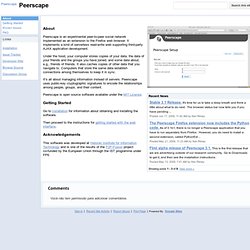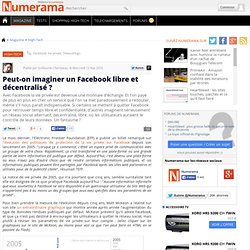 Le mois dernier, l'Electronic Frontier Foundation (EFF) a publié un billet remarqué sur l'évolution des politiques de protection de la vie privée sur Facebook depuis son lancement en 2005. "Lorsque ça a commencé, c'était un espace privé de communication avec un groupe de votre choix. Rapidement, ça s'est transformé en une plate-forme où une grande partie de votre information est publique par défaut. Aujourd'hui, c'est devenu une plate-forme où vous n'avez pas d'autre choix que de rendre certaines informations publiques, et ces informations publiques peuvent être partagées par Facebook après ses sites web partenaires et utilisées pour de la publicité ciblée", résumait l'EFF.
Peut-on imaginer un Facebook libre et décentralisé ? - Numerama
Creating a free, open, and decentralized social networking platf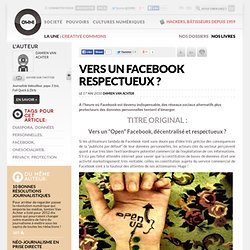 A l'heure où Facebook est devenu indispensable, des réseaux sociaux alternatifs plus protecteurs des données personnelles tentent d'émerger. Titre original : Si les utilisateurs lambda de Facebook n'ont sans doute pas d'idée très précise des conséquences de la "publicité par défaut" de leur données personnelles, les acteurs clés du secteur perçoivent quant à eux très bien l'extraordinaire potentiel commercial de l'exploitation de ces informations. S'il n'a pas fallut attendre internet pour savoir que la constitution de bases de données était une activité marketingement très rentable, celles en constitution auprès du service commercial de Facebook sont à la hauteur des attentes de ses actionnaires: Huge !
Vers un Facebook respectueux ? » Article » owni.fr, digital jour
The Internet brings us a totally new social experience Back then,with a simple email adress you could talk with the whole world Today, you need to register on Skype, Google Hangout, Facebook, Vine, WhatsApp, Twitter to share with your friends Let's change that ! What if we share the same network ?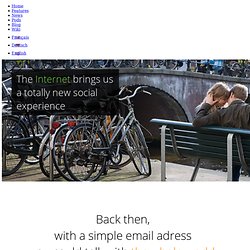 MOVIM - Movim Wiki - E-node Project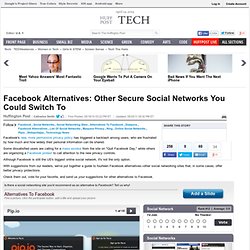 Pip.io lets users define their audience as loosely or as broadly as they choose. In the company's own words, "Pip.io helps us organize the people we know so that we can say what we want to who we want." Users can choose to make contacts "bi-directional," allowing for back-and-forth communication, or "uni-directional," which allows communication in only one direction and blocks personal messaging. Users can create invite-only environments called Rooms, where a private feed is established and cannot be viewed by outsiders the way Facebook Pages can be.
Facebook Alternatives: A Look At 9 Social Networks You Could Swi
6 Alternatives to Facebook
With the entire internet attacking Mark Zuckerberg and the folks at Facebook for their extreme approach to Privacy (or the lack thereof,) many influencers including Leo Laporte have deleted their Facebook accounts in protest. With that being the case — the concept of an alternative to Facebook has been brought to the forefront of the tech industry's buzz. Here are a few of the interesting alternatives to Facebook that can help you connect even if you do decide to oust Facebook from your daily routine: Diaspora* Diaspora aims to be a distributed network, where totally separate computers connect to each other directly, will let us connect without surrendering our privacy. We call these computers 'seeds'.