Music Server
Votre NAS pour la dématérialisation, partie 1
M2Tech dont la gamme de produit est relativement étendue, propose à son catalogue un ensemble d'équipements tous aux prix très étudiés, le système de convertisseur Young et son alimentation séparée optionnelle Palmer ne coupe pas à la règle. l'on peut trouver dans le début de gamme à travers l'EVO DAC par exemple sur lequel vous trouverez mon article dans la presse classique. Le poids rassure quant à l'isolation aux vibrations, mais également de par la nature du boîtier lui-même, usiné à base d'aluminium aux arêtes correctement chanfreinées. La façade est quelque peu originale, munie d'une grille arrondie en nid d'abeille, elle présente un affiche par LED de très grande taille. Si le choix n'est à mon goût pas des plus esthétiques, il a cependant le mérite d'être particulièrement clair et visible lorsque l'on est assis à quelques mètres sur son canapé.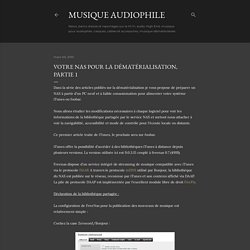 Data Robotics, Inc. | Drobo Products
N5200PRO - Storage leader redefines the ultimate five-bay NAS de
Build An Audiophile Music Server (CA04)
N5500 - Dual DOM with Dual Protection (NAS server) | Overview
Data Robotics, Inc. | Drobo FS
Data Robotics, Inc. | Drobo FS - It's All About Sharing
Data Robotics, Inc.
Votre NAS pour la dématérialisation, partie 2
Audiophile Reference Music Server For A Song | Computer Audiophi
Audiophile Reference Music Servers
Music Servers: Canned or Custom (Part I)
Music Servers: Canned or Custom (Part II)
Music Servers: Canned or Custom (Part III)
McIntosh | MS750