Internet archive
Internet Archive on Vimeo
International School of Information Science (ISIS)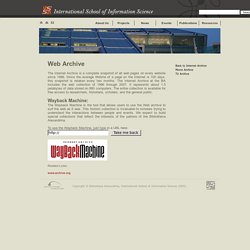 The Internet Archive is a complete snapshot of all web pages on every website since 1996. Since the average lifetime of a page on the Internet is 100 days, this snapshot is retaken every two months. The Internet Archive at the BA includes the web collection of 1996 through 2007. It represents about 1.5 petabytes of data stored on 880 computers.
Archive-It Blog Has Moved! April 18, 2013 by lorimd Please join us at http://blog.archive-it.org for regular updates from the Archive-It Team! Wayback Machine & Web Archiving Open Thread, April 2011 April 7, 2011 by gojomo
Web Archiving at archive.org
And we've been trashing our history Archive Team is a loose collective of rogue archivists, programmers, writers and loudmouths dedicated to saving our digital heritage. Since 2009 this variant force of nature has caught wind of shutdowns, shutoffs, mergers, and plain old deletions - and done our best to save the history before it's lost forever. Along the way, we've gotten attention, resistance, press and discussion, but most importantly, we've gotten the message out: IT DOESN'T HAVE TO BE THIS WAY. This website is intended to be an offloading point and information depot for a number of archiving projects, all related to saving websites or data that is in danger of being lost.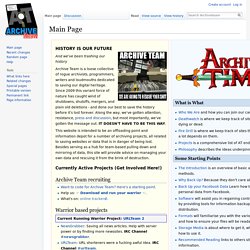 Archiveteam
Archives - Archiveteam