GrosLevelGeek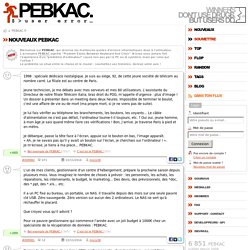 PEBKAC : Erreur informatique d'interface Chaise-Clavier
Bienvenue sur PEBKAC, qui recense les meilleures quotes d'erreurs informatiques dues à l'utilisateur. L'acronyme PEBKAC signifie "Problem Exists Between Keyboard And Chair". N'avez-vous jamais fait l'expérience d'un "problème d'ordinateur" causé non pas par le PC ou le système, mais par celui qui l'utilise ? Le problème se situe entre la chaise et le clavier : soumettez vos histoires, donnez votre avis ! Stagiaire depuis peu dans une petite entreprise informatique, je croyais avoir tout vu : local serveur sans aération, utilisateurs qui ne trouvent pas la touche Del… jusqu'à aujourd'hui. Mesdames et messieurs, je vous présente le routeur fantôme : en effet, je suis à présent chargé de retrouver un routeur Wi-Fi – probablement caché derrière une cloison – avec, pour seule information, son IP locale.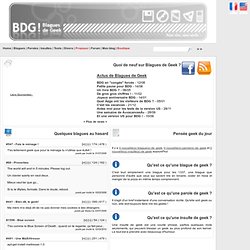 Que fait un geek avec ses os? Il les crack! posté par Invité le 25/02/2010 Dans Linux il y a un noyau, dans windows des pépins... posté par ko le 03/07/2008 -Je ne suis pas un objet !
BDG : les blagues pour geek
Vie de nerd
Dans Ton Chat, c'est le site qui recense les extraits de conversation (quotes) les plus drôles, tirés de vos dialogues sur internet. Oui, c'est un peu comme des brèves de comptoir, mais avec des geeks, et de l'interactivité. Cliquez sur les (+) ou les (-) pour voter pour ou contre une quote. Et envoyez les vôtres ! Sur le blog → Commentaires
Bienvenue DTC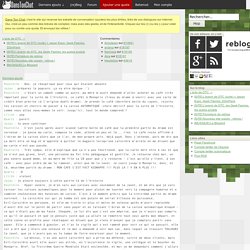 Geekscottes - Emacs -> vim
Mercredi, 06 Mars 2013 04:01 Pen Comme chaque année, Soleil organise l'opération Les filles de soleil qui vous permet d'obtenir gratuitement un recueil d'illustrations d'héroines de leur catalogue pour l'achat de 3 albums Soleil. Dans l'édition 2013, vous aurez le plaisir de retrouver Charline, c'est donc l'occasion idéale decompleter votre collection d'albums Les Geeks avant la sortie du Tome 9 le mois prochain. Dans la série "illustrations de filles un peu dévétues" on vous recommande également le site web 365pinups et l'application android (1.49 euros en version payante, version gratuite également disponible) du meme nom qui vous permettent de découvrir chaque jour une pin-up illustrée par un dessinateur de BD.
LesGeeks.net : Le site de la BD Les Geeks - Accueil / Blog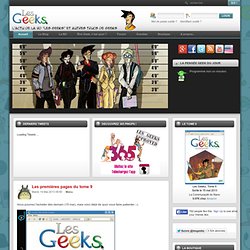 Un Geek a la Maison - Blog BD
I am particularly guilty of this, embedding non-constructive comments, code poetry and little jokes into most of my projects (although I usually have enough sense to remove anything directly offensive before releasing the code). Here's one I'm particulary fond of, placed far, far down a poorly-designed 'God Object': /** * For the brave souls who get this far: You are the chosen ones, * the valiant knights of programming who toil away, without rest, * fixing our most awful code.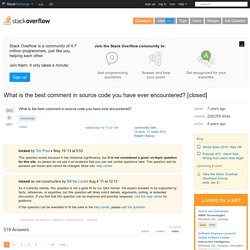 What is the best comment in source code you have ever encountere
Top Terminal easter eggs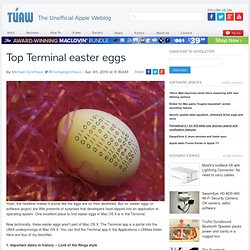 Yeah, the headline makes it sound like the eggs are on their deathbed. But no, easter eggs (in software jargon) are little presents or surprises that developers have slipped into an application or operating system. One excellent place to find easter eggs in Mac OS X is in the Terminal. Now technically, these easter eggs aren't part of Mac OS X. The Terminal app is a portal into the UNIX underpinnings of Mac OS X. You can find the Terminal app in the Applications > Utilities folder.
If Browsers Were Women - imgbit.com
Bonjour serveur
Insultes de développeurs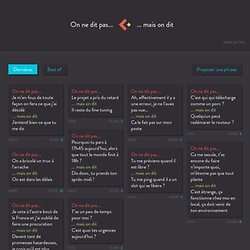 On ne dit pas... Je m'en fous de toute façon on fera ce que j'ai décidé ... mais on dit J'entend bien ce que tu me dis Le projet a pris du retard Il reste du fine tuning
mais on dit…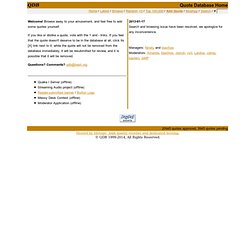 Welcome! Browse away to your amusement, and feel free to add some quotes yourself. If you like or dislike a quote, vote with the + and - links. If you feel that the quote doesn't deserve to be in the database at all, click its [X] link next to it; while the quote will not be removed from the database immediately, it will be resubmitted for review, and it is possible that it will be removed.
QDB: Quote Database Home
Chuck Norris facts
Le site des copinedegeek
Les Lois de Murphy
Sites murphyques francophones - Il existe une version papier par Emmanuel Moine de sa collection de lois (5 000 lois !), qui n'est pas encore bien synchronisée avec le stock du présent site (et ne le sera sans doute jamais)