Google
No anonymity is the future of web in the opinion of Google's CEO Eric Schmidt. He said many creepy things about privacy at the Techonomy Conference. The focus of the conference was how technology is changing and can change society. Schmidt's message was that anonymity is a dangerous thing and governments will demand an end to it. In an video interview with Julia Boorstin, CNBC Correspondent, Schmidt stated (starting at 5:13):
Google CEO Schmidt: No Anonymity Is The Future Of Web | NetworkWorld.com Community
Internet Privacy Infographic: Google Privacy & Your Privacy on Facebook
This Infographic is Property of WordStream, Inc. WordStream is an Internet marketing software company, specializing in pay-per-click advertising software and a suite of SEO tools, which contains a FREE keyword tool for discovering profitable keywords, including long tail keywords for SEO and PPC. Share This Infographic: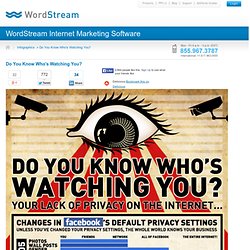 New Google's privacy policy - 01/03/2012
Google offers JPEG alternative for faster Web | Deep Tech
It turns out there was more to Google's WebM technology than just a plan to revolutionize Web-based video. The company also wants to revolutionize still images on the Web with a new format called WebP. Google plans to announce the new WebP graphics format today along with its research that indicates its use could cut image file sizes by 40 percent compared to today's dominant JPEG file format. That translates to faster file transfers and lower network burden if Google can convince people to adopt WebP. WebP, like JPEG, lets its users trade off image quality for file size. And like JPEG, it's a "lossy" format, meaning it doesn't perfectly reproduce an original image but tries to keep as true to the original as possible when viewed by the human eye.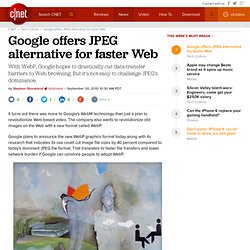 One place to find everything new from Google
Owly Sign in with Twitter Comments (0) Tweet Rate (+1) Original Size Image 1 2.png Report Abuse RomainPouzol
romainpouzol
Another rad browser plugin called Google Alarm hit the Internets this week, which alerts you every time your personal info is sent to Google's servers. How? Via notifications, a running tally of dangerous sites and, naturally, a super annoying, vuvuzela-like alarm. After seeing this new plugin — which works with both Firefox and Chrome — on F.A.T., I contacted the developer who made it: Jamie Wilkinson, who also created Know Your Meme and Mag.ma. Google Alarm, which was made during F.A.T.'s F*ck Google Week in Berlin, is supposed to make users aware of how much info they're sending to the search giant.
Is Google Watching You? New Plugin Will Let You Know [APPS]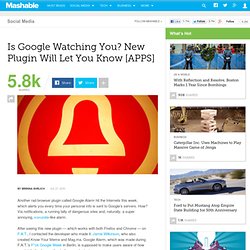 « Qu'on me donne six lignes écrites de la main du plus honnête homme,j'y trouverai de quoi le faire pendre » Cardinal Richelieu Greg atterrit à l'aéroport international de San Francisco à 20 heures, mais il était minuit passé quand arriva son tour aux services de douane. Il était descendu de première classe, doré comme un pti't Lu, mal rasé, détendu après un mois à la plage de Cabo (3 jours de plongée par semaine, les autres consacrés à draguer les étudiantes françaises). Quand il avait quitté la ville un mois plus tôt, il était une ruine ventripotente aux épaules affaissées. Maintenant il ressemblait à un dieu grec, et s'attirait les regards admiratifs de l'équipage à l'avant de la cabine. Quatre heures plus tard, dans la file d'attente des douanes, il était revenu à sa condition de simple mortel.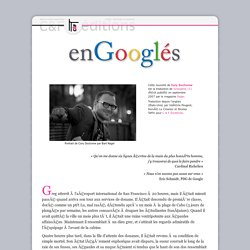 Google has mapped every Wi-Fi router in every residence and business in Britain, according to the Daily Telegraph. This news is a result of an investigation in Germany earlier this month that uncovered that the company had downloaded emails and other personal information. Using the Google Street View cars, Google explained it had intended to download what it called public information, such as MAC and SSID numbers.
Google Has Mapped Every Router in Britain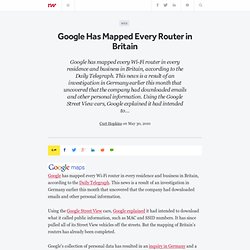 Lawyers suing Google claimed Thursday they have discovered evidence in a patent application that Google deliberately programmed its Street View cars to collect private data from open Wi-Fi networks, despite claims to the contrary. "At this point, it is our belief that it is not an accident," said Brooks Cooper, an Oregon attorney suing Google in one of several class actions lawsuits around the country arising from Google's disclosure that its Street View cars intercepted Wi-Fi traffic around the world. Google has described the sniffing as a coding error.
Lawyers Claim Google Wi-Fi Sniffing 'Is Not an Accident' | Threa