Google
Google Art Project : tech/culture/droit
Passer facilement de Google.com Google.fr !
qwac is a free tool allowing to switch beween Google.com results to your country's results page. Currently, qwac is available as a Chrome extension or a bookmarklet and works with the following localized versions of Google: France, Spain, UK. Click here to start using qwac . Example with google.com vs google.co.uk: Chrome users, you're invited to use the Chrome extension .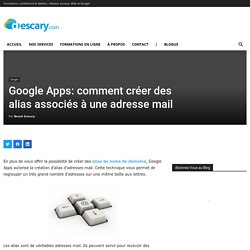 Google Apps: comment créer des alias associés à une adresse mail
En plus de vous offrir la possibilité de créer des alias de noms de domaine, Google Apps autorise la création d'alias d'adresses mail. Cette technique vous permet de regrouper un très grand nombre d'adresses sur une même boîte aux lettres. Les alias sont de véritables adresses mail. Ils peuvent servir pour recevoir des messages, mais aussi en envoyer. Ce sont donc de nouvelles identités que vous ajoutez à votre profil principal.
Ultimate Collection of Google Related Mac Apps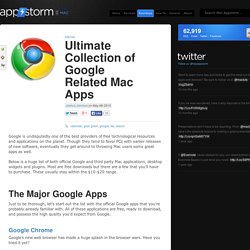 Google is undisputedly one of the best providers of free technological resources and applications on the planet. Though they tend to favor PCs with earlier releases of new software, eventually they get around to throwing Mac users some great apps as well. Below is a huge list of both official Google and third party Mac applications, desktop widgets and plugins.