Google Wave
10 great alternatives to Google Wave by Steven Walling
As we announced in August 2010, we are not continuing active development of Google Wave as a stand-alone product.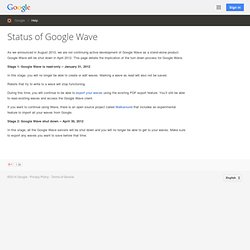 FYI: New Sandbox Release - Google Wave Sandbox Announcements |
Waveboard
Adobe Marketplace - Offering Detail
Google Wave Bot / Gadget Development
Google Wave - France (ggwave_fr) on Twitter
GO2WEB20 Blog: 11 Wave Tools You May Not Know Exist
Wavety.com — The Complete List of Google Wave Gadgets and Robots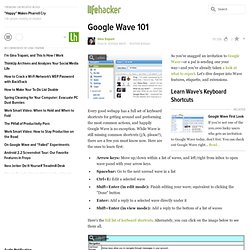 So you've snagged an invitation to Google Wave —or a pal is sending one your way—and you've already taken a look at what to expect . Let's dive deeper into Wave features, etiquette, and extensions. Learn Wave's Keyboard Shortcuts Every good webapp has a full set of keyboard shortcuts for getting around and performing the most common actions, and happily Google Wave is no exception. While Wave is still missing common shortcuts (j/k, please?)
Last updated: January 29th, 2010 Today has been dominated by news and excitement surrounding Google Wave , Google's new real-time communication platform that will launch to the public on September 30th. In fact, there's been so much buzz that you might just not have enough time to read the thousands of articles being released on Google's biggest product launch in recent memory.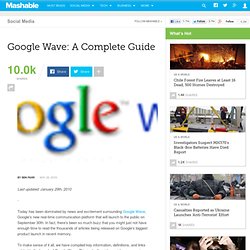 Google Wave Bot / Gadget Development
unnamed pearl