Google Search, plus Your World
What Does Google's Social Search Mean for SEO
A few days ago, Google made an announcement we all knew was coming sooner or later - heralding the advent of social search. It was only a matter of time before we saw Google+ getting integrated deeper into Google's existing products, and seeing more of the social network showing up in our search results was inevitable. The announcement was quick to make waves, prompting Twitter to speak out against what it felt was an unfair advantage for Google's own social network over other trusted sites.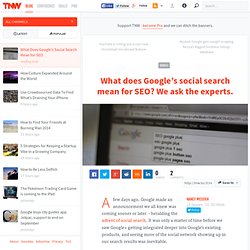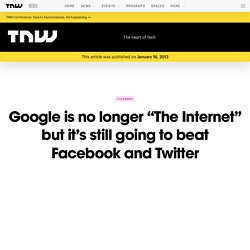 Google Is No Longer The Internet
For most Internet users in the western world, Google is "the Internet".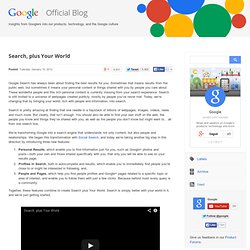 Google Search has always been about finding the best results for you. Sometimes that means results from the public web, but sometimes it means your personal content or things shared with you by people you care about. These wonderful people and this rich personal content is currently missing from your search experience.
Google's search results are undergoing their most radical transformation ever, as a new "Search Plus Your World" format begins rolling out today. It finds both content that's been shared with you privately along with matches from the public web, all mixed into a single set of listings.
Google's Results Get More Personal With "Search Plus Your World"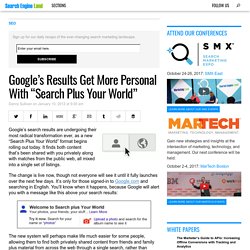 Google+ Is Going To Mess Up The Internet
They Did It: Google Personalizes Search & It Is Not Evil
Suddenly, Google Is Winning the Online Identity Race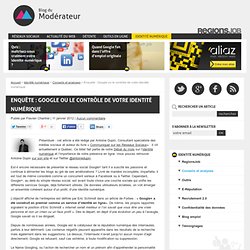 Préambule : cet article a été rédigé par Antoine Dupin, Consultant spécialiste des médias sociaux et auteur du livre « Communiquer sur les Réseaux Sociaux« .