Google Search, plus Your World
What Does Google's Social Search Mean for SEO
A few days ago, Google made an announcement we all knew was coming sooner or later - heralding the advent of social search. It was only a matter of time before we saw Google+ getting integrated deeper into Google's existing products, and seeing more of the social network showing up in our search results was inevitable. The announcement was quick to make waves, prompting Twitter to speak out against what it felt was an unfair advantage for Google's own social network over other trusted sites.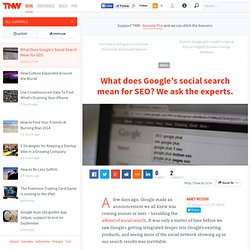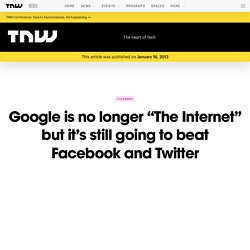 Google Is No Longer The Internet
For most Internet users in the western world, Google is "the Internet". Google is the first site they use; it's where they find everything they need. Google is the index of the Internet and the thing that comforts them with how much information is out there. Google is Internet is Google. Except it's not and it never was.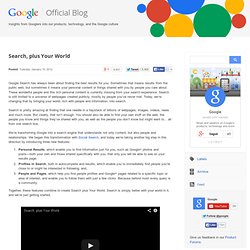 Google Search has always been about finding the best results for you. Sometimes that means results from the public web, but sometimes it means your personal content or things shared with you by people you care about. These wonderful people and this rich personal content is currently missing from your search experience.
Google's search results are undergoing their most radical transformation ever, as a new "Search Plus Your World" format begins rolling out today. It finds both content that's been shared with you privately along with matches from the public web, all mixed into a single set of listings. The change is live now, though not everyone will see it until it fully launches over the next few days. It's only for those signed-in to Google.com and searching in English. You'll know when it happens, because Google will alert you with a message like this above your search results: The new system will perhaps make life much easier for some people, allowing them to find both privately shared content from friends and family plus material from across the web through a single search, rather than having to search twice using two different systems.
Google's Results Get More Personal With "Search Plus Your World"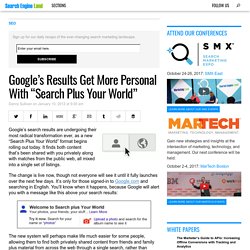 I hate Google+. Can't stand it. It is agonizing to use. The stream is so ugly, it won't even bother me when the inevitable Google ads arrive. Culturally, it feels like walking into a religious school.
Google+ Is Going To Mess Up The Internet Google has "shipped the Google part" of Google+, and everything went better than expected. Today, Google launches Personal Results, Profiles in Search, and People and Pages, new features of its core search product that mark the real beginning of Google's social search era. Google search now has two modes: global and personalized.
They Did It: Google Personalizes Search & It Is Not Evil Google shipped some major changes to search today. The announcement was called "Search, plus Your World." It was the inevitable launch of the integration between Google's core product, Web search, and its new identity service, Google+.
Suddenly, Google Is Winning the Online Identity Race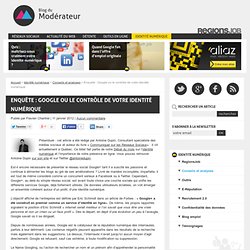 Préambule : cet article a été rédigé par Antoine Dupin, Consultant spécialiste des médias sociaux et auteur du livre « Communiquer sur les Réseaux Sociaux« . Il vit actuellement à Québec. Ce billet fait partie de notre Débat du mois sur l'identité numérique et l'importance de notre présence en ligne. Vous pouvez retrouver Antoine Dupin sur son site et sur Twitter @antoinedupin. Est-il encore nécessaire de présenter le réseau social Google+ tant il a suscité les passions et continue à alimenter les blogs au gré de ses améliorations ?