Gestion de projet
Intranet, Group Calendar, Small Business Organizer: Backpack
Hello, We launched Backpack back in 2005 so people could "keep life's loose ends together" in one place online. Since then, hundreds of thousands of people have kept millions of loose ends safe in their online Backpacks. However, because we haven't given Backpack much attention in the last few years, and as part of refocusing our efforts on a slimmer product line, we've decided to no longer offer Backpack to new customers. Existing customers will be able to continue using Backpack as they always have.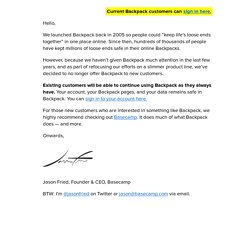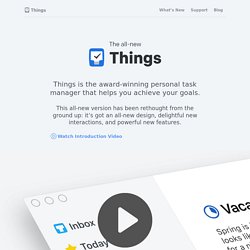 Your life is unique – so it's no surprise that after just a little while, your Things looks like no one else's. Do you want to write a song, plan the next big project, improve the house, or write a thesis? Whatever it is, you can customize Things to make it perfect for your needs.
Capture Quickly and easily record all your miscellaneous to-dos and store items in your inbox until you're ready to process and organize them. Capture it all on the fly with the quick entry panel, accessible via keyboard shortcut from virtually any application. Organize Use the powerful contexts feature in OmniFocus to categorize actions by work mode.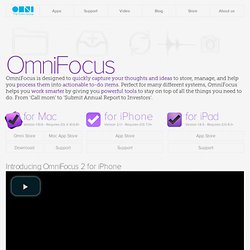 25 gestionnaires de projet ? d?couvrir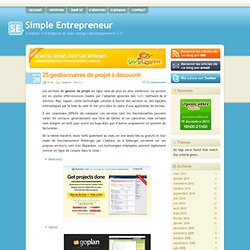 Les services de gestion de projet en ligne sont de plus en plus nombreux. Ce secteur est en pleine effervescence, boosté par l'adoption générale des SAAS ( Software As A Service ). Pour rappel, cette technologie consiste à fournir des services ou des logiciels informatiques par le biais du web et non plus dans le cadre d'une application de bureau. Il est néanmoins difficile de comparer ces services tant les fonctionnalités peuvent varier.