Fucking appstore
<a href="http://polldaddy.com/poll/5757061/" onclick="javascript:_gaq.push(['_trackEvent','outbound-article','http://polldaddy.com']);">Do You Still Download Apps from the Web?</a> Earlier today we published an article containing over thirty great apps that you won't find in the Mac App Store. This impressive selection of must-have software proves that despite the App Store's wild success (100 million downloads), there are in fact several developers who either can't get in due to the nature of their app or simply don't want to distribute their apps through the App Store.
Weekly Poll: Do You Still Download Apps from the Web?
The year in mobile apps: Where we've been, where we're going
Smartphone and tablet purchases have been on the rise for several years, but 2011 was a turning point: This was the first year that these mobile devices outsold desktop and laptop PCs. The effect — and perhaps some of the cause of this — is a love affair with mobile apps, leading to more apps sold than ever and more time spent with them than ever. We mobile consumers demonstrated this very clearly both in the U.S. and abroad: Apple this month hit 18 billion downloads total on its iOS App Store, and Google's Android Market likewise hit 10 billion. As the year winds down, here's a look back at the biggest, most significant things that happened in the apps we use on our smartphones and tablets this year, as well as the most important themes to watch out for come 2012. In 2011… We spent more time in apps than browsing.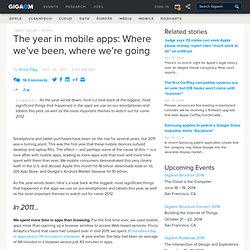 Why apps are not the future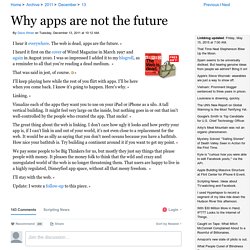 I hear it everywhere. The web is dead, apps are the future. I heard it first on the cover of Wired Magazine in March 1997 and again in August 2010. I was so impressed I added it to my blogroll, as a reminder to all that you're reading a dead medium. That was said in jest, of course. I'll keep playing here while the rest of you flirt with apps.
Cela fait maintenant près d'un an et demi que les analystes annoncent "la fin du web" et "l'appstorisation de l'Internet". L'un des premiers à vulgariser cet augure était Chris Anderson de Wired, dans une tribune publiée en août 2010 : "The web is dead, long live the Internet". Pendant LeWeb 2011, Georges Colony de Forrester s'inscrivait dans la même lignée en prévoyant également la "mort du Web". Ca commence à faire beaucoup de "morts" avec l'email (chez ATOS) et le PC, mais tout cela est relié. Je vais ici reprendre leurs arguments et les nuancer, exposer les risques et dangers de cette évolution qui semble inéluctable et évoquer quelques scénarios qui permettraient d'éviter le pire.
Les enjeux de l'appstorisation de l'Internet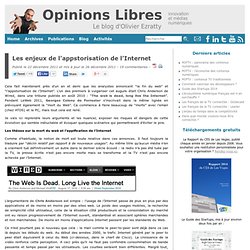 Apps are too much like 1990's CD-ROMs and not enough like the Web
The End of the Web? Don't Bet on It. Here's Why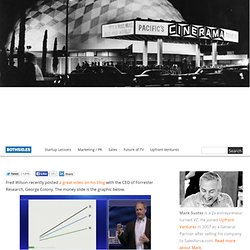 Fred Wilson recently posted a great video on his blog with the CEO of Forrester Research, George Colony. The money slide is the graphic below. The chart shows three scarce resources and their improvements over time. The top line is available storage (S), the middle line represents processing power (following Moore's law) or (P) and the bottom line is the Network (N).
It is remarkable to think that we're in the early days of the app era, when there are already close to 600,000 iOS applications and nearly 400,000 on Android (source: Distimo). The growth of these app ecosystems has been rapid, exponential and shows no signs of slowing down. As well it shouldn't: the untapped, addressable market for mobile apps involves hundreds of millions of users. And yet, app discovery remains a challenge.
A Web Of Apps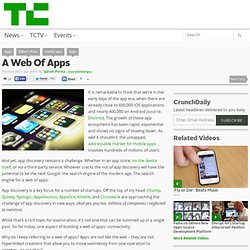 Il existe encore, en 2011, des entreprises qui obligent leurs utilisateurs à utiliser le pire outil internet existant, Internet Explorer 6, parce qu'elles ont fait de grosses bêtises pendant les années 2000 - 2005, en développant des « applications optimisées IE6 ». Hélas, j'en croise tous les jours, et souvent ce sont les plus grandes qui ont fait les plus grandes erreurs et qui soumettent encore leurs collaborateurs à ce martyr quotidien. Je souhaite féliciter Microsoft (une fois n'est pas coutume, penseront les lecteurs de ce blog !) pour avoir créé un site encourageant les entreprises à abandonner IE6 ; cela fait belle lurette que le grand public a pris les devants !
Les appstores : un nouveau désastre, similaire à Internet Explorer 6