Clients twitter i use
Echofon for Mac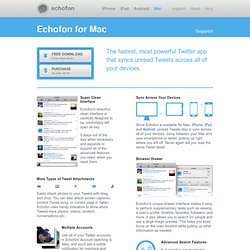 Super Clean Interface Echofon's beautiful, clean interface is carefully designed to be comfortably left open all day. It stays out of the way when necessary and expands to support all of the advanced features you need, when you need them. More Types of Tweet Attachments Easily attach photos to your Tweets with drag and drop. You can also attach screen captures, current iTunes song, or current page in Safari.
Kiwi
Making Twitter Extra Terrific
Description Twitter est le meilleur moyen de se connecter, de s'exprimer et de découvrir ce qui se passe.
Twitter dans le Mac App Store
Background Ever since we acquired Socialite from Realmac Software in 2010, we have been planning on releasing a faster, more stable version 2. Since then, including some unsuccessful attempts, we have invested tens of thousands of dollars into its development and months of our time. In 2012 Twitter announced API changes and made it clear that traditional Twitter clients, such as Socialite, should not be developed. Some of these new rules made developing Twitter support in Socialite 2 impossible, so after much deliberations we stopped the development of Socialite 2. End-of-life of Google Reader in 2013 was the last nail in the coffin of Socialite, as without it Socialite loses much of its appeal.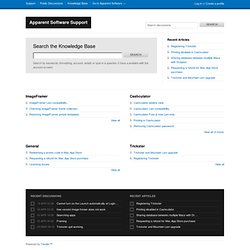 Chrome « TweetDeck - Votre monde social, au centre de la scène
Android « TweetDeck - Votre monde social, dans votre poche