Clients twitter i use
Echofon for Mac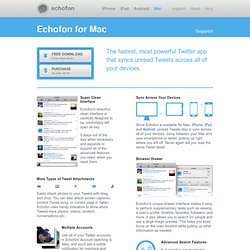 Super Clean Interface Echofon's beautiful, clean interface is carefully designed to be comfortably left open all day. It stays out of the way when necessary and expands to support all of the advanced features you need, when you need them. More Types of Tweet Attachments Easily attach photos to your Tweets with drag and drop. You can also attach screen captures, current iTunes song, or current page in Safari.
Kiwi
Making Twitter Extra Terrific
Description Twitter est le meilleur moyen de se connecter, de s'exprimer et de découvrir ce qui se passe. • Connectez-vous à des personnes et à vos centres d'intérêt afin d'accéder à une perspective unique et sans filtrage de ce qui se passe dans les coulisses. • Exprimez-vous avec des photos, des vidéos et des commentaires. • Découvrez ce qui se passe. Accédez à l'actualité en temps reél, à des photos, des vidéos, des conversations, des idées et inspirations, le tout dans votre flux d'actualités.
Twitter dans le Mac App Store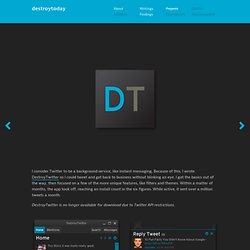 I consider Twitter to be a background service, like instant messaging. Because of this, I wrote DestroyTwitter so I could tweet and get back to business without blinking an eye. I got the basics out of the way, then focused on a few of the more unique features, like filters and themes. Within a matter of months, the app took off, reaching an install count in the six figures. While active, it sent over a million tweets a month.
Chrome « TweetDeck - Votre monde social, au centre de la scène
Android « TweetDeck - Votre monde social, dans votre poche