Cas pratique : des cartes de données
Demographic Mapping Online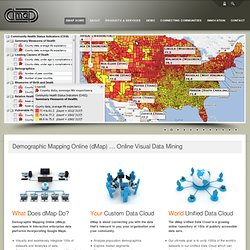 What Does dMap Do? Demographic Mapping Online (dMap) specialises in interactive enterprise data platforms incorporating Google Maps. Visually and seamlessly integrate 100s of datasets and terabytes of dataSophisticated enterprise data capability without the overheads of your own IT departmentZero plug-ins and no FlashOur clients include decision makers, planners and managers across corporate and government who have a need to better utilise their data assets for informed decision making and strategic planning Your Custom Data Cloud dMap is about connecting you with the data that's relevant to you, your organisation and your community. Analyse population demographicsExplore market segmentsDiscover patterns and trendsEvidence based planningBuild research clouds and collaborative data platformsExtend your business model onlineAsset location and Fleet Tracking servicesIntegrate the external dMap Custom Cloud with your private in-house data applications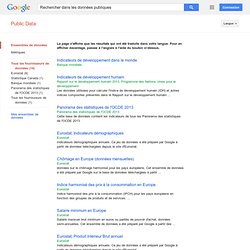 Indicateurs de développement humain Rapport sur le développement humain 2013, Programme des Nations Unies pour le développement Les données utilisées pour calculer l'Indice de développement humain (IDH) et autres indices composites présentés dans le Rapport sur le développement humain ... Eurostat, Indicateurs démographiques
DataMasher [datamasher.org] helps citizens creating mashups of data pulled from data.gov to visualize them in different ways, and to analyze how states compare on important issues. Users can combine different data sets in several ways and create their own custom rankings and color-coded maps of the US states. Already available maps include comparisons of obesity rates in children and how much is spent on their education (per capita), the most unhealthy states (cancer rate times infant mortality rate), or right brain versus left brain (or, in other words SAT Scores - Mathematics divided by SAT Scores - Reading). DataMasher is one of the 3 finalists of the Apps for America 2 contest, next to govpulse [govpulse.us], a searchable version of the Federal Register, and This We Know [thisweknow.org], a web repository that compiles federal information on a local level. As I understand it, votes can still be casted.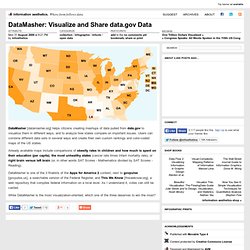 DataMasher: Visualize and Share data.gov Data - information aest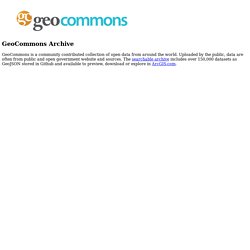 GeoIQ's enterprise analytics, enhanced visualization and data support features are now available for free to all GeoCommons users. Easily find answers to complex questions and share them with the world. With increased speed, greater usability, bigger data visualization, and cross browser support, you can now animate and visualize massive amounts of data in seconds - from IE to iPad. GeoCommons enables everyone to find, use and share geographic data and maps. Easily create rich interactive visualizations to solve problems without any experience using traditional mapping tools. Visualize data from numerous sources to identify trends that were before unseen.
Maps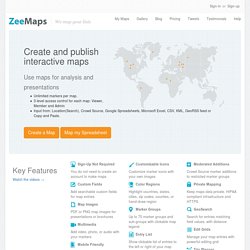 "Thanks a lot. ZeeMap is better than the Google map. It allows me to use my own field names... Pretty cool. " Pete H., USA.
rhiza
There are a lot of great mapping applications out there that run on a server. They can be intimidating to install and configure so I thought I would document my steps so everything would be in one place. This a a guide for the absolute beginner so if you have some command-line experience, I promise I'm not being condescending. Future posts will cover how we're actually using these tools to build our maps.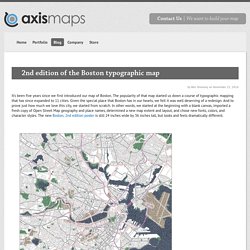 Axis Maps Blog