Browse and download from Flickr (OS X/Air)
Photonic: A Flickr desktop client for Mac OS X
Viewfinder is a Mac application that dramatically simplifies the process of finding, downloading and using images from Flickr. Viewfinder searches Flickr's over six billion photos in a snap to bring you the images you need. You can search tags, titles and descriptions and sort by most interesting, most relevant or most recent. Viewfinder also helps you find images with Creative Commons licenses and generates attribution text for you. Read on for more, or watch the video tutorials. If you like to present in a style beyond yellow text on a blue background, Viewfinder is the application for you.
Connected Flow - Viewfinder: Flickr search tool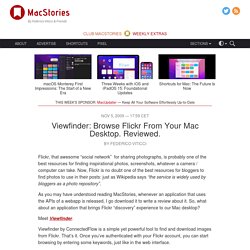 Flickr, that awesome "social network" for sharing photographs, is probably one of the best resources for finding inspirational photos, screenshots, whatever a camera / computer can take. Now, Flickr is no doubt one of the best resources for bloggers to find photos to use in their posts: just as Wikipedia says "the service is widely used by bloggers as a photo repository". As you may have understood reading MacStories, whenever an application that uses the APIs of a webapp is released, I go download it to write a review about it. So, what about an application that brings Flickr "discovery" experience to our Mac desktop? Meet Viewfinder.
Viewfinder: Browse Flickr From Your Mac Desktop. Reviewed.
Flickrroom (Air)
Flickery