404
Get flash to fully experience Pearltrees
"404 Not Found." These three little words can make any Internet explorer an unhappy camper. After all, who hopes to click on a broken link or stumble upon a moved or deleted page while cruising around the web? Luckily, some web designers have chosen to end the misery of encountering a 404 error page. Instead of letting their site readers bump heads with a nasty dead-end error message, they've managed to squeeze a little entertainment out of it. Below you'll find some of the most entertaining 404 error pages on the web.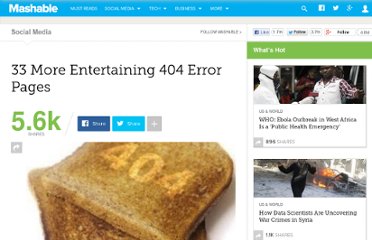 Landing on an error paging while surfing the Internet is usually an unpleasant experience, but some web designers add a bit of sunshine to the world with their quirky 404 error pages. We recently featured some of the most entertaining 404 error pages and asked users to share their favorites. Submitting a few classics that we missed, as well as a bunch of little-known gems, Mashable readers responded in droves. We picked out some of the best user-submitted 404 errors to share here.
Web Analytics World You are here: Home / 404 errors / 10 Funny 404 Error Pages 10 Funny 404 Error Pages February 27, 2009 by Mary Peng 12 Comments
Whenever a user is trying to reach a website's page that is non-existent or missing, they are usually directed to a page where they're informed that that specific page cannot be recalled by the HTTP server; this is what is called a 404 error page . As designers, when we create a web site, normally we'd also include a 404 page . Depending on the site design, overall focus, and demographics, you'll want to create a suitable page that will cut straight to the chase and also convey a bit of creativity at the same time. In this post you will find a showcase containing 50 of the most creative 404 pages that we found on the net.
Posted in Tech blog on March 28th, 2008 by Pingdom When you end up following a dead or incorrect link or mistype a URL, you are likely to end up on a 404 error page. It doesn't have to be a bad experience, though. We have prowled the web for funny and original takes on this classic error page. Here are 17 of the best.