Music, radio
Electro. Mathieu Foucher. Lana Del Rey Official Website. Online Cajun/zydeco Music - Live365 Internet Radio - Radio Louisiane - CAJUN RADIO 1470AM/1290AM - Listen Live. It appears that you already have an account created within our VIP network of sites on .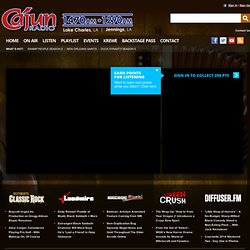 To keep your points and personal information safe, we need to verify that it's really you. To activate your account, please confirm your password. When you have confirmed your password, you will be able to log in through Facebook on both sites. Web Radios. Novaplanet. Accueil. Old Pine - Ben Howard. France Info - La Une - Actualité en ligne et information en temps réel - Radio France.
Europe1 : Radio d'Actualité et News Politique, Culture, Economie, Sport - Europe1.fr. France Inter. BBC NEWS. Music Portals.
---