Twitter
Get flash to fully experience Pearltrees
While Twitter may not be as big as Facebook in terms of traffic, it has several advantages over Facebook. Not only is it easier to gain followers on Twitter, but you can engage with people before they become your friend on a personal profile or your fan on a business page. The following is a guide to help you setup your Twitter profile and implement a successful Twitter marketing strategy. It gives suggestions and tips for those who are new to Twitter or are just looking for some new ideas.
If you're doing any kind of Internet marketing you know the importance of fact gathering especially if you're just starting out investing time, money and resources in social media. We're now well into the " early majority " phase of social media, it's time to take a look at some interesting data for a peak behind the social media curtains. When strategizing your marketing campaign it's critical to give yourself the highest chance of success. And by that I mean taking meaningful actions from reliable data not just making assumptions . The "medium" is no longer the message, just habits and channels. The message, in fact, IS the message.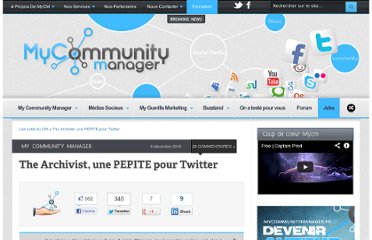 Cet article a été publié il y a 2 ans 3 mois 26 jours , il est possible qu'il ne soit plus à jour. Les informations proposées sont donc peut-être expirées. Aujourd'hui je vais vous présenter une perle, un outil indispensable pour Twitter. The Archivist est une superbe application conçue spécialement pour Twitter. A partir d'une recherche, que ce soit un sur mot, une phrase, un hashtag (#), un nom d'utilisateur Twitter (@)…, vous aurez la possibilité de visualiser et de sauvegarder un fichier Excel contenant tous les tweets en rapport avec cette recherche.
Vous le savez sans doute, Twitter offre la possibilité aux utilisateurs de personnaliser leur background, c'est à dire le « fond » du profil, à l'aide d'une image proposée, de votre propre image ou d'une simple couleur. Par manque de temps, de compétence en webdesign ou simplement d'envie, il reste bien rare que les twittos en tirent profit en France, bien que cela soit chose (très) commune outre-Atlantique. Que diriez-vous de franchir le pas , et de créer ou d'adapter votre background actuel ?
Google possède maintenant son service propre service de raccourcis d'URL qui se nomme goo.gl . Ce service est uniquement accessible depuis la barre d'outils de Google et Feedburner . Feedburner, ce système de gestion et de distribution de flux RSS possède une nouvelle fonctionnalité qui permet de lier un compte Twitter à un flux RSS. Une fois que ce lien aura été créé, Feedburner enverra automatiquement un Tweet lorsqu'un billet sera publié sur le blogue qui y est associé. Vous trouverez cette nouvelle fonction dans la section «Publicize», puis sélectionnez le menu «Socialize» (barre latérale de gauche). Il ne vous restera plus qu'à associer votre compte Twitter à votre flux RSS.
Comme la plupart des nouveaux utilisateurs twitter, au début, j'ai commencé à suivre des tonnes des personnes sans même savoir s'il était important de les suivre où non. Mon intelligence limitée, ne me permet pas d'avoir plus de 100 amis sur les réseaux sociaux, alors j'ai entrepris une grande purge de mes abonnements twitter en me posant les questions suivantes Qui c'est celui là? En effet, j'ai fait une petite passe de mes 800 comptes twitter ce matin, et j'avoue que je n'en connais pas la moitié! Donc une bonne partie est passé à la trappe Ceux que je ne connais pas et qui ne me follow pas, pourquoi je les suivrais ?
We would like to apologize for the recent crashing issues that some of our users have been experiencing. The issues are due to a combination of a bug in the compiler (software development tool) that we use, and the fact that Twitter is now forcing everyone to always use HTTPS. Unfortunately we do not have control over either of these things. While build #121112, did fix the crashing issue that some people were having – it also caused some people who were not having any problems with the previous release to begin having other crashing issues. If build #121112 worked well for you, you can uninstall Tweet Adder, and re-install build #121112 by downloading it from the following urls: Windows: http://tweetadder.com/121112/tweetadder3.exe Mac: http://tweetadder.com/121112/tweetadder3.dmg
Twitter is launching an official Tweet Button for sharing articles on websites and counting how many times a URL has been shared, according to documents Mashable has obtained. The Tweet Button could launch as soon as this Thursday. We're still diving into the details, but from what we can tell, the Tweet Button is designed to be the most comprehensive counter of retweets and shares across Twitter's network.
Lors d'un dernier web-event auquel j'ai participé, j'ai passé un certain temps à discuter avec des novices de Twitter , des internautes fraichement inscrits et ne maîtrisant pas encore réellement l'outil. L'une des plaintes qui m'est revenue le plus souvent est sans aucun doute qu'il est très difficile de découvrir les « bonnes personnes à suivre » , qui traitent de ses propres centres d'intérêts, sans passer de nombreuses semaines (ou mois) à suivre puis à unfollower des dizaines ou centaines de comptes Twitter. Il existe cependant certaines combines afin de gagner du temps ! Je me permets donc de vous présenter « 10 conseils pour dénicher des personnes intéressantes sur Twitter » , qui je l'espère vous feront gagner du temps dans vos recherches et accentueront l'intérêt que vous portez aux tweets des personnes auxquelles vous êtes abonnés.
Twitter est un service extrêmement utile pour suivre les mises à jour de ses amis, découvrir de nouveaux contenus/news, suivre ses stars préférés,…Mais, lorsque vous démarrez, et à défaut d'avoir un réseau de contacts déjà actifs sur le service, la première question que vous vous posez c'est: "Qui je peux bien suivre?" et c'est certainement d'ailleurs une des raisons pour lesquelles une grande partie des utilisateurs inscrits finissent par abandonner le service. Heureusement, il existe différents moyens de trouver des personnes à suivre sur Twitter. Voici 10 services qui vous permettent de trouver de nouveaux "Tweeps", n'hésitez pas à enrichir la liste en commentaires:
If you've been using Twitter, you've likely checked out an app or two to make your Twitter experience more robust, or even just a bit easier. TweetDeck , Twitpic and Tweetie are all examples of Twitter apps. What if I told you there was a magical place that could easily be ? Yes, this place really does exist.
Social media and inbound marketing can drive powerful connections and awareness; however, to have part of their budget allocated for online marketing resources, B2B marketers need to be able to demonstrate a clear ROI. And for most B2B marketing departments, ROI comes down to one major metric: leads. While awareness and conversations are important, having clear and measurable leads acquired through social media is critical to the support of future efforts and resource acquisition. In the coming weeks, we will look at social media lead generation best practices across many social platforms. Today, we are going to focus on one platform that is at the top of most B2B marketers' lists: Twitter.