Best Practices
3 Secrets Enfin Exposés Pour Expliquer La Viralité Sur Les Réseaux Sociaux! Twitter et Facebook sont de plus en plus utilisés par les entreprises pour communiquer autour de leurs produits et de leurs services.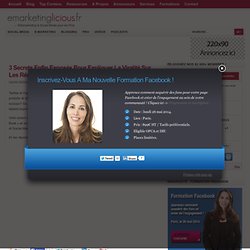 Mais qu'est ce qui fait qu'un message devient viral sur les réseaux sociaux? Se doit-il d'être absolument pertinent ou à forte valeur ajoutée? Est-ce qu'une idée virale se répand exponentiellement? Quels sont les facteurs qui déterminent la viralité? Voilà autant de questions auxquelles répond Dan Zarrella, auteur du livre « The Social Media Marketing Book » et scientifique des médias sociaux, dans une excellente présentation powerpoint « The Science of Social Media ».
Les 7 étapes de votre Plan Marketing pour les réseaux sociaux (PMRS) ConseilsMarketing.fr a le plaisir d'accueillir Nathanael Ramos de www.metrosapiens.com, coach en networking (personnel & PME), qui nous donne les 7 étapes pour créer son plan marketing sur les Réseaux Sociaux.
Saviez-vous que -Burger King a dépensé 50 000 dollars pour son application Facebook Whopper Sacrifice et a reçu en retour une couverture médiatique équivalente à 400 000 dollars de publicité, en plus de 32 millions de pages vues. La veille pour les Community Managers. La Licence Professionnelle Référenceur-Rédacteur Web de L'IUT de Mulhouse propose cette année des cours de Community Management, dont voici le support de trois cours magistraux.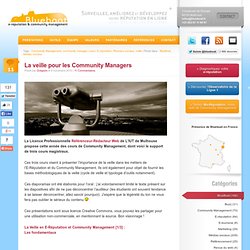 Ces trois cours visent à présenter l'importance de la veille dans les métiers de l'E-Réputation et du Community Management. Ils ont également pour objet de fournir les bases méthodologiques de la veille (cycle de veille et typologie d'outils notamment). Ces diaporamas ont été élaborés pour l'oral : j'ai volontairement limité le texte présent sur les diapositives afin de ne pas déconcentrer l'auditeur (les étudiants ont souvent tendance à se laisser déconcentrer, allez savoir pourquoi). J'espère que la légèreté du ton ne vous fera pas oublier le sérieux du contenu Ces présentations sont sous licence Creative Commons, vous pouvez les partager pour une utilisation non-commerciale, en mentionnant la source. Bien utiliser les groupes sur Linked In.
Plus de 11,639 groupes francophones ont été créés à ce jour sur Linked In, qu'ils soient de pratiques, sectoriels, d'entreprises, d'écoles, l'offre ne manque pas, le pire comme le meilleur!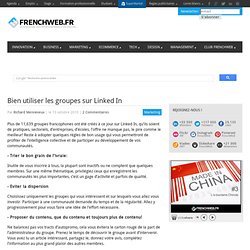 Reste à adopter quelques règles de bon usage qui vous permettront de profiter de l'intelligence collective et de participer au développement de vos communautés. - Trier le bon grain de l'ivraie: How to Create Social Media Business Guidelines. Social media policies and guidelines provide your business a framework to carry out your social media strategy and implement your social media tactics.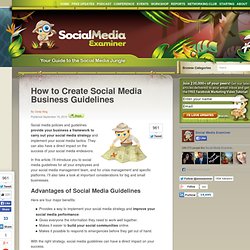 They can also have a direct impact on the success of your social media endeavors. In this article, I'll introduce you to social media guidelines for all your employees and your social media management team, and for crisis management and specific platforms. Prospect for Business Using LinkedIn and Twitter Together. Let's assume you know whom you want to work with, but you just don't move in their circles.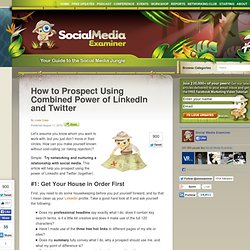 How can you make yourself known without cold-calling (or risking rejection)? Simple. Try networking and nurturing a relationship with social media. This article will help you prospect using the power of LinkedIn and Twitter (together). #1: Get Your House in Order First. 6 qualités d'une bonne communauté. Quand on me pose des questions sur l'utilisation des réseaux sociaux comme Twitter, LinkedIn ou Facebook on ne s'attend généralement pas à ce que je fasse un tuto sur la création de compte, chose qui est à peu de personnes près à la portée de tout le monde.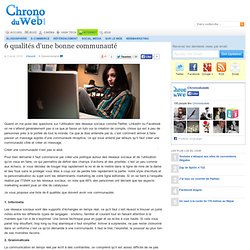 Ce que je dois entendre par là, c'est comment arriver à faire passer un message auprès d'une communauté réceptive, ce qui sous entend par ailleurs qu'il faut créer une communauté ciblé et créer un message. Créer une communauté n'est pas si aisé. Pour bien démarrer il faut commencer par créer une politique autour des réseaux sociaux et de l'utilisation qu'on veux en faire, ce qui permettra de définir des champs d'actions et des priorités, c'est un peu comme aux échecs, si vous décidez de bouger trop rapidement le roi et de le mettre dans la ligne de mire de la dame et des fous sans le protéger vous êtes à coup sûr de perdre très rapidement la partie.
A step-by-step guide to creating a media strategy. How to create & distribute media for a cause campaign We're fans of UK-based Tactical Technology Collective's message in-a-box, so we're republishing their Designing your strategy tutorial on how to create your own media, distribute it and monitor its impact to further your campaign or project.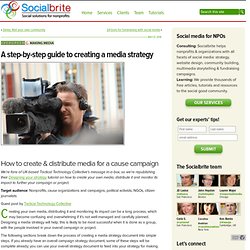 Target audience: Nonprofits, cause organizations and campaigns, political activists, NGOs, citizen journalists Guest post by Tactical Technology Collective Creating your own media, distributing it and monitoring its impact can be a long process, which may become confusing and overwhelming if it's not well-managed and carefully planned. Designing a media strategy will help; this is likely to be most successful when it is done as a group, with the people involved in your overall campaign or project.
Summer Reading: The Best of TheCR. We've written a lot about community management over the past year – and interviewed a lot of amazing community managers – and as often happens with blogs the content gets buried in favor of what's new and hot so we thought we would resurrect those posts that our readers have found most valuable and interesting.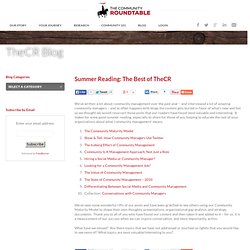 It makes for some good summer reading, especially to share for those of you helping to educate the rest of your organizations about what 'community management' means. We've seen some wonderful riffs of our posts and have been gratified to see others using our Community Maturity Model to shape their own thoughts, presentations, organizational gap analysis, and strategy documents.
Thank you to all of you who have found our content and then taken it and added to it – for us, it is a measurement of our success when we can inspire conversation, and more importantly, action. 5 Easy Steps to a Winning Social Media Plan | Social Media Exami. So you've set up your social media empire using Twitter, Facebook, LinkedIn, and you're blogging too.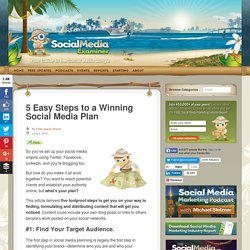 But how do you make it all work together? You want to reach potential clients and establish your authority online, but what's your plan? This article delivers five foolproof steps to get you on your way to finding, formulating and distributing content that will get you noticed. 10 Fresh Tips for Community Managers. **This series is supported by the Social Influence System, presented by Waggener Edstrom Worldwide. To learn more visit Waggeneredstrom.com/nozombies. Most community managers are well-versed in the basics of social media engagement. We all know how to deal with trolls and how to create conversations.
---