Music
Unsui's sounds on SoundCloud
Alvin Baxter - Washin' Powder
www.wavesatnight.com/wp-content/uploads/2011/04/Eddie-Craig-Funkin-Up.mp3
www.wavesatnight.com/wp-content/uploads/2011/06/Topo-Ba-Ba-Go-Go.mp3
www.wavesatnight.com/wp-content/uploads/2011/06/Hugh-Masekela-Dont-Go-Lose-It-Baby.mp3
www.wavesatnight.com/wp-content/uploads/2011/04/Crash-Course-In-Science-Cardboard-Lamb.mp3
www.wavesatnight.com/wp-content/uploads/2011/04/Jules-Tropicana-Come-On-Extended-Mix.mp3
www.wavesatnight.com/wp-content/uploads/2011/05/Black-Jack-Hysteric-Edit.mp3
www.wavesatnight.com/wp-content/uploads/2011/05/Through-a-Rabbit-Hole-Baldelli-Dionigi-Remix.mp3
TEVO H | Waves at Night
Animals Dancing is once again bringing us their next installment of non-stop-action dance parties that are thrown down in the Mercat basement, this time with a special live performance (606, 707, 303…) by Chicago-born-and-bred Tevo Howard. I started to DJ at roughly thirteen or fourteen years old, putting us back to about 1987. After a knee injury in a skateboard accident (I wiped out) in 1987, I found myself sitting at home, bored, and with little interests other than skateboarding and music. With skateboarding out of the picture, I could only gather to mess around with the turntables that sat in the room my brothers and I all shared.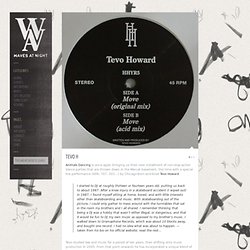 ARAWA.FM
Waxidermy | A website about records
inner nerd obscure music for nerdlings Links Complete list of the blog's bookmarks.
links at inner nerd
Mister Italo - The future is 30 years old - Italo Disco, Cosmic Disco, Space Disco, Synth Disco
Photo: Eric Coleman MF DOOM – Live booking: dmr@gasdrawls.com Madlib – Live booking, North America: booking@windishagency.com Madlib – Mgmt: egon@nowagainrecords.com Key Releases: Madvillainy (2004)The Remix: Madvillainy: The Madlib Remix (2008) MF DOOM and Madlib are Madvillain. The two met in 2002 and soon began working on Madvillainy which would be finished over the next year and released in March 2004.
Madvillain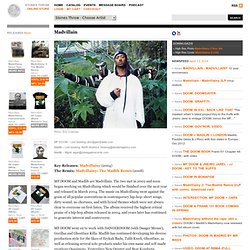 Aminals- Baths
Villa nah - Envelope
Don't Watch That, Ty (2006
[FR] Le rappeur anglais Ty sortait en octobre dernier son troisième album Closer. Plus orienté dancefloor que ses prédécesseurs, il y a du beau monde sur ce disque, parmi lesquels De La Soul et Arrested Development. Poussez les basses et écoutez "Don't Watch That" en ce joli vendredi. Détendez-vous, voici le week-end... "I am a machine man, i am a machine man..."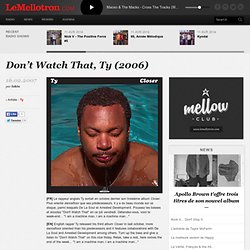 Bumpy Road, C-Mon & Kypski (2006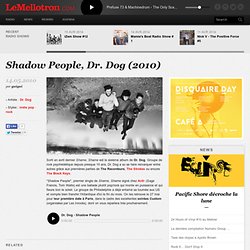 Shadow People, Dr. Dog (2010
Sorti en avril dernier Shame, Shame est le sixième album de Dr. Dog. Groupe de rock psychédélique depuis presque 10 ans, Dr. Dog a su se faire remarquer entre autres grâce aux premières parties de The Raconteurs, The Strokes ou encore The Black Keys.
If You Really Love Me, Stevie Wonder (1971
Il y eut un avant et un après Where I'm Coming From. Comme Marvin Gaye avec What's Going On, cet album sorti en 1971 marque pour Stevie Wonder la transition de l'ère Motown à l'indépendance artistique. Berry Gordy, monsieur Motown, est homme de principe. Depuis le début des années 60, son entreprise à succès est fondée autour d'une identité musicale identifiable entre toutes et entièrement dédiée à la pop music. Un principe qui s'accorde mal avec les évolutions sociales des années 60.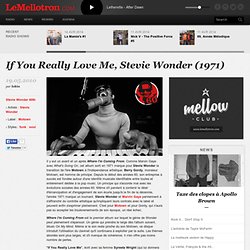 Tokimonsta, de son vrai nom Jennifer Lee, est une jeune beatmakeuse originaire de Los Angeles. D'origine Coréenne, son nom vient de tonki, lapin en coréen et monster. Un pseudonyme emprunté il y a quelques années et qui colle aujourd'hui plutôt bien à son univers musical qu'elle définit elle-même comme soulful experimental electronic beats. Signée sur Brainfeeder, après quelques maxis et remixes, elle vient de sortir son premier album Midnight Menu, qui mélange influences hip-hop, dubstep, musique traditionnelle coréenne, et se rapproche parfois plus des sonorités trip-hop par sa sensibilité mélodique. Mais dans Tonkimonsta, il y a bien sûr monsta. Certains titres rappellent donc davantage la dureté des productions de Lorn et Mono/Poly.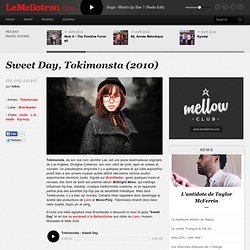 Sweet Day, Tokimonsta (Brainfeeder, 2010) | Midnight Menu
Greek Style, Gold Panda (Lucky Shiner, 2010) | Ghostly International
L'Angleterre nous avait prévenu qu'il fallait garder une oreille, voire deux, sur le premier album de Gold Panda. Et en effet, on aurait eu tord de passer à côté. Ce jeune prodige de 28 ans vient de sortir Lucky Shiner sur le célèbre label Ghostly International. Une idée brillante puisque Derwin "Gold" Panda nous livre 13 titres entre electronica et free-folk.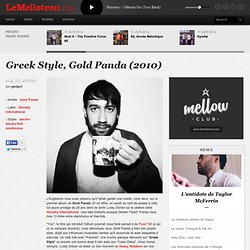 Retrouvé sous une pile de disques estampillée "A écouter", on vient de retomber sur cet EP du groupe Applause. Oreilles tendues à l'écoute du premier titre, le charme fait effet immédiatement. Applause c'est l'alliance musicale de quatre amis wallons et bruxellois. Une voix dark, sensible et parfois groovy sur des instrus aux sonorités pop/rock. Révélés par des premières parties de renoms, des festivals et surtout ce premier EP de 5 titres sorti en juillet dernier.
The Lighthouse, Applause (2010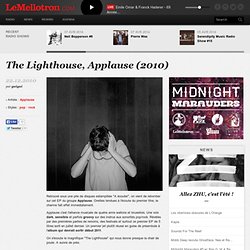 David McWilliams - Days Of Pearly Spencer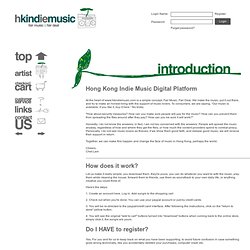 Hong Kong Indie Music Digital Platform At the heart of www.hkindiemusic.com is a simple concept: Fair Music, Fair Deal. We make the music, put it out there, and try to make an honest living with the support of music lovers. To consumers, we are saying, "Our music is available; if you like it, buy it here." No tricks.
hkindiemusic.com
My Little Airport - 悲傷的採購
my little airport - 浪漫九龍塘
Download: Drums of Death Everything All At Dub | News | The Fat! Club
Download: Drums of Death Everything All At Dub Scottish producer Drums of Death's debut album is a tale of two cities. One drenched in deep, pulsing rave music; the other a romanticised landscape of fragile love songs. The two sides to 'Generation Hexed' are expertly woven together, telling the story of a man torn between the dancefloor and the piano.
Gina X Performance - "Opposite Numbers" (1980)
Transvolta - Disco Computer
Gay Cat Park - I'm A Vocoder - 12" for sale at Discogs
« Mais c'est quoi, déjà, Internet ? »
Imaginez qu'un salarié de TF1 exhume des archives de son employeur un extrait d'un talk show de la première chaîne vieux de 17 ans.