Surrealism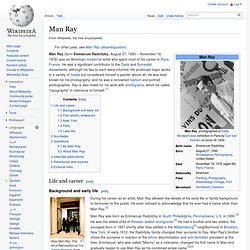 Man Ray (born Emmanuel Radnitzky, August 27, 1890 – November 18, 1976) was an American modernist artist who spent most of his career in Paris, France.
Man Ray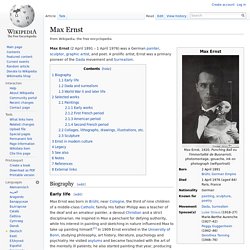 Max Ernst (2 April 1891 – 1 April 1976) was a German painter, sculptor, graphic artist, and poet. A prolific artist, Ernst was a primary pioneer of the Dada movement and Surrealism.
Leonora Carrington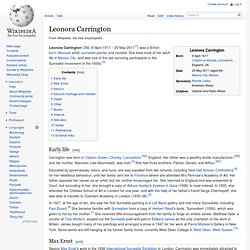 Leonora Carrington OBE (6 April 1917 – 25 May 2011[1]) was a British-born–Mexican artist, surrealist painter and novelist. She lived most of her adult life in Mexico City, and was one of the last surviving participants in the Surrealist movement of the 1930s.[2] Early life[edit]
Un article de Wikipédia, l'encyclopédie libre. Pour les articles homonymes, voir Matta. Roberto Matta Echaurren, lequel aimait se présenter souvent comme "Roberto Sebastián Antonio Matta Echaurren", connu sous le nom de Matta, est un peintre surréaliste chilien, né le 11 novembre 1911, à Santiago du Chili, et mort à Civitavecchia (Italie), le 23 novembre 2002.
Roberto Matta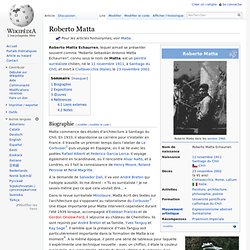 Dorothea Tanning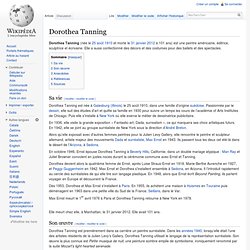 Un article de Wikipédia, l'encyclopédie libre.
Tableaux de Roberto Matta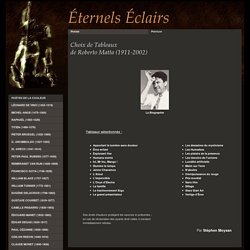 Éternels Éclairs La Biographie
En entrant dans le « cubo abierto » de Roberto Matta, le spectateur ne peut pas analyser l'œuvre ; il doit se soumettre à la synthèse et accueillir le cube d'un seul tenant, sans divisions, sans fractures ; il doit laisser derrière lui la méthode fragmentaire avec laquelle raisonne son esprit.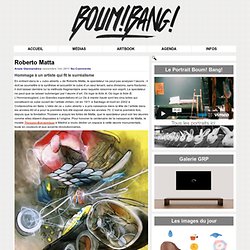 Roberto Matta — The open cube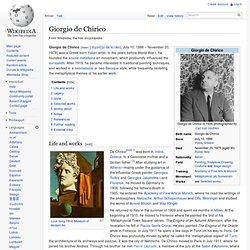 Giorgio de Chirico (Italian pronunciation: [ˈdʒordʒo deˈkiːriko]; July 10, 1888 – November 20, 1978) was a Greek-born Italian artist.
Giorgio de Chirico
Tableaux de Giorgio De Chirico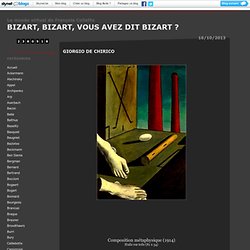 Les Philosophes Grecs (1925)Huile sur toile (112 x 85) Retour au Surréalisme que j'aime énormément. Et avec un superbe tableau.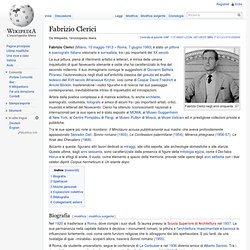 Da Wikipedia, l'enciclopedia libera. Fabrizio Clerici negli anni cinquanta
Fabrizio Clerici
Salvador Domingo Felipe Jacinto Dalí i Domènech, 1st Marqués de Dalí de Pubol (May 11, 1904 – January 23, 1989), known as Salvador Dalí (Catalan pronunciation: [səɫβəˈðo ðəˈɫi]), was a prominent Spanish surrealist painter born in Figueres, in the Catalonia region of Spain.
Tableaux de Salvador Dali
 Éternels Éclairs La Biographie Tableaux sélectionnés :
Yves Tanguy
Raymond Georges Yves Tanguy (January 5, 1900 – January 15, 1955), known as Yves Tanguy, was a French surrealist painter.
Joan Miró
Earning international acclaim, his work has been interpreted as Surrealism, a sandbox for the subconscious mind, a re-creation of the childlike, and a manifestation of Catalan pride.
John Tunnard
John Samuel Tunnard (7 May 1900 – 12 December 1971) was an English Modernist designer and painter.
Alexander Calder
Alberto Giacometti
Louise Bourgeois
Jean Arp
Oeuvres de Jean Arp