Surrealism
Man Ray. Man Ray (born Emmanuel Radnitzky, August 27, 1890 – November 18, 1976) was an American modernist artist who spent most of his career in Paris, France.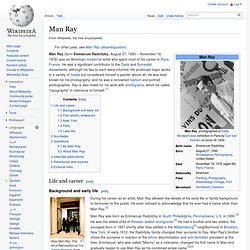 He was a significant contributor to the Dada and Surrealist movements, although his ties to each were informal. He produced major works in a variety of media but considered himself a painter above all. He was best known for his photography, and he was a renowned fashion and portrait photographer. Ray is also noted for his work with photograms, which he called "rayographs" in reference to himself.[1] Max Ernst. Max Ernst (2 April 1891 – 1 April 1976) was a German painter, sculptor, graphic artist, and poet.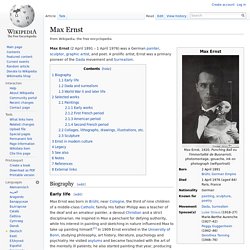 A prolific artist, Ernst was a primary pioneer of the Dada movement and Surrealism. Biography[edit] Early life[edit] Max Ernst was born in Brühl, near Cologne, the third of nine children of a middle-class Catholic family. His father Philipp was a teacher of the deaf and an amateur painter, a devout Christian and a strict disciplinarian. Leonora Carrington. Leonora Carrington OBE (6 April 1917 – 25 May 2011[1]) was a British-born–Mexican artist, surrealist painter and novelist.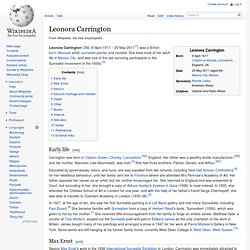 She lived most of her adult life in Mexico City, and was one of the last surviving participants in the Surrealist movement of the 1930s.[2] Early life[edit] Roberto Matta. Un article de Wikipédia, l'encyclopédie libre.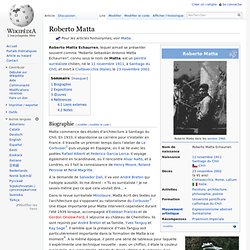 Pour les articles homonymes, voir Matta. Roberto Matta Echaurren, lequel aimait se présenter souvent comme "Roberto Sebastián Antonio Matta Echaurren", connu sous le nom de Matta, est un peintre surréaliste chilien, né le , à Santiago du Chili, et mort à Civitavecchia (Italie), le . Dorothea Tanning. Un article de Wikipédia, l'encyclopédie libre.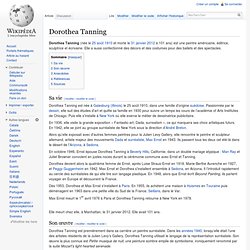 Dorothea Tanning (née le et morte le à 101 ans) est une peintre américaine, éditrice, sculptrice et écrivaine. Elle a aussi confectionné des décors et des costumes pour des ballets et des spectacles. Sa vie[modifier | modifier le code] Tableaux de Roberto Matta.  Éternels Éclairs La Biographie Tableaux sélectionnés : Des droits d'auteurs protègent les oeuvres ici présentes ; en cas de réclamation des ayants droit celles-ci seraient immédiatement retirées.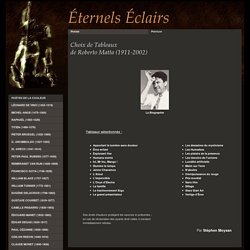 Par Stéphen Moysan Apportant la lumière sans douleur, par Roberto Matta. Roberto Matta — The open cube. En entrant dans le « cubo abierto » de Roberto Matta, le spectateur ne peut pas analyser l'œuvre ; il doit se soumettre à la synthèse et accueillir le cube d'un seul tenant, sans divisions, sans fractures ; il doit laisser derrière lui la méthode fragmentaire avec laquelle raisonne son esprit.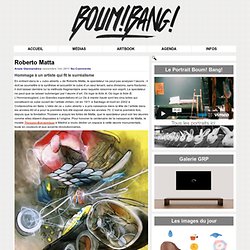 Le spectateur ne peut que se laisser submerger par l'œuvre d'art. Où loge la folie A, Où loge la folie B, L'Honniaveuglant, Les Grandes expectatives et Le Où à marée haute sont les cinq toiles qui constituent ce cube ouvert de l'artiste chilien, né en 1911 à Santiago et mort en 2002 à Civitavecchia en Italie. L'idée de ce « cubo abierto » a pris naissance dans la tête de l'artiste dans les années 60 et a pour la première fois été exposé dans les années 70. Giorgio de Chirico. Giorgio de Chirico (Italian: [ˈdʒordʒo deˈkiːriko]; July 10, 1888 – November 20, 1978) was a Greek-born Italian artist.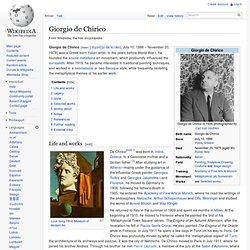 In the years before World War I, he founded the scuola metafisica art movement, which profoundly influenced the surrealists. After 1919, he became interested in traditional painting techniques, and worked in a neoclassical or neo-Baroque style, while frequently revisiting the metaphysical themes of his earlier work. Life and works[edit] De Chirico[note 1] was born in Volos, Greece, to a Genovese mother and a Sicilian father.[1] After studying art in Athens—mainly under the guidance of the influential Greek painter Georgios Roilos and Georgios Jakobides—and Florence, he moved to Germany in 1906, following his father's death in 1905. Tableaux de Giorgio De Chirico. Les Philosophes Grecs (1925)Huile sur toile (112 x 85) Retour au Surréalisme que j'aime énormément.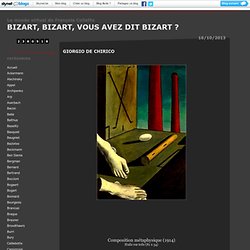 Et avec un superbe tableau. Fabrizio Clerici. Da Wikipedia, l'enciclopedia libera.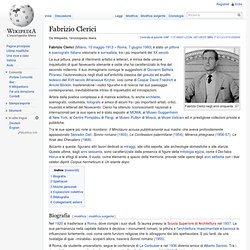 Fabrizio Clerici negli anni cinquanta Fabrizio Clerici (Milano, 15 maggio 1913 – Roma, 7 giugno 1993) è stato un pittore e scenografo italiano visionario e surrealista, tra i più importanti del XX secolo. La sua pittura, piena di riferimenti artistici e letterari, è intrisa delle umane inquietudini di quel Novecento alienante e ostile che ha caratterizzato la fine del secondo millennio. Il suo immaginario coniuga le suggestioni di Giovanni Battista Piranesi, l'autorevolezza negli studi sull'antichità classica del gesuita ed erudito tedesco del XVII secolo Athanasius Kircher, così come di Caspar David Friedrich e Arnold Böcklin, trasferendone i codici figurativi e di ricerca nel suo paesaggio contemporaneo, inevitabilmente intriso di inquietudini ed introspezioni.
Salvador Dalí. Salvador Domingo Felipe Jacinto Dalí i Domènech, 1st Marqués de Dalí de Pubol (May 11, 1904 – January 23, 1989), known as Salvador Dalí (Catalan pronunciation: [səɫβəˈðo ðəˈɫi]), was a prominent Spanish Catalan surrealist painter born in Figueres, Spain. Dalí was a skilled draftsman, best known for the striking and bizarre images in his surrealist work. His painterly skills are often attributed to the influence of Renaissance masters.[1][2] His best-known work, The Persistence of Memory, was completed in August 1931. Dalí's expansive artistic repertoire included film, sculpture, and photography, in collaboration with a range of artists in a variety of media.
Dalí attributed his "love of everything that is gilded and excessive, my passion for luxury and my love of oriental clothes"[3] to an "Arab lineage", claiming that his ancestors were descended from the Moors. Tableaux de Salvador Dali.  Éternels Éclairs La Biographie Tableaux sélectionnés : Yves Tanguy. Raymond Georges Yves Tanguy (January 5, 1900 – January 15, 1955), known as Yves Tanguy, was a French surrealist painter. Biography[edit] Tanguy, the son of a retired navy captain, was born at the Ministry of Naval Affairs on Place de la Concorde in Paris, France. His parents were both of Breton origin. Joan Miró. Earning international acclaim, his work has been interpreted as Surrealism, a sandbox for the subconscious mind, a re-creation of the childlike, and a manifestation of Catalan pride.
In numerous interviews dating from the 1930s onwards, Miró expressed contempt for conventional painting methods as a way of supporting bourgeois society, and famously declared an "assassination of painting" in favour of upsetting the visual elements of established painting.[1] Biography[edit] Born into the families of a goldsmith and a watch-maker, he grew up in the Barri Gòtic neighborhood of Barcelona.[2] His father was Miquel Miró Adzerias and his mother was Dolors Ferrà.[3] He began drawing classes at the age of seven at a private school at Carrer del Regomir 13, a medieval mansion. In 1907 he enrolled at the fine art academy at La Llotja, to the dismay of his father. John Tunnard. John Samuel Tunnard (7 May 1900 – 12 December 1971) was an English Modernist designer and painter.
He was the cousin of landscape architect Christopher Tunnard. Life[edit] John Tunnard was born in Sandy, Bedfordshire, and educated at Charterhouse School. He studied design at the Royal College of Art (1919–1923). Alexander Calder. Alberto Giacometti. Louise Bourgeois. Jean Arp. Oeuvres de Jean Arp. Surrealism.
---