Bookmarc
Cad. Comp. Zbrush. TOP20 książek, które ukształtowały polskich liderów | Kariera i praca - Puls Biznesu - dyrektor, pracownik, awans, pensje, kursy szkolenia. Prawie 90 proc. to książki amerykańskich autorów, a tylko 11 proc. napisali Polacy.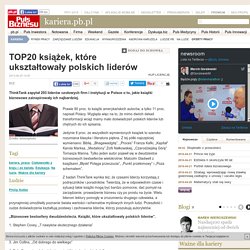 Wygląda więc na to, że mimo dwóch dekad transformacji wciąż mamy mało doświadczeń polskich liderów lub chętnych do ich spisania. Jedynie 8 proc. ze wszystkich wymienionych książek to szeroko rozumiana klasyka i literatura piękna. Engge.
Electric car. History. Komp. Biz. Web Design. Websites. Kaherne. New Ideas. Contemporary. Interior Design. Alt Energy.
Scman. Kitchens. Cncprograming. Energy.
---