Tutorials
Ben Steers shares some insider tips and techniques to help give your vector illustrations a retro look. Vintage and retro-style illustrations have made a big comeback over recent years, with designers utilising the features offered by Illustrator to achieve that handprinted, misaligned feel so common in '50s and '60s animation and illustration. This was a pivotal period, and brought an entirely new visual vocabulary into the mainstream, with artists challenging the 'lifelike' cartoon forms of the time to adopt a sophisticated, stylised graphic language that has hugely influenced modern-day illustration.
Vintage vector textures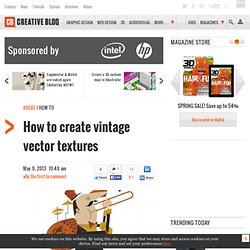 Computer Arts is the magazine for people who believe design matters, and has been inspiring and informing graphic designers and illustrators since 1995.