Knowledge
El Patrón de los Números Primos: Prime Number Patterns. A Rough Mix: Brian Eno & Jennifer Jacquet An Edge Conversation | Conversation | Edge. ENO: What I'm working on at the moment is a rough mix of a piece of music for a totem pole.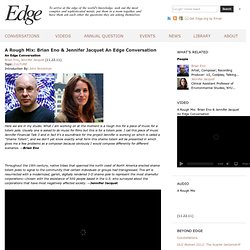 Usually one is asked to do music for films, but this is for a totem poll, and it's Jenifer's totem pole. It's a shame totem, in fact, Jennifer should tell you about it. JACQUET: I'm interested in how we make six billion people get along. IFTF_SR-1454A_FutureofScience_Map_lg.jpg (JPEG-Grafik, 1998x1332 Pixel) | Was Sie schon immer über sich wissen wollten. I'm starting to think that the Left might actually be right. A Web Designer on Fukushima. By Oliver Reichenstein I'm not a nuclear expert.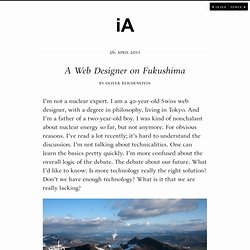 I am a 40-year-old Swiss web designer, with a degree in philosophy, living in Tokyo.
---