Technical
How to Find the Perfect Linux Distribution for You. A reasonable overview, but you knew I'd have to comment. ;) * Pretty much any distro can be made to do what you need.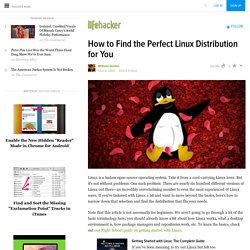 A distro is just a base set of programs and settings, hardly the end. I routinely start with a popular server distro, then add disktop programs to suite. Creative, Unsolicited Redesigns of Popular Web Sites (6 Examples) Nothing gets the creative juices flowing quite like redesigning a popular, well-known site.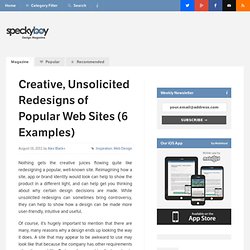 Reimagining how a site, app or brand identity would look can help to show the product in a different light, and can help get you thinking about why certain design decisions are made. While unsolicited redesigns can sometimes bring controversy, they can help to show how a design can be made more user-friendly, intuitive and useful. Of course, it's hugely important to mention that there are many, many reasons why a design ends up looking the way it does. Why Software Architecture Fails. I have worked on very old software systems.
Some are over twenty years old. Many software engineers I know work on older systems. What happens is subsystems get replaced over times by new subsystems, fundamentally changing the architecture. Sometimes when the architectural decay is so great, the entire system must be replaced. Not so in this system I worked on. What we can learn about service design from Google+ - AQ » Blog.
The tools that weave themselves deepest into the way humans communicate, do so with our help.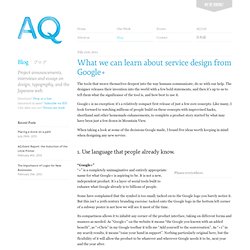 The designer releases their invention into the world with a few bold statements, and then it's up to us to tell them what the significance of the tool is, and how best to use it. Google+ is no exception: it's a relatively compact first release of just a few core concepts. Like many, I look forward to watching millions of people build on these concepts with improvised hacks, shorthand and other homemade enhancements, to complete a product story started by what may have been just a few dozen in Mountain View. When taking a look at some of the decisions Google made, I found five ideas worth keeping in mind when designing any new service. 1. Facebook as Major News Source: You Stand to Benefit - JD Scoop. Social media about cocktail conversation not content?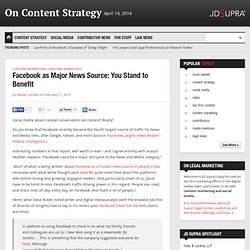 Really? Do you know that Facebook recently became the fourth largest source of traffic for News and Media sites, after Google, Yahoo! , and msn? Now Available: Building blocks to help ISVs develop Multi-Tenant SaaS solutions on Windows Azure - Windows Azure. Software-as-a-Service (SaaS) is outpacing traditional packaged software in terms of market growth according to some recent market research.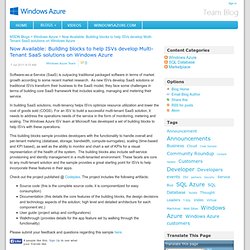 As new ISVs develop SaaS solutions or traditional ISVs transform their business to the SaaS model, they face some challenges in terms of building core SaaS framework that includes scaling, managing and metering their service. In building SaaS solutions, multi-tenancy helps ISVs optimize resource utilization and lower the cost of goods sold (COGS). SaaS Solutions | SaaS Architecture | Cloud Computing and SaaS - MindTree Blogs. Design Thinking.
---