Dungeon Generators
You've probably seen our Dungeon Tiles previews in our monthly "Previews" article series and may even have scored a copy of these cool tiles. By now you probably have hundreds of cool dungeon designs running around your head. But how can you create these dungeons and share them with your friends?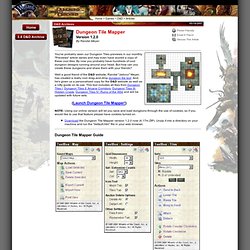 Tiamat The Tile Mapper
The Risus Monkey Random Dungeon Map
0.1.12 Beta- Added the beginings of the adventure seed system (still not functional).- Added 40 new room descriptions, mostly for the two smallest room sizes.- Added wandering monster chart generator.- Added wandering monster generator on/off toggle.- Added "dungeon features" text to the intro area.- Added a very simple adventure hook generator that can generate up to 5 hooks (appears after the adventure text).- Added on/off toggle for Intro Text (including features)- Added on/off toggle for Dungeon features (only)- Added on/off toggle for the Trap Summary.- Added a adventure hook selector so that you can select to generate from 0 to 5 adventure hooks.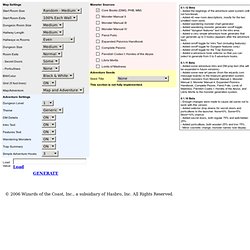 Version .68 Refresh the page for a new design. See below the dungeon for more info. Inkwell Ideas' Other Projects: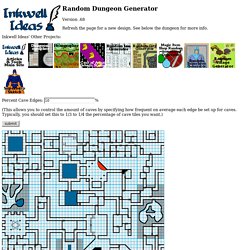 Random Dungeon Generator