Personal Webs
At the risk of being accused of falling off the Cluetrain, I find myself increasingly wondering how much of a need there is in the world for social media management as a discipline and social media management software as a tool? I know, social marketing (technically, social media marketing) is all about genuine, authentic, transparent, distributed conversations. And somehow the notion of explicitly managing that process — especially using software to systematize or optimize it — feels a little counter to the culture.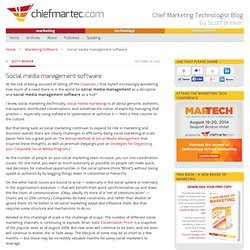 Social media management software
Sit back and enjoy
emily Thanks for coming to see us in Seattle! ECCC was great, and I'm still recovering, even two days later. SOMEHOW?! A great documentary called Stripped just came out this week, about the transition between newspaper comic strips and webcomics.
Estaciones de radio en México por internet, gratis y en vivo
ViaDF - ¿Cómo llegar en transporte público? - Ciudad de México
Foro de InfoSpyware - Avisos en Foro : Foro de Virus y Spywares