Personal Webs
Social media management software. At the risk of being accused of falling off the Cluetrain, I find myself increasingly wondering how much of a need there is in the world for social media management as a discipline and social media management software as a tool?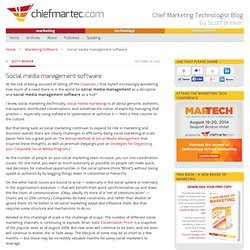 I know, social marketing (technically, social media marketing) is all about genuine, authentic, transparent, distributed conversations. And somehow the notion of explicitly managing that process — especially using software to systematize or optimize it — feels a little counter to the culture. Sit back and enjoy.
A softer world: 776. Comunidad. Estaciones de radio en México por internet, gratis y en vivo. ViaDF - ¿Cómo llegar en transporte público? - Ciudad de México. Foro de InfoSpyware - Avisos en Foro : Foro de Virus y Spywares.
---