EMagazzine for IPad
Vfr/Reader. BuiltWith Technology Lookup. Onswipe. InDesign Tutorial | Create an interactive magazine for the iPad. PadCMS. PipeBytes - Free and easy file transfers. Tablet Publishing | Newsstand Publishing | iPad Content Publishing Platform | iPad Magazine Publisher | iPad Magazine Developer | iPad Magazine Platform | | TapEdition. (ARC) Automatic Reference Counting Tutorial And Guide Page. Automatic reference counting (ARC) was introduced in the iOS 5 sdk to free Objective-C programmers from having to handle memory management by making memory management the job of the compiler.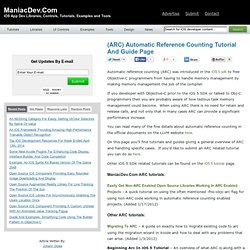 If you developer with Objective-C prior to the iOS 5 SDK or talked to Obj-C programmers then you are probably aware of how tedious task memory management could become. When using ARC there is no need for retain and release calls, and not only that in many cases ARC can provide a significant performance increase. You can read many of the fine details about automatic reference counting in the official documents on the LLVM website here. On this page you'll find tutorials and guides giving a general overview of ARC and handling specific cases. iPhone and iPad Design Templates and How to Use Them. There is a lot of "process" that goes into designing for mobile devices, but sometimes you just wanna jump in and get your hands dirty!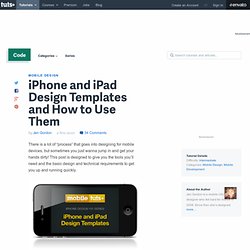 This post is designed to give you the tools you'll need and the basic design and technical requirements to get you up and running quickly. Standard Screen Sizes and Icon Sizes If you haven't read the Apple Interface Guidelines for iPhone and iPad yet, you should. Shuhongwu/leaves-zoom-enhanced. Full List of Cydia Sources – 2012. Vfr.org | Scito te ipsum. iOS Newsstand Tutorial - Viggiosoft Blog. A new way to distribute magazines Since the beginning of the iPad era, one of the most appreciated features in the tablet has been the possibility to read magazines and newspapers.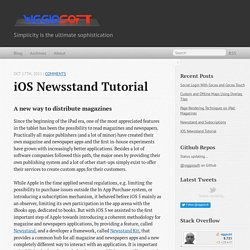 Practically all major publishers (and a lot of minor) have created their own magazine and newspaper apps and the first in-house experiments have grown with increasingly better applications. Besides a lot of software companies followed this path, the major ones by providing their own publishing system and a lot of other start-ups simply exist to offer their services to create custom apps for their customers. Newsstand and Subscriptions - Viggiosoft Blog. Two different concepts In my previous article on the subject I explained how to create an app that supports the Newsstand feature introduced by Apple with iOS 5.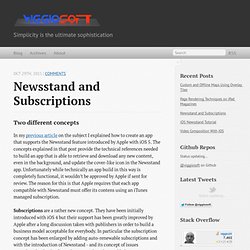 The concepts explained in that post provide the technical references needed to build an app that is able to retrieve and download any new content, even in the background, and update the cover-like icon in the Newsstand app. Unfortunately while technically an app build in this way is completely functional, it wouldn't be approved by Apple if sent for review.
The reason for this is that Apple requires that each app compatible with Newsstand must offer its contens using an iTunes managed subscription. How to make a magazine app in iOS – Part I. Introduction One of the most appreciated features by iPad users is the possibility to read books, magazines and newspapers.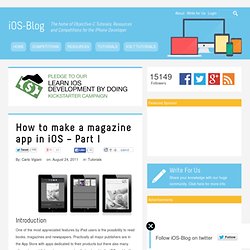 Practically all major publishers are in the App Store with apps dedicated to their products but there also many other minor publishers, in every country, that entered in the iOS world with one or more apps. Today a publisher that wants to enter in the App Store with his own magazine has several decisions he needs to make. Some of these are: How to make a magazine app in iOS – Part II. Welcome to the second part of this tutorial.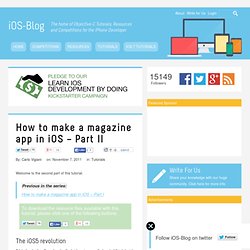 Previous in the series:How to make a magazine app in iOS – Part I The iOS5 revolution A lot of water has flowed under the bridge since our first part of this tutorial. We're sorry for the delay, but at the time of writing we were aware of the new featured introduced with iOS5 but we were still under NDA and not authorized to disclose anything about the SDK. Installing iOS SDK and Xcode on Windows 7 [Updated] | The iPod touch Weblog - Apple News, Tricks, and Themes. Update 2: August 17, 2011 The TechExxpert guide has been updated to fully allow Xcode 4.1 to work.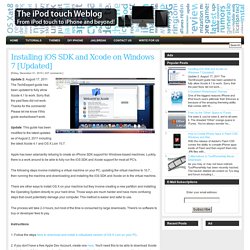 Sorry that the past fixes did not work. Thanks for the comments! Please let me know if this guide works/doesn't work. Update: This guide has been modified to the latest updates as of August 2, 2011 including the latest Xcode 4.1 and OS X Lion 10.7. Apple has been adamantly refusing to create an iPhone SDK support for Windows-based machines. Adobe Edge Showcase. Edge Code CC Code content and applications with HTML, CSS, and JavaScript using Edge Code preview, a distribution of the Brackets open source project.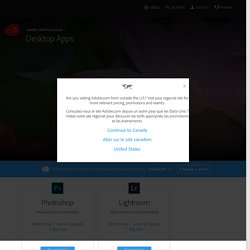 Work fast with an innovative code editor that works well with other Edge Tools & Services. How to Virtualize OS X Lion on Windows. Update: Fixed down hard drive files (February 8, 2012).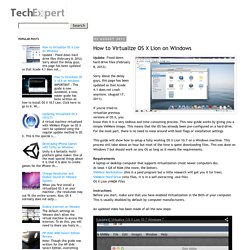 Sorry about the delay guys, this page has been updated so that Xcode 4.1 does not crash anymore. (August 17, 2011). If you've tried to virtualize previous versions of OS X, you know that it is a very tedious and time consuming process. This new guide works by giving you a simple VMWare Image. Digitalpubsuite_help.pdf (application/pdf Object)
App Store-safe Page Curl animations. Update February 22, 2013: Please do not use the code I present in this article anymore.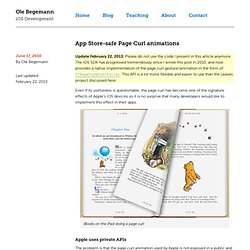 The iOS SDK has progressed tremendously since I wrote this post in 2010, and now provides a native implementation of the page curl gesture/animation in the form of UIPageViewController. This API is a lot more flexible and easier to use than the Leaves project discussed here. Even if its usefulness is questionable, the page curl has become one of the signature effects of Apple's iOS devices so it is no surprise that many developers would like to implement this effect in their apps.
iOS Development Videos. Adding In App Purchase to your App With iPhone 3.0 SDK you can request payment for subscriptions, additional game levels, or other content from within your applications. This session covers the entire purchase life cycle for in-app payments, including use of the Store Kit APIs, the product submission process, proper product presentation, purchase authentication, and transaction validation.
Download: Video System Requirements To watch the streaming version of this video, use the latest version of Safari on a Mac running OS X Lion or later. Tom Brow. Baker Ebook Framework 3.2. Laker compendium – Designing digital publications in HTML5.
---