Webdevelopment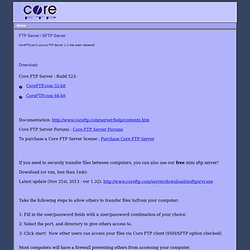 FTP Server - Secure FTP server software for Windows with SFTP, FTPS, and HTTPS support
FTP Server / SFTP Server CoreFTP.com's secure FTP Server 1.2 has been released! Download : Core FTP Server - Build 462:
N13Graphic.com
abd life sciences ltd.
Scanpro Thailand
Widetech.dk
Happy Espresso
Skandinavisk Distribution
Green Force Company
Skiltestedet
Vertipower
Himmelfryd
Ejot Danmark
Zenio.dk
PHP: Hypertext Preprocessor
phpQuery - jQuery port to PHP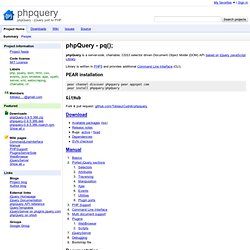 phpQuery is a server-side, chainable, CSS3 selector driven Document Object Model (DOM) API based on jQuery JavaScript Library . Library is written in PHP5 and provides additional Command Line Interface (CLI).
GeSHi Documentation 1.0.8.10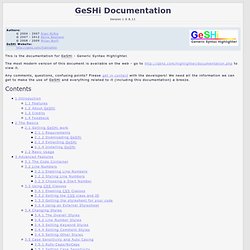 This is the documentation for GeSHi - Generic Syntax Highlighter. The most modern version of this document is available on the web - go to http://qbnz.com/highlighter/documentation.php to view it. Any comments, questions, confusing points?
Foundation: Mobile Development
← Back to Home Build for the future.