Webdevelopment
FTP Server - Secure FTP server software for Windows with SFTP, FTPS, and HTTPS support. FTP Server / SFTP Server CoreFTP.com's secure FTP Server 1.2 has been released!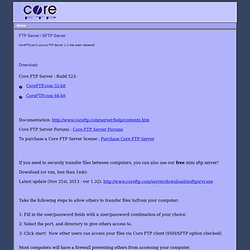 Download: Core FTP Server - Build 523: Abd life sciences ltd. Scanpro Thailand. Widetech.dk. Happy Espresso. Skandinavisk Distribution. Green Force Company. Skiltestedet. Vertipower. Himmelfryd. Ejot Danmark. Zenio.dk. World Wide Web Consortium (W3C) WebPlatform.org — Your Web, documented. W3Schools Online Web Tutorials. HTML5 Please - Use the new and shiny responsibly. PHP: Hypertext Preprocessor.
PhpQuery - jQuery port to PHP. PhpQuery is a server-side, chainable, CSS3 selector driven Document Object Model (DOM) API based on jQuery JavaScript Library.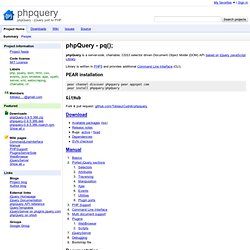 Library is written in PHP5 and provides additional Command Line Interface (CLI). PEAR installation pear channel-discover phpquery-pear.appspot.com pear install phpquery/phpQuery GitHub Fork & pull request: github.com/TobiaszCudnik/phpquery. GeSHi Documentation 1.0.8.10. This is the documentation for GeSHi - Generic Syntax Highlighter.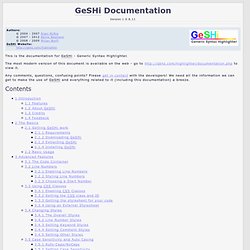 The most modern version of this document is available on the web - go to to view it. Any comments, questions, confusing points?
CSS. Foundation: Mobile Development. Mobile devices are already eclipsing desktops in adoption and internet use — that's why Foundation was built from the ground up to support any kind of device, any size screen, with any resolution.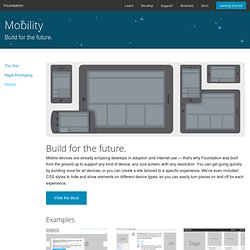 You can get going quickly by building once for all devices, or you can create a site tailored to a specific experience. We've even included CSS styles to hide and show elements on different device types, so you can easily turn pieces on and off for each experience. View the docs.
Webshops. Webhosting.
---